This blog post may contain affiliate links, which earn us a small amount of commission if you buy something through them - at no extra cost to you.
If you're looking for ideas on how to upcycle old books, then I have 21 genius ideas for you. And most of them are easier than you might think!
From upcycling the entire book to repurposing the book cover and using up the book pages inside, there are lots of ideas below to suit all levels and styles.
I hope you see something today that inspires you. Happy reading and upcycling!
21 Genius Ways To Upcycle Old Books
1. Book Spine Bookmarks
Up first on this list of genius ways to upcycle old books is to make DIY book spine bookmarks.
Not only are most book spines the perfect size to use as bookmarks, but it's also so easy to repurpose them in this way!
All you need to do is remove the book spine from the cover, reinforce it and protect it with some kind of sealer. And hey presto – you have a unique bookmark!
Take a look at our bookmark tutorial now >>
2. Book Rolodex
A book Rolodex is one of my favourite ways to repurpose old books. For this project, you'll use the entire book.
By folding the pages in a certain way and anchoring the two sides of the book cover together using chipboard or strong cardstock, you'll be able to make a beautiful and practical desk accessory.
Here's a helpful tutorial to show you how it's done >>
3. Home Decor / Art Piece
If you're looking for ideas on how to use up old book pages, then you might enjoy making some DIY home decor or an art piece.
There are lots of ways you can do this.
One idea is to make a simple heart art picture just like we did with old maps.
Or maybe you could use book pages as the background for a stunning piece of collage artwork?
Or how about printing a pretty image onto a book page – like in this example – and framing that instead?
Check out this tutorial to learn how to make the heart art picture mentioned above >>
4. Junk Journals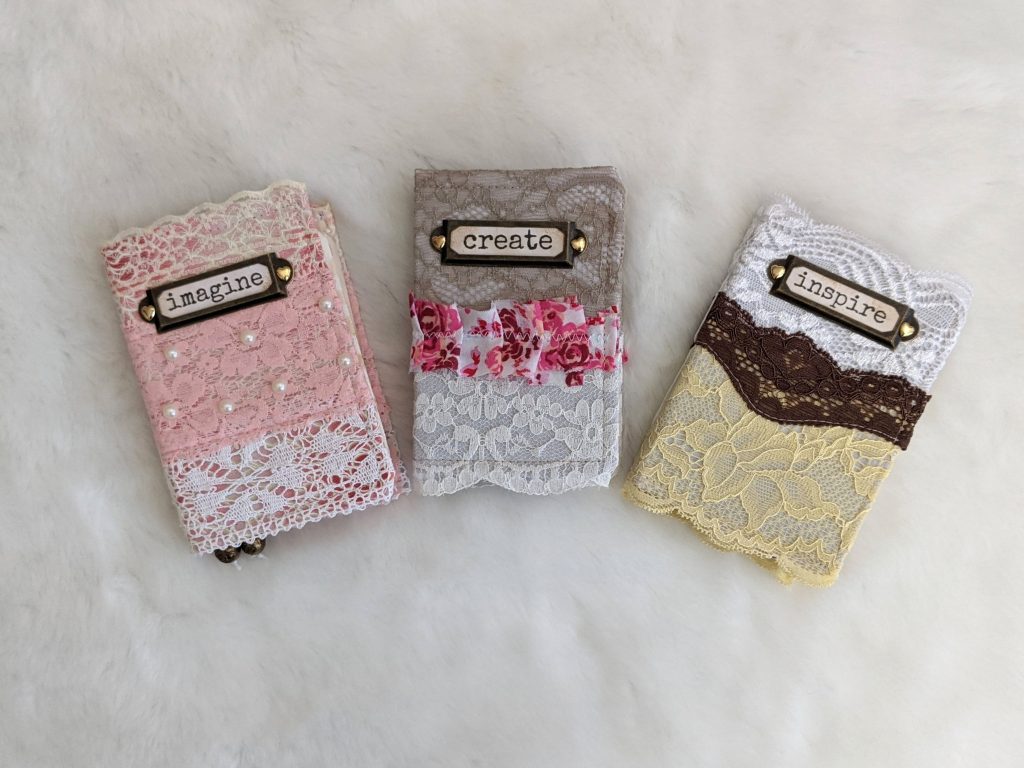 Time for the bread and butter of everything I do here at House of Mahalo: junk journals. These are perfect projects for upcycling old books.
And there are lots of ways you can make them!
You might want to use two book boards and make a ring-bound journal like I did with my Tim Holtz ring-bound junk journal.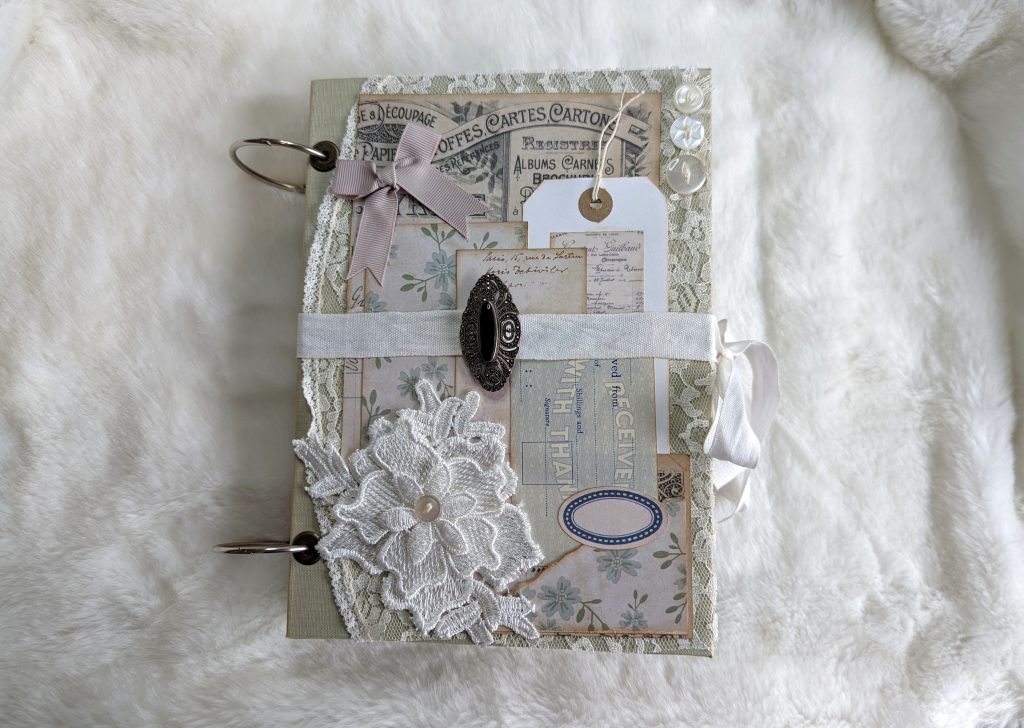 Alternatively, you could create a new spine from thick cardstock to replace the book's existing spine and make a journal that way.
That's what I did for my Little Golden Book journals and my "Enchanted Woodland" fairy junk journal.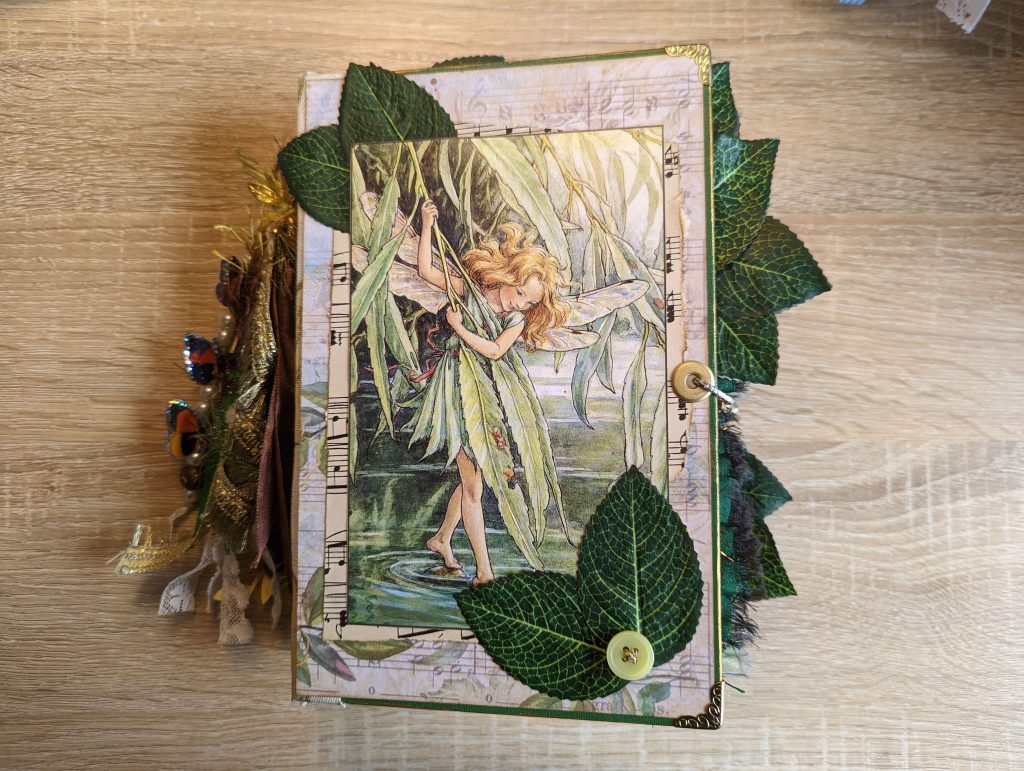 Or maybe you want to use up some papers and fabric scraps to make mini journals out of pocket dictionaries. Here are some I made for my first junk journal project.
Take a look at my junk journal blogs to find out more >>
Or maybe you want to see how I make my junk journals via my YouTube channel? >>
5. Altered Book Journals
Alternatively, one of the simplest ways to make a journal from an old book is to make an altered book journal.
This is where you'll remove some pages from the book and then decorate the remaining pages or make pockets from them by folding them in different ways.
Altered book journals are a lot of fun to make!
Check out my altered book journal playlist on YouTube for some ideas >>
Alternatively, you might like to read these blog posts:
6. Writing Boards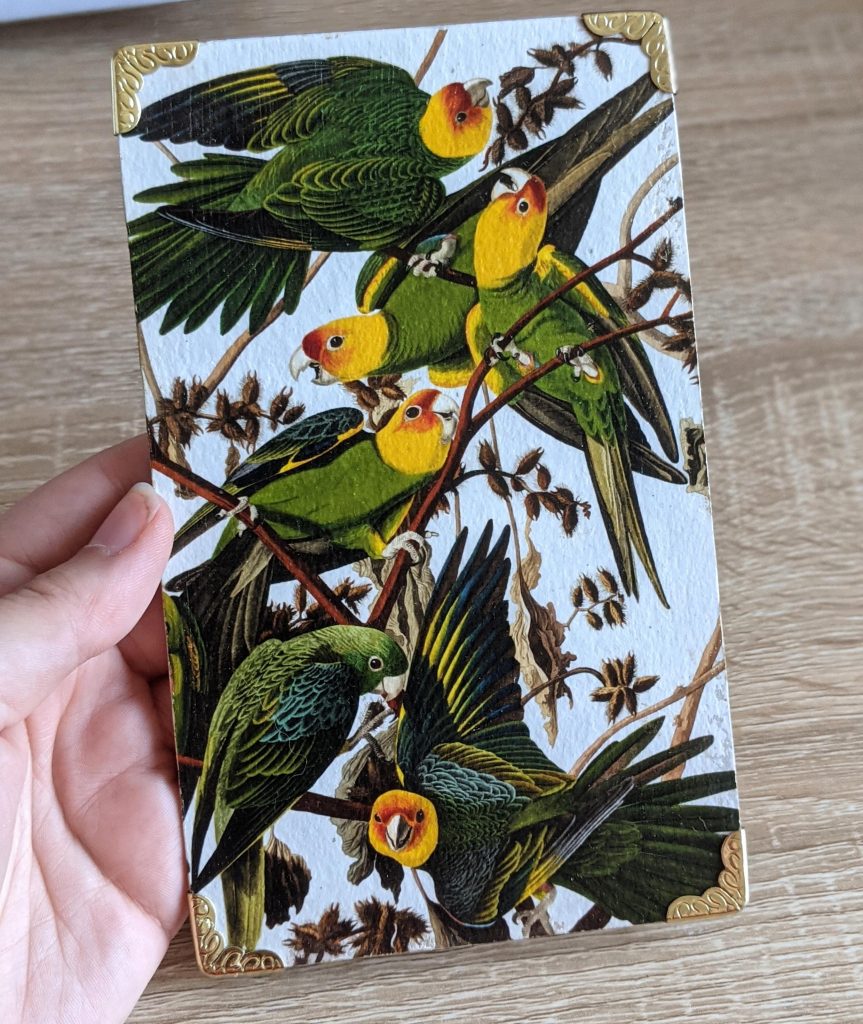 Speaking of journals, you might want to make a coordinating writing board to live inside your journal.
By using book boards, you'll have a flat, hard surface to tuck underneath your page to make it easier to write on.
All you need to do is decorate your book board and seal it with matte medium glue and you have a quick and easy writing board ready to go!
Take a look at my video to see how I make mine >>
7. Book Folding Art
Here's another upcycling idea when you want to use the entire book: book folding art.
By folding the book's pages in a certain way, you can make fun images and words and create an amazing and unique home decor piece.
If you're not sure where to start, you can buy book folding patterns from sites like Etsy and simply follow their template and instructions.
Find your perfect pattern now >>
8. Book Clutch Bag
If you have a book cover that you love, why not turn it into your new lust-have accessory?
You can make your very own book clutch bag by replacing the innards of a book with a gusseted fabric pouch instead of its original book pages.
Here's a tutorial to show you how it's done >>
9. Book Page Confetti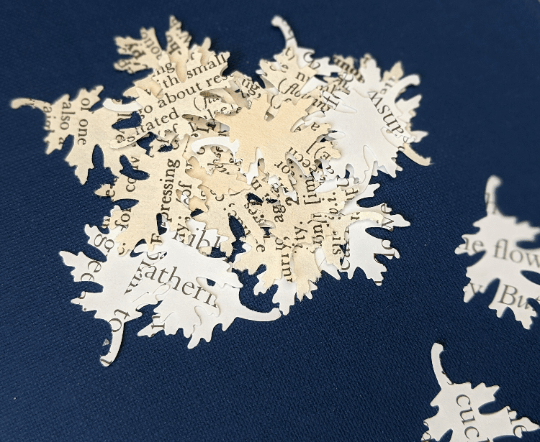 Here's another simple idea for repurposing unloved books: make confetti with the book pages.
Simply buy yourself a shaped punch from any good craft store and just start punching!
Please note that this won't be biodegradable confetti, so you probably won't want to use it outside. But it works well for decorating table tops.
10. Book Page Packaging
If you sell products, why not swap conventional packaging for book page packaging?
There are lots of ways you can do this. You could make envelopes from book pages, as well as pouches, baggies, wrapping paper, you name it.
That's certainly one way to stand out from the competition!
Note: You might want to avoid this idea if the book pages affect the health and safety of your product, such as in the case of food.
11. Secret Storage Book Box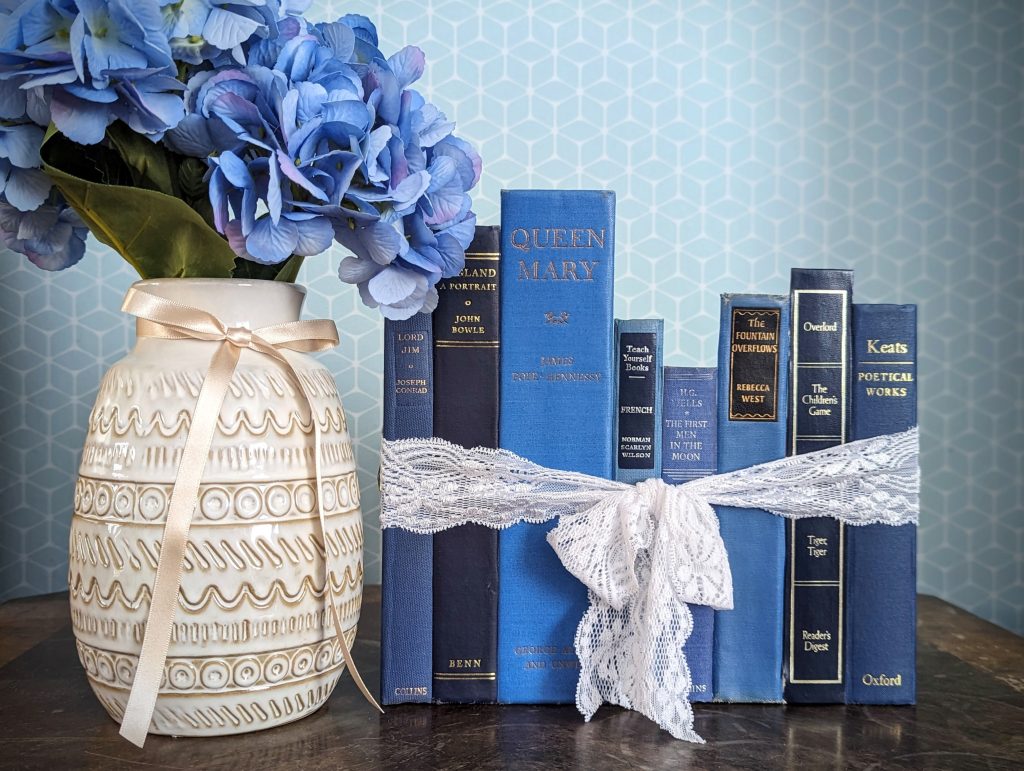 Who doesn't find a "catch-all" box helpful when it comes to hiding clutter?
But what if I told you that you could make yours look decorative, beautiful and unique while saving unloved books from going to landfill or incineration?
In this project, you'll use book covers and book spines to "hide" a box, which you can then fancy up with lace and extra embellishments like I did.
And the best bit? It's an easy project, which you'll probably be able to finish in just one weekend!
12. Book Safe
Speaking of secret storage, a book safe is another way to make this kind of project. But this time, you'll upcycle almost the entire book.
You can make one of your own by cutting out a rectangle through all of the pages inside your book. This is where you can keep small valuables.
Pop the book on your bookshelf and no one would ever know (at a glance) that it's not a real book anymore.
Check out this tutorial for the full instructions >>
13. Book Page Roses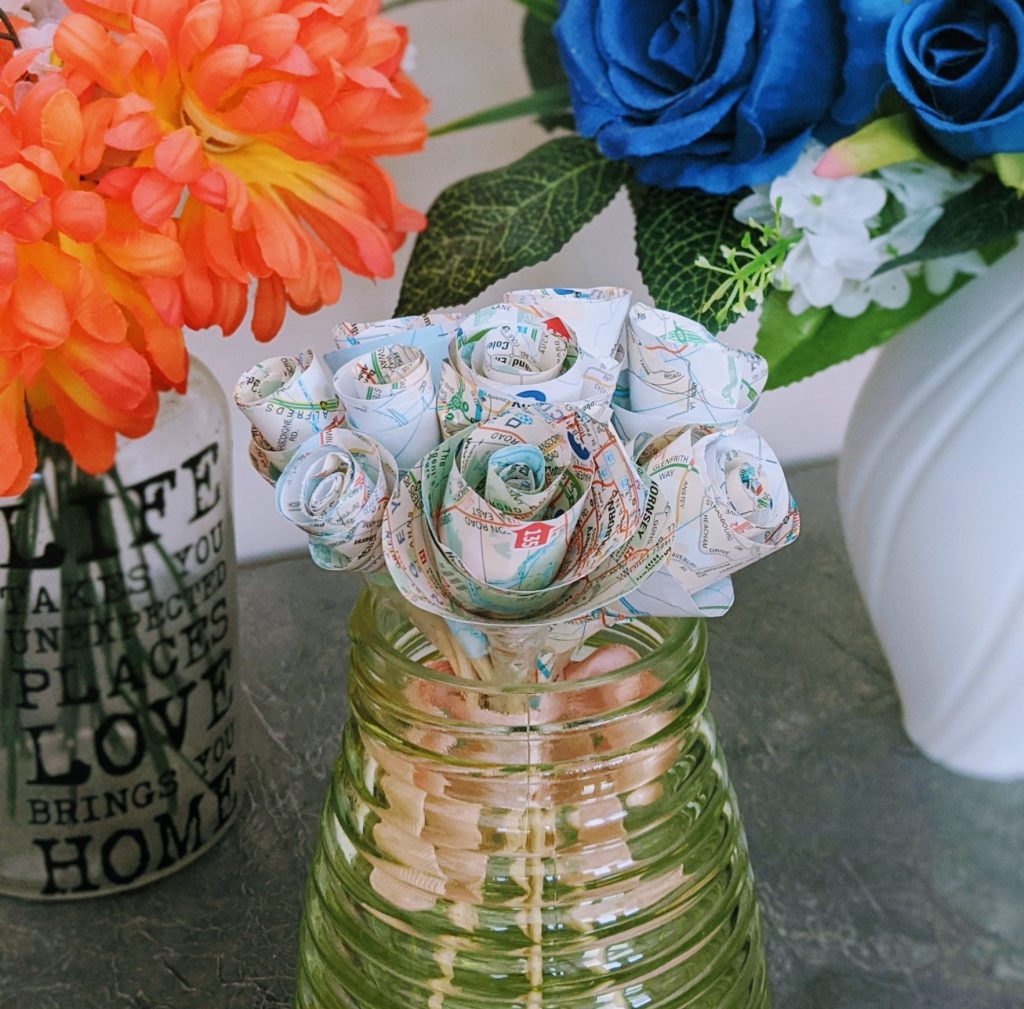 If there's a special occasion coming up such as a birthday or Valentine's Day, why not make someone a cute rose (or bouquet of them) using book pages?
Check out my tutorial to see how it's done >>
14. Vintage Writing Folio
Okay, so this one is kind of like the junk journals and altered book journals I mentioned earlier.
This time, you can turn a gorgeous book cover into a writing folio where you can keep writing paper, envelopes and postage stamps. Perfect for the vintage lovers among you!
To see exactly how I made mine (and how easy it is!), take a look at my blog post and video >>
15. Book Clock
This one is similar to the book safe already mentioned.
This time, instead of hiding valuables inside your book, you can hide a clock mechanism inside it and attach clock hands to the outside of the book.
And voila! You have an instant clock that will look very cool in your home.
Here's a fab tutorial to show you how to do it >>
16. DIY Book Page Envelopes
If you'd like to send a handmade card to someone you love, then why not add a special handmade touch to the envelope as well?
Book page envelopes are easy enough to make – here's a tutorial to show you how.
17. Book Page Coasters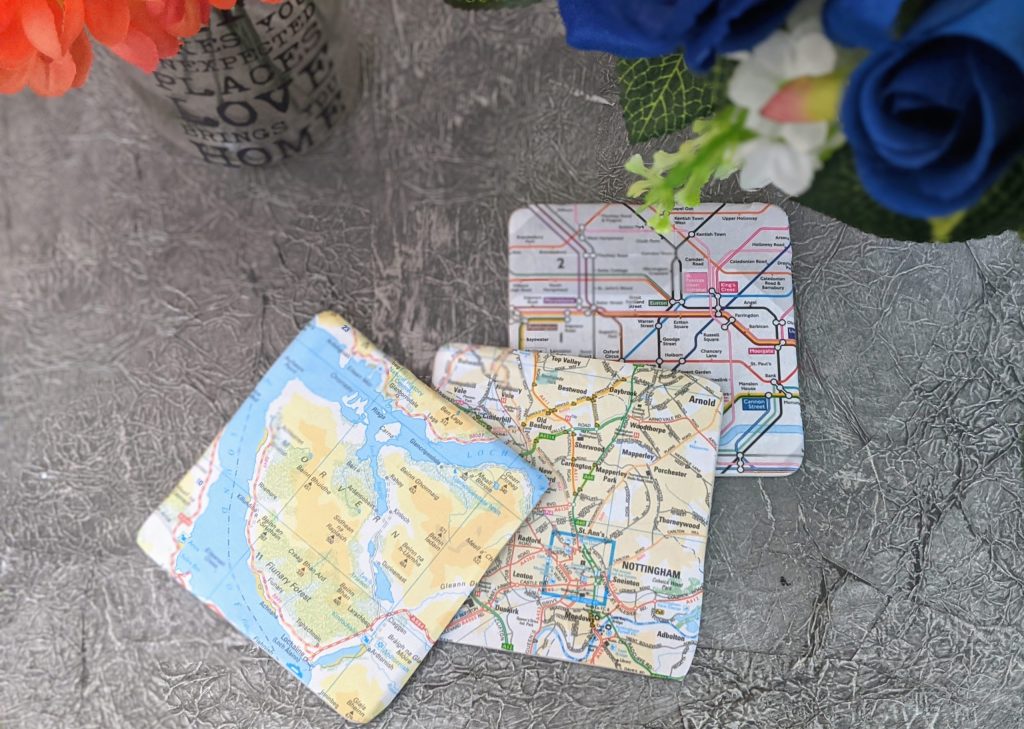 Who doesn't love the old-school charm that book pages bring to a project? So why not upcycle your old book pages into super cool coasters?
You can do this by covering plain coasters with book pages and then sealing them with ModPodge or something similar.
Take a look at this tutorial to see exactly how it's done >>
18. Decoupage Furniture With Book Pages
Here's another way to celebrate the old-school charm of book pages: decoupage furniture with them!
You'll need to use a sealer glue such as ModPodge for this one and you'll likely want to use white book pages rather than yellowed/aged ones.
This would work well for most pieces of furniture. Why not start with something easy, which has straight edges and simple lines, such as a shelf, tabletop or bookcase?
The book pages will give your office or living room such a cool and unique look!
Check out this tutorial for more info >>
19. Book Page Mirror
Okay, so there are lots of home decor ideas in this blog post, but that's because book pages give such a cool and unique look to the home.
This time, you can use discarded book pages to decorate the edges of a mirror.
I love how this one by The Shabby Creek Cottage looks!
20. DIY Wrapping Paper
For another quick and easy upcycling old books idea, you can glue book pages together and make almost-instant wrapping paper.
I made mine using an old Pink Panther annual, which was a lot of fun!
Take a look at my tutorial now >>
21. Clipboard Gift Set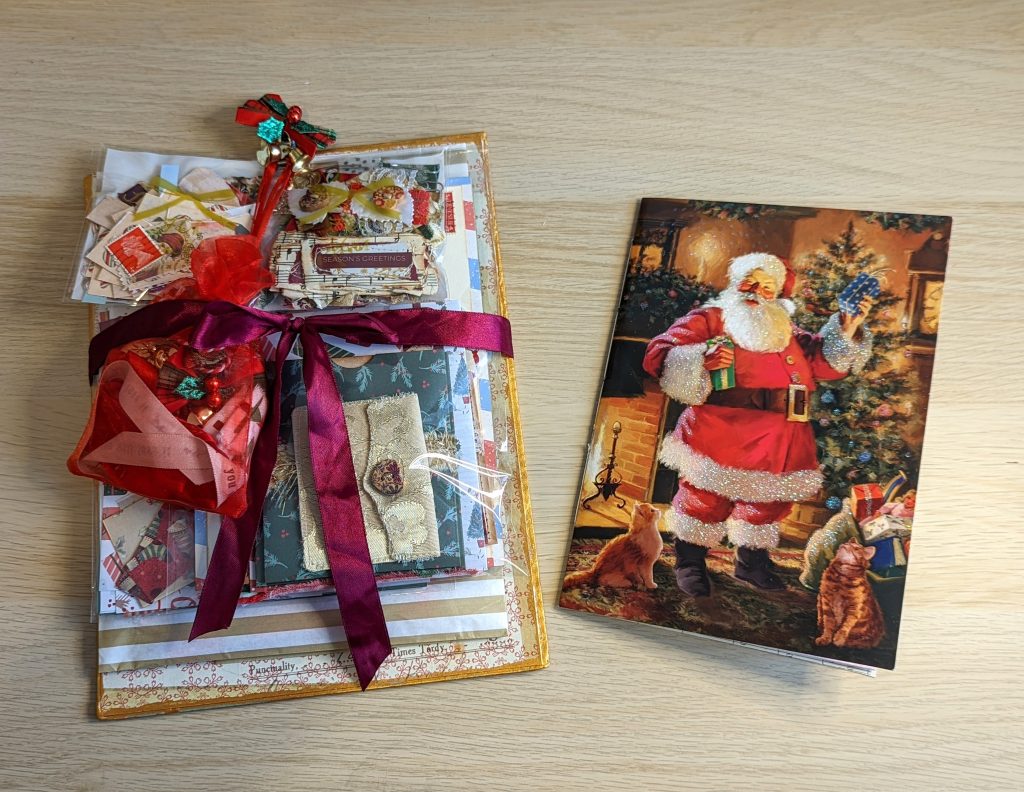 And finally, here's another way to upcycle book boards that have come away from their spine: turn them into clipboards.
You can do this quickly and easily by decorating the book boards, sealing them with matte medium glue and adding a clip to the top.
Why not take this idea even further and create a fun clipboard gift set to send to someone?
I packaged up some unwanted Christmas papercraft supplies to sell in my Etsy shop and the whole package looked just perfect for journal lovers and crafters.
Here's my video to show you how I made mine >>
---
And there you have it – 21 genius ways to upcycle old books. Which one(s) are you most excited to try first? Let me know in the comments below…
Did you like this list of upcycled book crafts? Why not pin or bookmark this blog post now, so you can read it again later?