This blog post may contain affiliate links, which earn us a small amount of commission if you buy something through them - at no extra cost to you.
Let me guess. You typed "What is junk journal ephemera?" into Google and found this article. Or maybe you were already reading my blogs and felt curious about what I have to say about ephemera.
Either way, I hope this blog post answers all of the burning questions you might have about journal ephemera, such as:
What is ephemera?
What is junk journal ephemera?
How do you pronounce ephemera? (Because yep, it's a tricky one!)
What are some junk journal ephemera ideas?
Where can you find and how can you get junk journal ephemera?
Sound good? Let's begin…
Psst! If you have more questions after reading this article, then you might find some of my other blog posts helpful – especially these two linked below:
FAQs About Junk Journal Ephemera: Your Questions Answered!
What is ephemera?
The official definition of ephemera is: "Things that exist or are used or enjoyed for only a short time."
Ephemera is usually made from paper; examples include things like postcards, ticket stubs, stamps, receipts, theatre programs, letters, brochures and more.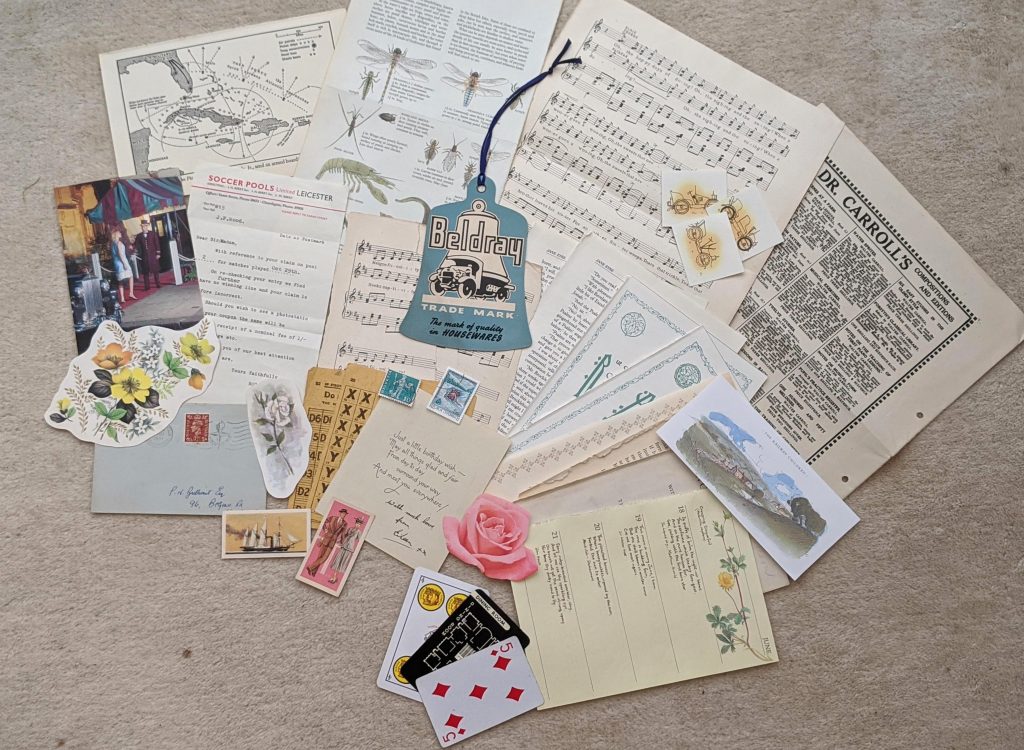 While ephemera wasn't designed to be kept or treasured, you'll likely want to use some paper ephemera items in scrapbooking, journaling, junk journaling, collaging and mixed media projects.
What is junk journal ephemera?
Junk journal ephemera is usually defined as: "Anything you add to your junk journal."
This might include the paper ephemera examples mentioned above (particularly if they're vintage).
But junk journal ephemera also includes things like tags, journal cards, pockets, tuck spots, bellybands and anything else you make or buy to glue or clip into your junk journal.
Later, I'll show you examples of different types of ephemera you can add to your journals and junk journals.
How do you pronounce ephemera?
But first, you might be wondering how to pronounce ephemera. I certainly struggled with this one in the beginning!
Ephemera is pronounced "uh-feh-muh-ruh". Here's a video that might also help you to pronounce it correctly.
What are some junk journal ephemera ideas?
If you're after some junk journal ephemera ideas, look no further!
There are all kinds of things you can make and use in your journals, so I've divided them into the following categories:
Handmade junk journal ephemera
Vintage junk journal ephemera
Printable junk journal ephemera
Free junk journal ephemera
Handmade Junk Journal Ephemera
Handmade junk journal ephemera is anything you've made to go inside your journal, such as:
Tags and journal cards
Pockets, tuck spots and bellybands
Flip-outs and fold-outs
Notepads and mini notebooks
Envelopes
You might also repurpose vintage and printable junk journal ephemera to make something completely different from the original.
Maybe you've used book pages, music sheets or maps to make pockets and journal cards. Or perhaps you've turned a printable envelope into a fancy flip-out pocket. I'd say these count as handmade junk journal ephemera.
Need some more ideas and inspiration? I've written lots of blog posts about junk journals, but you might find these two especially helpful when it comes to handmade junk journal ephemera:
Or, if you prefer watching videos, I have an entire playlist on YouTube dedicated to junk journal ephemera ideas. I hope you find something you like.
Vintage Junk Journal Ephemera
Junk journalers also often use vintage ephemera within their creations. I guess we can't resist old crinkly paper and mini pieces of history, am I right?
Here are some ideas of vintage ephemera you might want to add to your journals:
Postcards and greeting cards
Receipts and letters
Empty envelopes
Ticket stubs
Book pages and music sheets
Maps and paper scraps
Tea cards and cigarette cards
Playing cards
Need a helping hand to build your stash of vintage ephemera? I often have mystery bundles in my Etsy shop to help you get started.
Printable Junk Journal Ephemera
You can also use printable junk journal ephemera.
Most complete digital junk journal kits will come with sheets of ephemera for you to use, such as tags, pockets and scans of vintage ephemera.
Printable ephemera is handy when you just want to fill a pocket quickly and without too much bulk.
It's also usually much cheaper than genuine vintage junk journal ephemera, which can be tricky to find for a reasonable price.
RELATED: Recommended Junk Journal Printables (Tried & Tested!)
Some digital designers also provide free printable ephemera you can use in your journals. Subscribe to your favourite designers' YouTube channels and join their Facebook groups to snag your freebies.
You can also use sites like The Graphics Fairy and Pixabay to find free printable junk journal ephemera. Be cautious of Pixabay if you sell your journals, though, as copyright permissions are sometimes a little questionable on Pixabay.
RELATED: How To Get Free Junk Journal Printables & Ephemera
Free Junk Journal Ephemera
Speaking of free ephemera, one of the things that junk journalers love most about this hobby is just how many ideas and inspirations surround us – for free!
Head to an arcade and you might win some tickets. These can become clusters and other junk journal embellishments.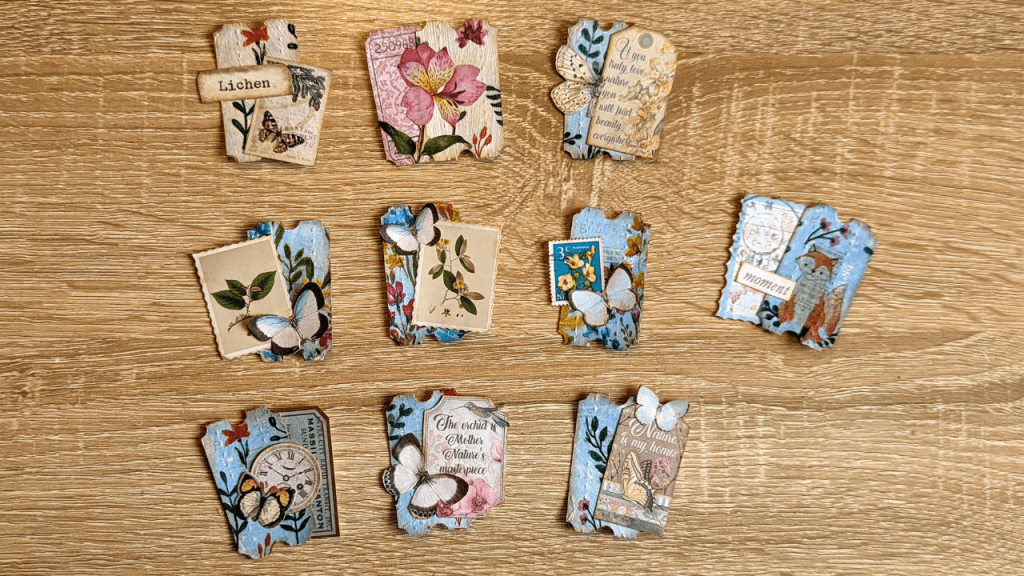 Visit a theatre or restaurant and you might walk away with a show program or receipt. With a little imagination, these can become tags and journal cards.
Open your mail and you might spot some junk mail or letters. These can become all sorts of junk journal ephemera – from pockets and tuck spots to tags and journal cards.
Amazing, huh?!
Where can you find and how do you get junk journal ephemera?
As for where to find and how to get junk journal ephemera, here are some websites and shops I swear by when searching for my pieces:
Etsy: For both genuine vintage and printable junk journal ephemera.
eBay: For genuine vintage ephemera (and sometimes for a great price!)
Charity shops and thrift stores: You might be lucky enough to find some old letters and postcards in one of these shops.
Antique shops and markets: Note that you may pay more for vintage ephemera than if you buy it from other places as the sellers here are more likely to know the true value of these items.
RELATED: My Favourite Etsy Shops For Junk Journal Supplies
Of course – as explained above – you can also collect free junk journal ephemera whenever you travel or go to restaurants, theatres, arcades and more.
And don't forget to collect the junk journaler's ultimate supply: junk mail and packaging!
You can use packaging and junk mail to make all kinds of interesting and unique junk journal ephemera. Just take a look at my "Shop Your Trash" videos on YouTube to see what I mean.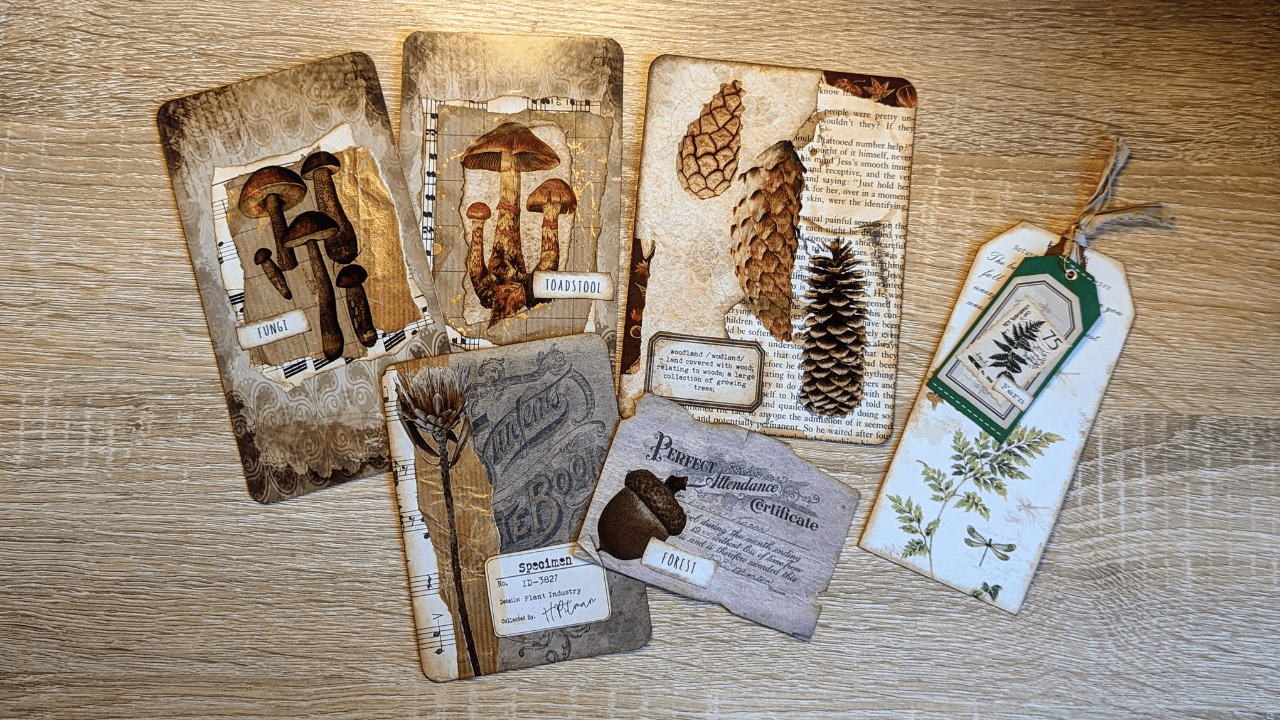 ---
I hope this blog post about junk journal ephemera has answered your burning questions! Do you want to know more about the enticing world of ephemera? Drop me a line in the comments section below and I'll reply asap…
Did you enjoy reading about junk journal ephemera? Why not pin or bookmark this blog post now, so you can read it again later?