This article may contain affiliate links, which may earn us a commission - at no extra cost to you - if you use one of our links. Please see our disclosures page for more information.
With so many websites and Etsy shops selling beautiful junk journal printables, it can be hard to know which ones to buy.
Will the digital kit you choose be as high quality as what you can see on screen? Or will it be fuzzy and grainy?
Will the colours be bright and vivid? Or will the colours change completely and be way too dark when you print them out?
To help you out, I've listed below various junk journal printables I've personally tried and tested and had good results with.
I've printed them onto standard copy paper, white cardstock, genuine vintage paper and presentation paper.
While I naturally achieved better results using the presentation paper, all of the kits listed below printed beautifully onto each of these paper formats.
Today, I use this 100 GSM presentation paper for my journal pages and good-quality cardstock for pockets, tags and journal cards.
For further junk journal inspiration, I've also listed some Etsy shops whose printables I still have on my wishlist.
I've heard amazing things about them throughout the junk journal community; I just can't quite bring myself to pay for them just yet. Although I'll be sure to update this blog post when I do.
Finally, if you love the look of junk journal printables but struggle with printing at home, you might want to consider the paper pads by Stamperia (my favourites are also listed below).
So, without further adieu, read on to discover:
My favourite junk journal printables I've personally tried and tested
Bonus junk journal printables I've seen used in a journal I bought
Junk journal printables still on my wish list
The best alternative to junk journal printables
13 Beautiful Junk Journal Printables (Full Kits – Tried & Tested!)
Pink and blue is one of my all-time favourite colour combinations and I just love using florals and botanical images in my journals. So when I saw this complete junk journal kit by TheJournalBoat on Etsy, I was instantly sold!
You get a total of 23 pages in this kit for a very good price, which includes:
6 decorative journal pages
2 vintage-style journal pages
1 lined journal page
7 decorative background pages
7 pages of ephemera and elements (including journaling cards, pockets, tags, tickets, envelopes and more!)
Everything printed out beautifully and I've already started making my next journal with them, which I can't wait to show you when it's finished.
Check out the Secret Garden kit here.
You can't really go wrong with the junk journal printables from VectoriaDesigns. They're always super high-quality and their kits come loaded with so many extras you might not expect to see.
Their beautiful vintage birds kit is labelled as a mega kit because it includes a whopping 183 pages plus 28 templates to help you make a junk journal or memory book completely from scratch.
If you're unsure whether it's worth it, then check out this Youtube video from Handmade of Stardust as she talks about how to get a freebie page from the kit.
Cozy Cottage is another kit I like from VectoriaDesigns. It's another "deluxe" or "mega" kit; this time with a Cottagecore kind of vibe to it.
In this kit, you get:
24 junk journal pages
8 background/collage papers
6 sheets of embellishments
Bonus: 8 journal pages, 3 embellishment sheets and 5 additional papers
Once again, if you're unsure if it's for you, then you can grab a freebie page from the kit here.
I always love seeing vintage ephemera printables that feature flowers on them. There's just something so vintage and pretty about them.
This printable ephemera bundle from Mypaperbits doesn't cost very much, but I do have to confess that some of the text detail was a little bit fuzzy when I printed the pages out.
However, I still like them and think they're just perfect to use in collages and as backgrounds for pockets and tags. And given the price, this bundle is also a solid introduction to junk journal digitals and printables.
TheJournalBoat is one of my favourite shops on Etsy when it comes to junk journal printables. So when I wanted to make some recipe journals out of some placemats I had lying around, this was the first shop I looked at.
This "Sweet Treats Kitchen" kit was just what I was looking for and is such a good price! Especially when you consider everything you get inside your download:
6 main decorative journal pages
2 writing journal pages
11 decorative background pages
1 tea-dyed style page
10 pages of ephemera/elements
I'm so happy with this stunning pink winter kit! It printed out beautifully, and although you don't get any ephemera with the kit (just journal pages, pockets and coordinating mini notebook pages), the pages are so gorgeous that you won't even mind!
I'm currently using the Winter Rose kit from SweetVintagePrints to create a romantic journal for Valentine's Day / wedding planning and the pages are just perfect for it!
RELATED: Romantic Wedding Junk Journal Flip Through
I love using birds, flowers and lots of pink in my journals, so when I spotted The Cottage Rose kit by CollageType, I knew it would be perfect for me!
It prints out beautifully and I've already used some of the pages in various projects – such as this junk journal tag bookmark on video (where you can also see a sneak peek of the kit fully printed out).
This "Green Leaves Watercolor" kit from RomanticaArts is easily one of my most favourite kits I've worked with this year.
It consists of 8 journal pages and 4 portrait papers, which makes it very versatile. I've made a couple of folios using it and it was the main kit inside my "Enchanted Woodland" fairy journal.
Some of the journal pages also feature ephemera on them, which you can fussy cut out. That's what I did for these pockets full of ephemera:
I can see myself using this kit whenever I work with botanicals, which is often!
This "Botanical Field Guide" kit from MyPorchPrints is another of my favourites.
I've used it in several nature journals and I also made a couple of folios earlier this year, which sold out within hours of listing them in my Etsy shop.
Just like the RomanticaArts kit above, I'll happily use this kit from MyPorchPrints whenever I work with botanicals.
I started my first altered book junk journal earlier this year and I'm using several of LianaScrap's kits to decorate the pages.
The first one is her "Autumn Essentials" kit, which consists of a whopping 24 journal pages in varying shades of red, green and brown. The patterns across the pages also differ, which makes this a fun kit to work with!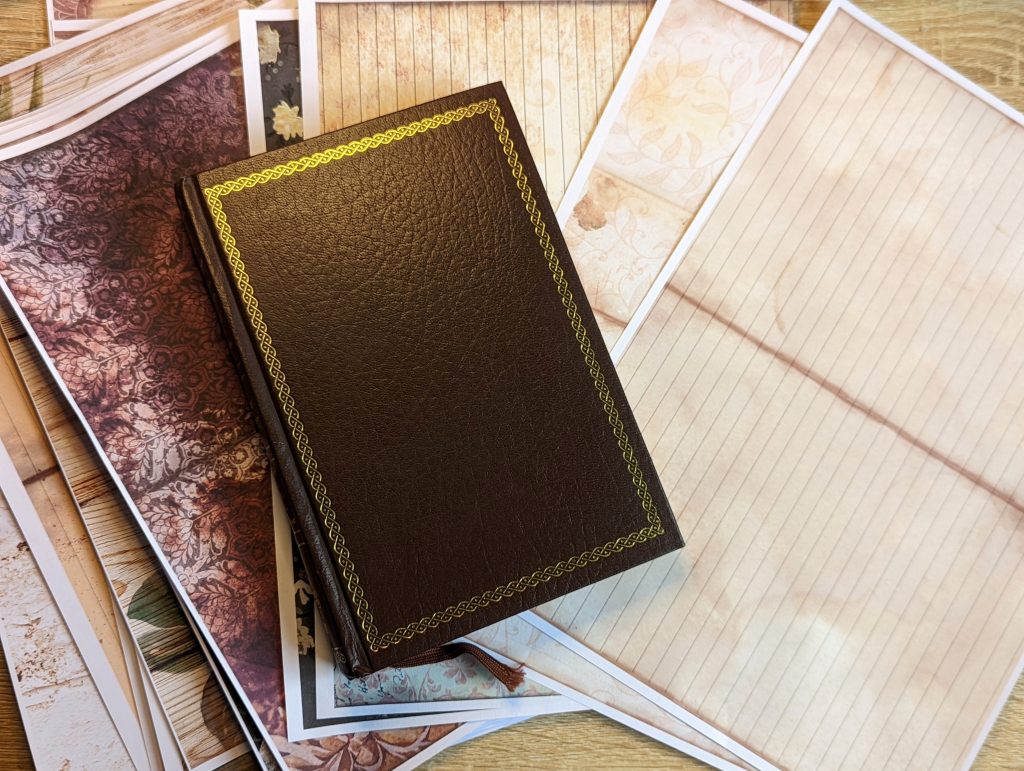 I'm also using LianaScrap's "Journaling Basics" kit to make my altered book junk journal.
This kit consists of 8 journal pages, which while beautifully designed, can all be written on. They're perfect to use as writing pages alongside more heavily decorated pages.
If you're looking for a bright and colourful junk journal printable to use in a floral journal then LianaScrap's "Spring Fling" Kit could be the one for you.
I used it in one of my fairy journals as it suited the playful fairy vibe really well.
While the 10 journal pages that come in the kit are highly decorated, they also have plenty of writing space on them, which I like.
Take a look at the kit here >>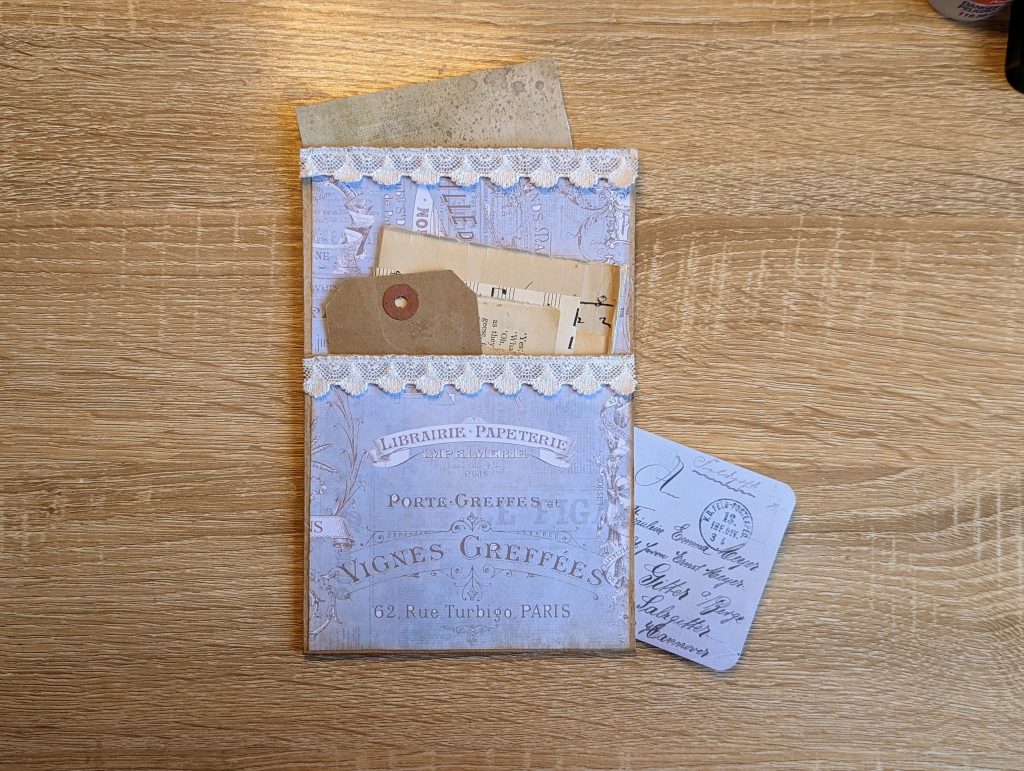 If soft blues and a vintage vibe are more to your liking, then you'll love the French Blue and Shabby Blue kits from MyPorchPrints.
They're high quality and work well on their own or together.
The French Blue kit consists of 8 journal pages while the Shabby Blue kit has 12 journal pages.
When I bought the Shabby Blue kit, I also received some freebie tags, which were helpful for my projects.
Check out the French Blue kit now >>
And here's the Shabby Blue kit >>
5 Fabulous Junk Journal Printables (Fussy Cuts & Ephemera – Tried & Tested!)
If you're looking for printable fussy cuts and ephemera for your journal projects, then listed below are some of my favourite kits that I use time and time again:
Psst! You can also find FREE junk journal printables via the methods mentioned here >>
Bonus: Even More Junk Journal Printables Worth Considering
I bought my first junk journal from an Etsy shop called Lunapapercrafting. It has a botanical theme and uses junk journal printables throughout in shades of green, yellow and purple.
When I received it, I couldn't help but find out who had designed the pages I liked most. Naturally, I've listed them down below for you to check out as well.
Junk Journal Printables Still On My Wish List
As I discover new Etsy shops and junk journalers on Youtube, I'm also discovering more and more junk journal printables I'd like to treat myself to one day.
For inspiration, check out the junk journal printables still on my wish list here.
I've also linked to the shops I really want to buy printables from below:
Best Alternative To Junk Journal Printables
Don't have access to a printer? Finding printing costs too expensive? I've also been very impressed with Stamperia's paper pads.
They're a little pricey, but they definitely have the same sort of look as a lot of the junk journal printables out there. So in my opinion, they're the best alternative to printable junk journal pages or digitals.
I've already bought the "Orchids and Cats" and "Provence" paper pads and I have many more on my wishlist that I'll likely treat myself to in the future.
You can find Stamperia's paper pads on Amazon or in some craft stores.
I hope you've found this list of recommended junk journal printables helpful. I'll certainly keep it updated as I try out more and more printables.
New to junk journaling? Take a look at some of my other blog posts for even more junk journal inspiration:
Did you like this blog post? Pin or bookmark it now, read it again later!