This blog post may contain affiliate links, which earn us a small amount of commission if you buy something through them - at no extra cost to you.
Interesting. Quirky. Fun. Beautiful. These are just some of the words I could use to describe the pages within altered book journals.
If you want to dazzle everyone with your next altered book, then I hope the following ideas and examples for altered book pages will help you to do just that.
And the best bit? These page ideas are easier and quicker to create and design than you might think.
Let's dive in!
Psst! If you've never made an altered book journal before, then you might also find my blog post 'What is an altered book journal & how to make one' helpful.
Altered Book Pages: 11 Easy & Beautiful Page Ideas To Inspire You!
1. Simple Collaged Pages
One of the best things about altered book journals is how much fun you can have with collages.
After all, you probably want to cover up as much of the original book pages as possible, but it might get a bit boring simply matting every page with digitals and other papers.
Instead, with a simple (and fun!) collage, you can create unique and beautiful pages.
For my current altered book journal, I decided to introduce each season (spring, summer, autumn and winter) with simple collaged pages that also have ample writing space.
Here's a video to show you how I made my autumn collage page >>
2. Interesting Torn Paper Pages
For a simple spin on the collaged page idea mentioned above, you could leave some of the original book pages showing and incorporate them into your collages.
This works especially well with botanical and nature themes. They seem to really suit book text.
One way I like to do this within my altered books is to tear some pretty paper in half roughly by hand and glue the two pieces onto my page, leaving some of the original book page showing through in the middle of them.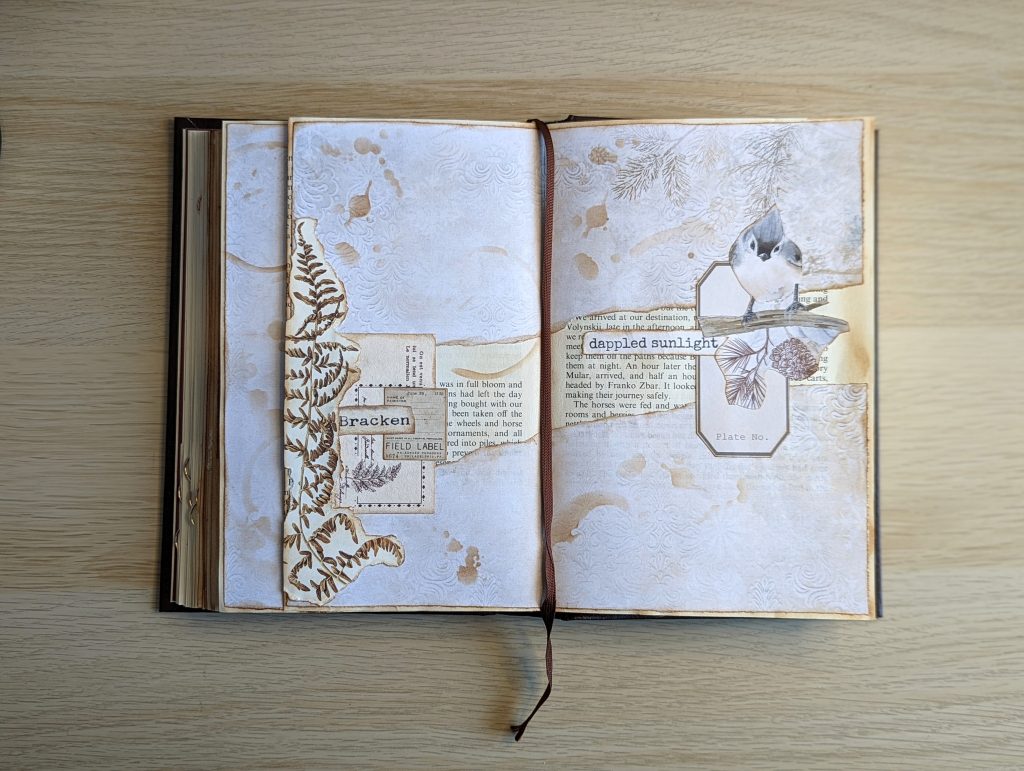 I then add fussy cuts, labels and words as normal to create a unique torn paper collage.
If you'd like to see exactly how I make this kind of page in my altered book journals, then you might enjoy these videos:
3. File Folder Pocket Pages
If you're working with a nature or botanical theme, then another fun page for your altered book involves making file folder pockets – to emulate a scientist's office or laboratory or something.
There are several ways you can do this.
First, you could decorate one of your side pockets to look like a file folder by glueing brown paper and a tab onto it. You could even have two pockets on top of each other to look like a stack of file folders like in the example shown above.
Check out my video to see how I made the page above >>
Alternatively, you could also make your own file folder pockets using scrapbook paper or thick book pages and then glue or clip these into your altered book journal.
Here's a video to show you how I made the ones above >>
4. Beautiful Window Pages
With altered book journals (and really any kind of junk journal), you have lots of opportunities to be creative and inventive with your pages.
And one of my favourite ways to do that is with window pages.
This involves cutting out a rectangle or other shape from a page, glueing something behind it that you want to see through the "window" and then glueing the page to the one underneath so that the back of your window is hidden from view.
You can get super creative with this kind of page. Equally, they look just as interesting when you keep things simple.
For my "Through The Seasons" altered book journal, I decided to create a window page for every season so that there would be some continuity throughout the journal.
Check out my videos below to see how I created each window page:
5. Traditional Triangle Pocket Pages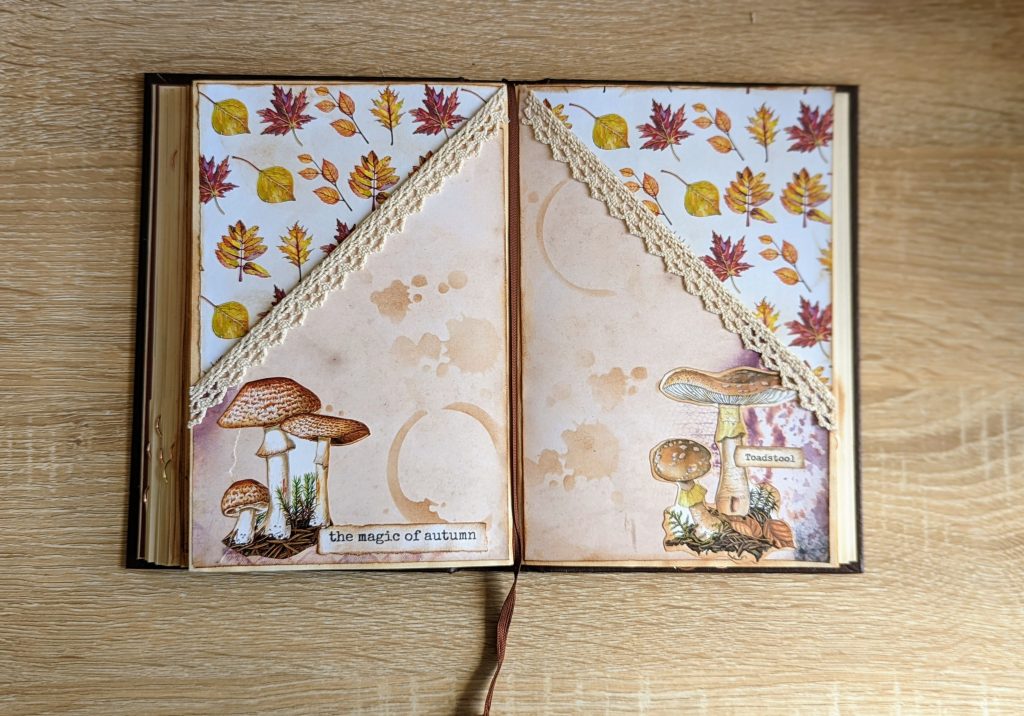 Possibly one of the most popular pages in an altered book journal is a triangular pocket page.
This involves folding one corner of the book page over and glueing it to the underside of the book page to reinforce it. You then glue the side and bottom up to create a large pocket.
Check out my video to see what I mean >>
From here, you're free to decorate your pocket page however you like.
You could even add extra pockets or a flip up writing spot to the bottom of the page – like I did with one of my winter journal pages.
RELATED: 10 Junk Journal Page Ideas To Inspire You
6. Simple Side Pocket Pages
Another popular altered book journal page is the simple side pocket page.
Instead of folding the corner over like in the triangular pocket page mentioned above, you fold and glue the page lengthways to create a large side pocket.
You can even use some of the other ideas mentioned in this blog post with your side pocket, such as collaging the rest of the page or adding torn paper features, extra pockets and more.
If you'd like to craft along with me, then here are my videos to show you how it's done:
7. Pages With Fun Flip Outs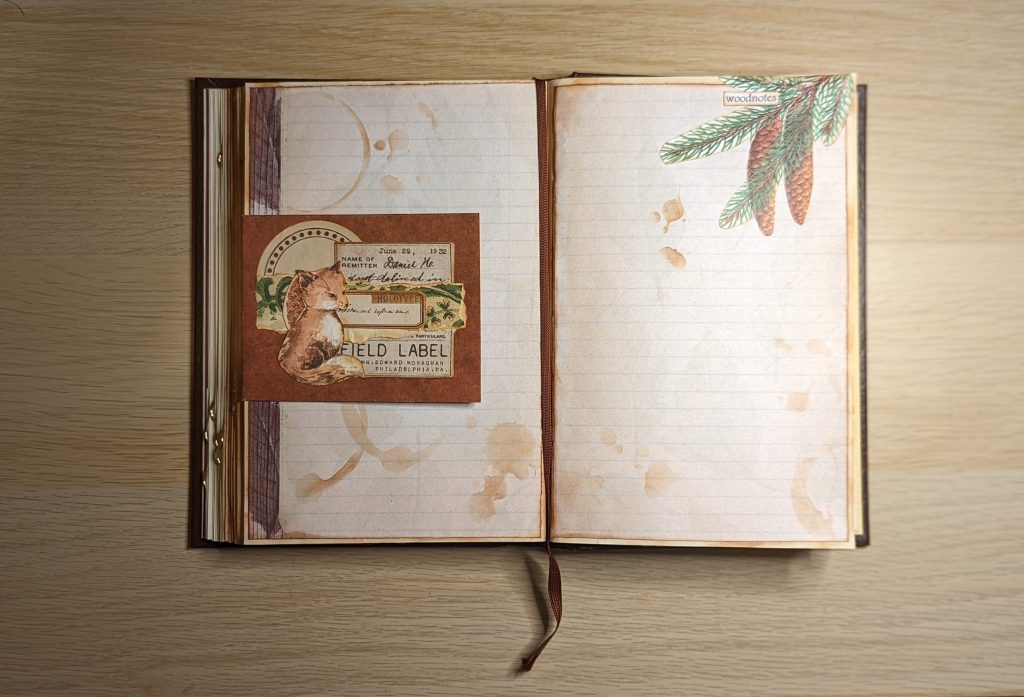 Who doesn't love interactive pages in their journals and altered books? They're fun to make and interact with and they don't have to be complicated at all.
You could use an envelope to create a flip out pocket. This involves opening up the side or top of the envelope to create your pocket and then you simply glue the flap of the envelope in between two of your pages.
This then creates a simple pocket flip out, which you can further decorate and embellish.
Alternatively, you could create a hinge for whatever it is you want to flip out and then glue the hinge down as you would an envelope flap.
You have lots of freedom to create fun and interesting flip outs in your altered book journals so have fun with them.
Here's a video to show you how I made a pocket flip out using an envelope >>
8. Pretty Belly Band Pages
Sometimes, altered book journals can feel a little "flat" compared to other junk journals because people often stay away from bulky ephemera.
While you do have to be careful of bulk in an altered book journal, that doesn't mean you can't add an interesting piece of ephemera here and there throughout the journal.
One idea would be to glue a belly band onto one of your pages, which not only gives you extra space for keepsakes but also adds a 3D element to your page.
You could even create a belly band that has a fold out writing spot.
Here's a video to show you how I made the bellyband pictured above >>
9. Fun Swing Pocket Pages
I probably sound like a broken record talking about all the fun and creative things you can do with your altered book pages, but it's true!
Another of my favourites is when you cut a page in half to create two smaller pages that almost feel like they swing when you turn the page.
You can then have fun decorating these small pages however you like.
When I did this for the spring pages of my "Through The Seasons" altered book journal, I glued two book pages together before cutting them so that they'd feel stronger.
I then had fun collaging one side of each mini-page and adding pockets to the other side.
Check out my video to see what I mean >>
10. Beautiful Fabric Flip Pages
If you're like me and you love texture in your journals, then why not add some to your altered book journal?
One of the simplest ways you can add texture is with fabric flips, which can also double up as both decoration and a way to hide pockets or secret writing spots.
All you need is a pretty fabric and some fabric glue to affix the top of the fabric to your journal page. You can then lift the fabric up when it's time to write.
Alternatively, you could also hide a pocket underneath the fabric as I did in my "Through The Seasons" journal. I used vellum to create my pocket so that it was heavily disguised by the pretty sheer fabric I used for my fabric flip.
Here's a video to show you exactly how I did it >>
11. Extra Tuck Spot Pages
Providing you keep an eye on how bulky your altered book journal is getting, there's no reason why you can't add extra pockets and tuck spots to some of your pages.
And there's no reason why you can't be creative with how you make them.
For example, why not use some sturdy fussy cuts as little tuck spots that also double up as page decorations? Or you could even create a little bird's nest and use that as a tuck spot!
That's exactly what I did in my "Through The Seasons" journal and I just love how the little nest looks.
Check out my video to see exactly how I made it >>
BONUS: Using My Altered Book Journal For Margarete Miller's Collage Challenge
If you're looking for even more altered book page ideas, then you might also get some ideas and inspiration from my first altered book journal, which I made for Margarete Miller's weekly collage challenge.
I only did a few pages in this one, so it's currently sitting on my unfinished pile. But still, it's always fun to look back on our earlier work – whether finished or not.
Anyway, my plan for the challenge was simple. I was going to create an ideas book just for me where I could try out new techniques, designs, colours and materials for my junk journals.
Now, I could have used any book for Margarete's challenge. I could have used an old notebook or even a journal I'd made especially.
Instead, I chose to go down the altered book route, which would also be a new challenge and technique for me to try.
Here's a quick look back on my altered book pages and the collage prompts that inspired them.
Page 1: A Pocket & A Flip Out
Prompts & materials:
Something fast: I used an Edith Holden illustration of some beautiful swallows (they're my favourite bird!)
A postage stamp: I chose a blue vintage stamp to fit in with the theme of this page, which I added to the back of one of the journal cards.
A piece of map: I struggled with fitting this into my layout, so it's hidden beneath silver washi tape.
A border or frame: I used some vintage wallpaper from my shop, which had a sort of border or frame pattern on it. I turned this scrap into a cute pocket.
A portion of a brochure: I went with something vintage and Parisian-inspired and turned it into a journal card.
(Bonus) Form or part of a form: I used a piece of vintage ledger, which felt like it was "form-like" as it had boxes to fill out, etc.
Here's the video of me creating this page >>
Page 2: More Pockets & Flip Outs
Prompts & materials:
A person: I used a vintage-style photo of a girl I found on Pixabay, printed onto white cardstock.
An image from a magazine: I used a vintage magazine, which had some black and white pictures of houses on it.
A doodle: I drew a little border of hearts around my hidden journaling spot.
A piece of washi tape: I used this to hinge the tea bag cover onto the page for hidden journaling.
A tea bag cover: I used a bright, colourful one and covered it with sparkly gold ribbon and a pressed flower to mute it down a bit.
(Bonus) An illustration: I used an Edith Holden illustration, which I used as the base of my page.
Here's the video for this week's page >>
Page 3: A Beginner's Collage
Prompts & materials:
A barcode: I cut one out from the back of some packaging.
A photo or portion of a photo: I used one of the photos from the vintage magazine I used in week 2; it's the black and white house you can see in the corner.
A thing: I used a clock sticker (just because!)
A clothing tag: I didn't have one, so I used a tag that came off of a mirror from a shop and turned this into a journal tag, which I ended up adding to the previous page.
Text in a different alphabet: I used some kind of Greek or Latin book page.
(Bonus) Handwriting: I used a portion of a vintage envelope and a diary-style book page; both of which had cursive handwriting on them. I also added other elements from the envelope like the postage stamp and postal markings.
I then felt like the collage needed more, so I also used a mushroom fussy cut from a book, a butterfly from a digital kit and a label from the same kit, which I'm going to write a short quote or word onto.
Watch the video for this week for some ideas >>
Page 4: Using A Collage "Formula"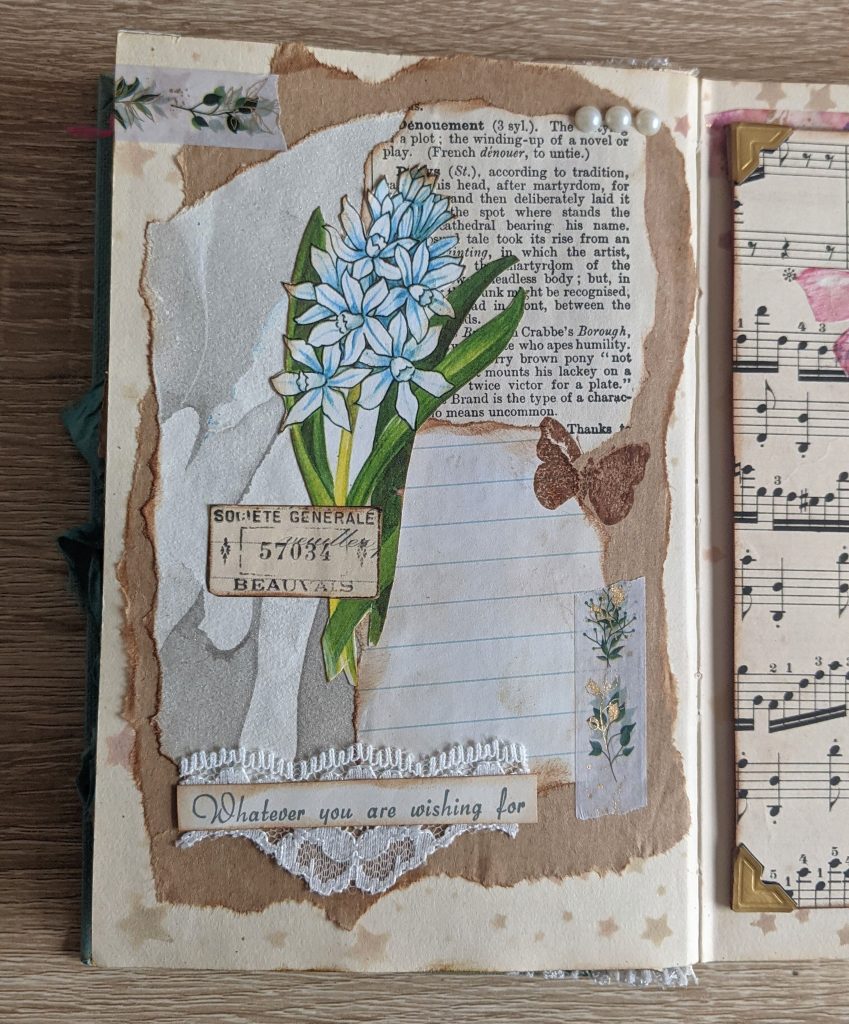 Prompts & materials:
Numbers: I used a label that had numbers on it. I thought it went perfectly with my floral focal point.
Graph paper or lined paper: I went for lined paper.
An art scrap: I used a piece of my marbled paper that I do with nail polish (a tutorial's coming soon!)
A book page or portion: I used an old dictionary page.
An old sticky note: I didn't have one, so I skipped this prompt.
(Bonus) Instructions: I tried to use this in my collage, but I just couldn't fit it in, so I left it out.
I explained in my process video that these prompts seemed to fit in really well with a collage formula that Natasa from Treasure Books came up with. I followed her advice and I think the page turned out great!
Check out my process video now >>
Page 5: An Autumn-Inspired Collage
Prompts & materials:
Something that's dark: As it was autumn at the time of decorating this page, I wanted to use a dark brown woodland animal in my collage. And along came this beautiful deer!
Textured paper: I used some embossed wallpaper.
Something round: I cut a 1-inch circle from a book page to make it look like a full moon. Okay, an abstract full moon.
Paper with a repeating pattern: I found a vintage book page with arched windows repeated across it, which I used for my background.
A place: To go with my autumn scene, I used a picture from a book to depict a dark woodland at sunset.
(Bonus) A plane: This didn't go with the rest of my picture so I left it out.
Take a look at my video to see how I made my collage >>
---
I hope these altered book pages have given you some ideas and inspiration for your own altered book journal. But more than anything, I also hope you're feeling excited to make your journal and decorate your pages. After all, it's so much fun! Enjoy every minute…
Did you like these altered book page ideas? Why not pin or bookmark this blog post, so you can refer back to it later?