This article may contain affiliate links, which may earn us a commission - at no extra cost to you - if you use one of our links. Please see our disclosures page for more information.
From interactive sliders and fun flip outs to experimenting with mixed media and 3D elements, there are so many creative things to do in a journal or notebook.
Plus, most of these ideas are much easier to do than you might think thanks to simple-to-follow tutorials you'll find scattered throughout this list of creative journal ideas.
So, no excuses, it's time to unleash your creativity and put the joy back into your journaling. Let's dive in…
14 Creative Things To Do In A Journal Or Notebook
1. Add an interactive element
Who says you only need to write in your journal? There are lots of ways you can be creative in a journal, but my favourite is adding interactive elements.
Why not hide a secret writing space underneath a fun flip out, flip up or flip down? You could use fabric, cardstock or envelopes to do this.
Here's an example of a simple fabric flip:
While this envelope flip out reveals the writing page underneath and doubles up as a pocket for keeping little mementoes safe. Here's how I made it >>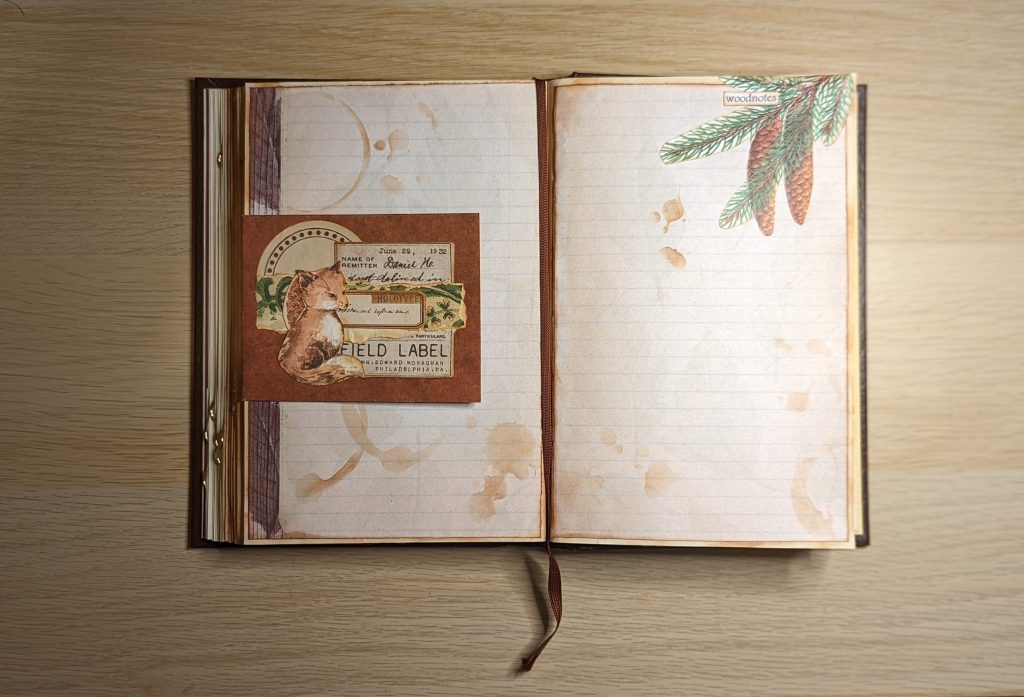 Another fun interactive element is a slider embellishment that you can use to decorate pockets, bellybands or journal pages.
The photo below shows an example from one of my Christmas journals. The "twinchie" embellishment on the pocket slides left and right along the festive ribbon… just because!
Check out this video to see how I made the "twinchie" slider, alongside other festive journal embellishments.
Psst! Not sure what a "twinchie" is? I had no clue until a few months ago! You'll find the definition of it (alongside many other confusing words and acronyms) in this blog post.
2. Experiment with mixed media
While mixed media is very common in art journals, you can experiment with it in any kind of journal.
From experimenting with texture paste and paints to using a variety of different papers to get certain effects, you can have a lot of fun with mixed media.
I once made some side tucks out of old tickets, napkins, brown distress ink, gold paint and other bits and pieces. The final result ended up looking like moss was growing up a wall or something. Trust me, the photo doesn't really do them justice.
I've only dabbled with mixed media a handful of times, but if you're interested in seeing experts at work, then I'd recommend checking out these YouTubers:
3. Add texture or 3D elements
Another creative thing to do in your journal (and something that ties in nicely with mixed media) is to experiment with texture and 3D elements.
This could be as simple as layering up fabric scraps to make a pretty fabric cluster, or even a little bird's nest embellishment like I did for one of my altered book journal pages. And here's exactly how I made it >>
Or, you can get really creative and use textures and 3D elements to create little "scenes" in your journal.
For example, I once made a journal card out of some leftover black cardstock and an illustrated book page. I then rolled part of the cardstock back on itself to reveal the image underneath.
Next, I added a 3D star embellishment on top of the "roll" to make it look like a shooting star was revealing the sunrise. How magical! And you can watch my entire process here >>
A word of caution: both texture and 3D elements will add quite a bit of bulk to your journal, so you probably don't want to overdo it. Focus on using these techniques on two or three pages or pieces of ephemera, which is probably enough for one journal.
4. Feature pressed flowers and leaves in creative ways
If you love nature, then why not press some flowers or leaves from your next walk and feature the dried specimens in new and creative ways inside your journal?
You could make your own specimen cards out of playing cards or cardstock, for example. Or you could even use them inside page windows, flip outs and even pockets!
READ NEXT: How To Keep Pressed Flowers In A Journal (7 Easy Ideas To Try!)
5. Upcycle or repurpose something
Now this idea is very close to my heart!
My love for upcycling and repurposing things is pretty much my entire reason for starting my House of Mahalo blog and YouTube channel, so you'll find me sharing all kinds of easy upcycling ideas here, there and everywhere.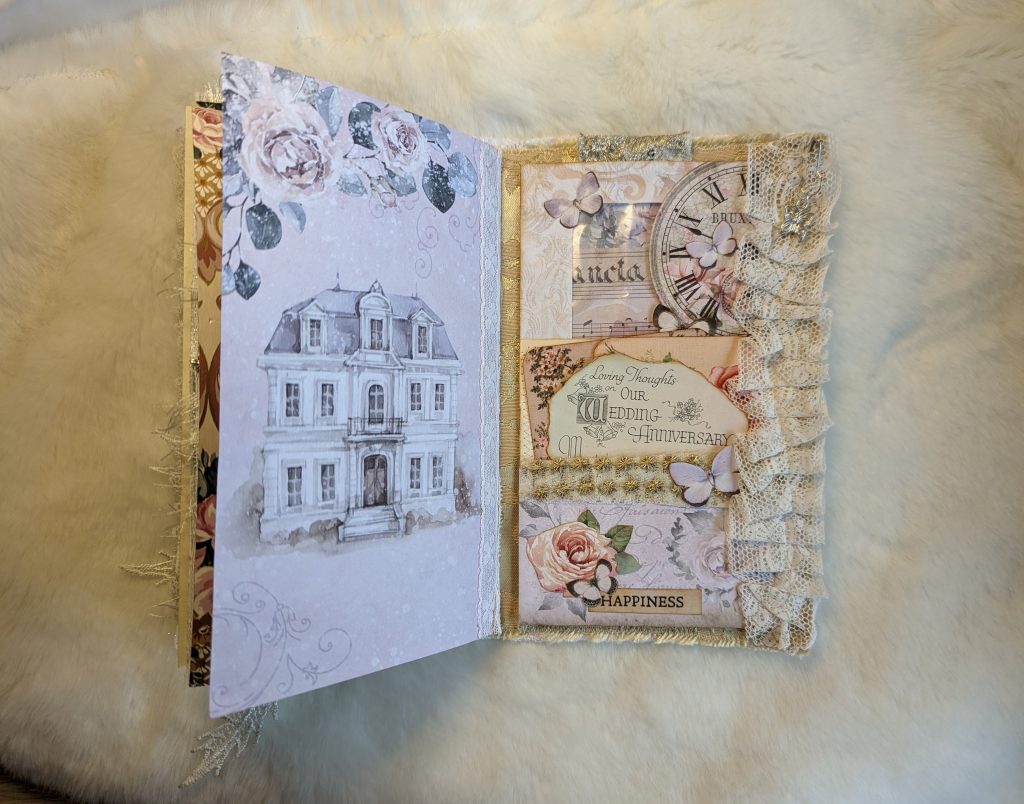 But specifically when it comes to creative journal ideas, here are a few suggestions to get you thinking:
Upcycle a junk mail envelope into a specimen card or interesting flip out
Turn a used greeting card into a journal page, pocket or journal tag/card
Use fabric from an unloved piece of clothing to make fabric flips, pockets or page tabs
Make pockets and journaling cards from book pages (both wordy and illustrated ones!)
Use postage stamps as page embellishments or make little clusters from them
6. Experiment with pockets and tuck spots
Of course, upcycling isn't the only way you can have fun experimenting in your journal.
Any time you try a new idea is you being creative in your journal!
So, have fun folding book pages in different ways to create pockets. Or why not add a hinge to your pocket and create a fun flip out version?
There are so many different things you can try. So to help you narrow it down, here are some easy junk journal pocket ideas.
I also have a playlist on my YouTube channel to show you various journal ephemera ideas.
READ NEXT: 10 Easy Journal Pockets – Ideas & Tutorials
7. Change up your journaling spots
And it's not just pockets that you can have fun with!
If you're bored of writing across your journal or notebook pages, then why not find new ways to make writing or journaling spots?
You could layer up a bunch of your paper scraps to make pretty collaged journal cards.
You can even "hide" secret journaling spots behind flip outs and other interactive elements.
Another fun way to change things up is to try the Regency letter folding technique that Jane Austen herself used and create a unique journaling spot with it.
8. Write sideways instead of the traditional way
Another creative journal idea is to write sideways instead of the traditional way.
Remember: there are no rules in journaling!
Not only is it fun to change things up, but writing sideways is also helpful if you're not great at writing in a straight line. Now, you'll hardly even notice your wonky writing!
9. Use journal prompts and write something unexpected
If you're ever stuck in a creative rut and don't know what to write in your journal, then why not use some journal prompts?
These are great for inspiring you to write something completely unexpected, while they may even get a creative poem or verse out of you!
READ NEXT: 52 Prompts To Help You Write In Your Journal
10. Experiment with different colours and themes
Speaking of creative ruts, experimenting with different themes or using different colours in your journal could also help you.
It could be as simple as using a different colour of the rainbow to inspire your next page spread.
Or you could feature a different colour or theme in your journal for each day of the week.
11. Cut out a "window" in your journal page
Journaling gives you so much creative freedom, but one of my favourite ideas is to cut out "windows" in my journal pages.
You could even tear your windows if you're feeling especially adventurous!
Your "window" might reveal whatever is on the page underneath it, or you might like to frame a certain picture or scene to inspire your next writing session.
As always, the possibilities are endless!
Psst! If you want to see exactly how I made my "window" pages, then I showed the process a few times during my altered book journal series >>
12. Have a go at new-to-you page ideas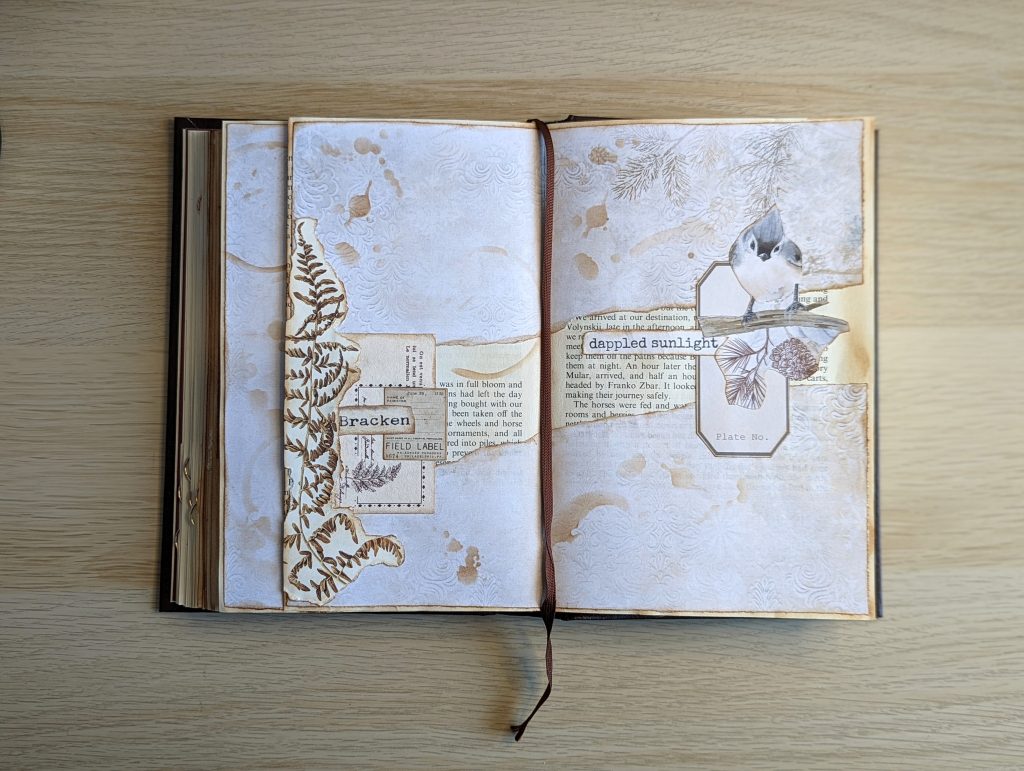 Speaking of journal pages, there are so many ways you can be creative with them.
From creative collages and hidden journaling spots to interactive elements, you have so much choice when it comes to your journal pages.
But just like new-to-you pocket ideas, any time you try a new page idea is you being creative. So have fun with them!
READ NEXT: 10 Journal Page Ideas To Inspire You
13. Make your journal pages different sizes
Of course, it's not just what you do on a journal page that can test your creative flair.
Even something as simple as making your journal pages different sizes can inspire your creativity!
If you're making your journal from scratch, then you can use different papers and paper sizes to change things up as you make the actual journal.
But if you're working in a pre-made journal or notebook, then you could use a ruler and tear some pages to make them a smaller size (either in width or height).
I tried this in my altered book journal and I managed to cut one of my pages in half to create some fun flip pages. They looked so unique! Here's my process video for these pages >>
14. Decorate your journal or notebook cover in new and exciting ways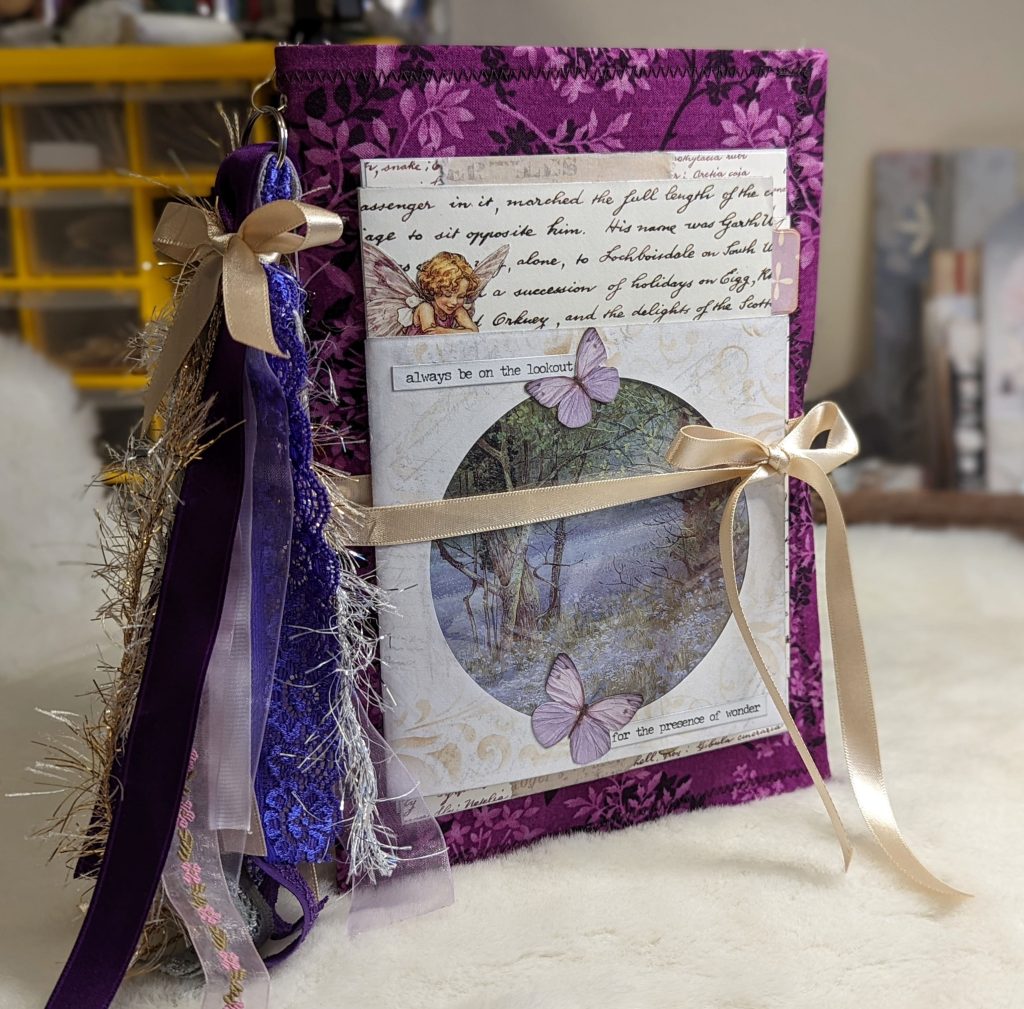 And finally, it's not just inside your journal where you can get creative!
Have fun decorating your journal or notebook covers and they might just inspire you in new and exciting ways when it comes to writing inside your journal.
If you're after some ideas, then here are a whole bunch of journal covers I've had fun with.
READ NEXT: 21 Junk Journal Cover Ideas To Inspire You
BONUS: Make your own journal!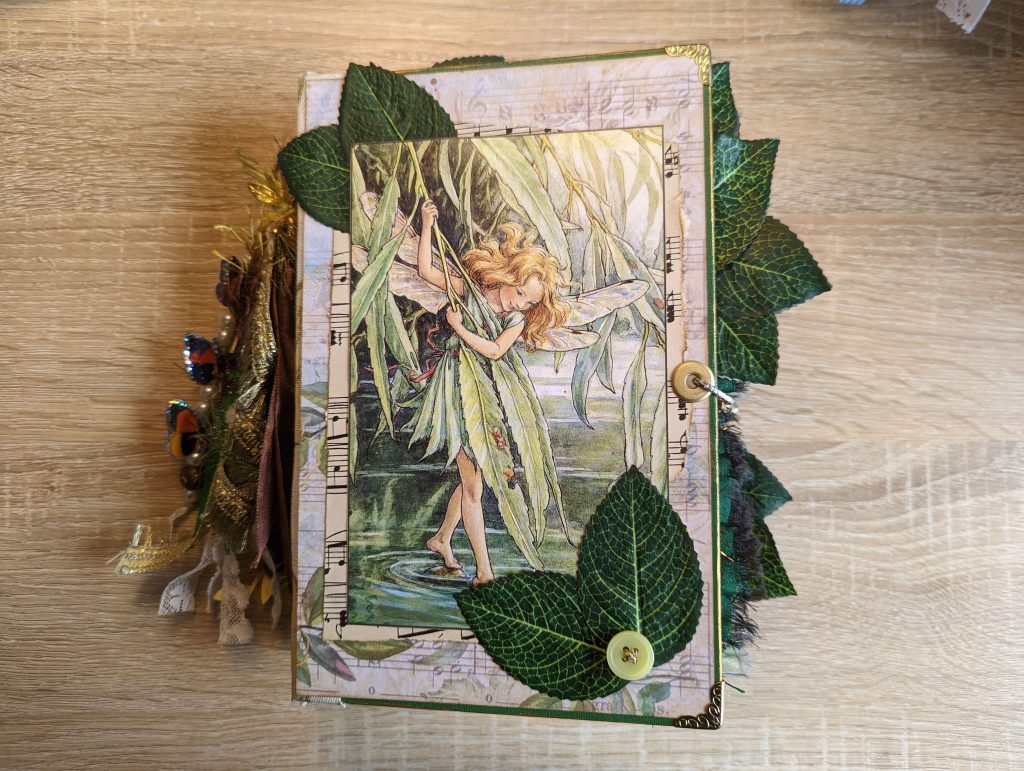 Of course, if you really want to stretch your creativity, then one idea is to try making your own journal.
There are lots of ways you can make them – from upcycling unloved books into altered book journals or turning envelopes into journal covers.
You can even use cereal boxes and other food packaging!
If this sounds like fun to you, then here's my how-to guide to help you make your first journal.
Once you get really into it, you can even make journals from sweet wrappers and other equally surprising items!
Psst! You'll probably find many more creative journal ideas in my other blog posts. The possibilities really are endless!
And if you enjoyed this list of creative things to do in a journal, then why not pin or bookmark it now, so you can read it again later?