This blog post may contain affiliate links, which earn us a small amount of commission if you buy something through them - at no extra cost to you.
If you're looking for some fun and unique Christmas junk journal ideas, then this list may help to inspire you.
From festive embellishments and ephemera ideas to interactive journal pages and pockets and even some fabulous Christmas happy mail ideas, there's a lot of inspiration to have come out of two festive collaborations I've recently taken part in.
First, there was the A-Z of Christmas Craft collaboration hosted by RachandBella Crafts. That took place in November 2021 and featured a new video and idea every single day of the month!
Then there's the #jjchristmasinjuly collaboration taking place this month (July 2022), which is hosted by Cajcrafts. This also features lots more fabulous and festive ideas.
This list of 17 Christmas junk journal ideas features my take on some of the makes from these collaborations, as well as some other festive ideas I had while making my collection of Christmas junk journals last year.
I hope you find the ideas helpful and inspiring! And – of course – I'll be sure to add to it over time as I revisit the Christmas theme each year.
RELATED: Christmas Junk Journal Flip Through & Behind-the-Scenes Info
Christmas Ephemera Ideas
From tags and pockets to everything in between, here are a bunch of festive ephemera ideas for your junk journals.
Advent Journal Tags
– Inspired by Nonstop Papercrafts
This cute journal tag idea comes from Suzanne at Nonstop Papercrafts. In her video, she shared how to make a journal tag, which has a perforated window in the front to hide a secret image or sentiment underneath – just like an advent calendar! These tags look so smart and clever, but they're also simple to make.
Sound fun? Check out her tutorial here.
Collaged Tags & Journal Cards
– Inspired by Frapps & Scraps
Collage masterboards are a fantastic way of using up all those little scraps usually leftover from a journal project. They're easy to create, and once you've cut them down to size, you'll have some of the most unique tags and journal cards to use. Throw in a Christmas theme, though, and you're really onto a winner here!
Take a look at this video from Shonna at Frapps & Scraps for inspiration, as well as some handy tips on how to make your very own Christmas collage masterboard.
Christmas Book Page Pockets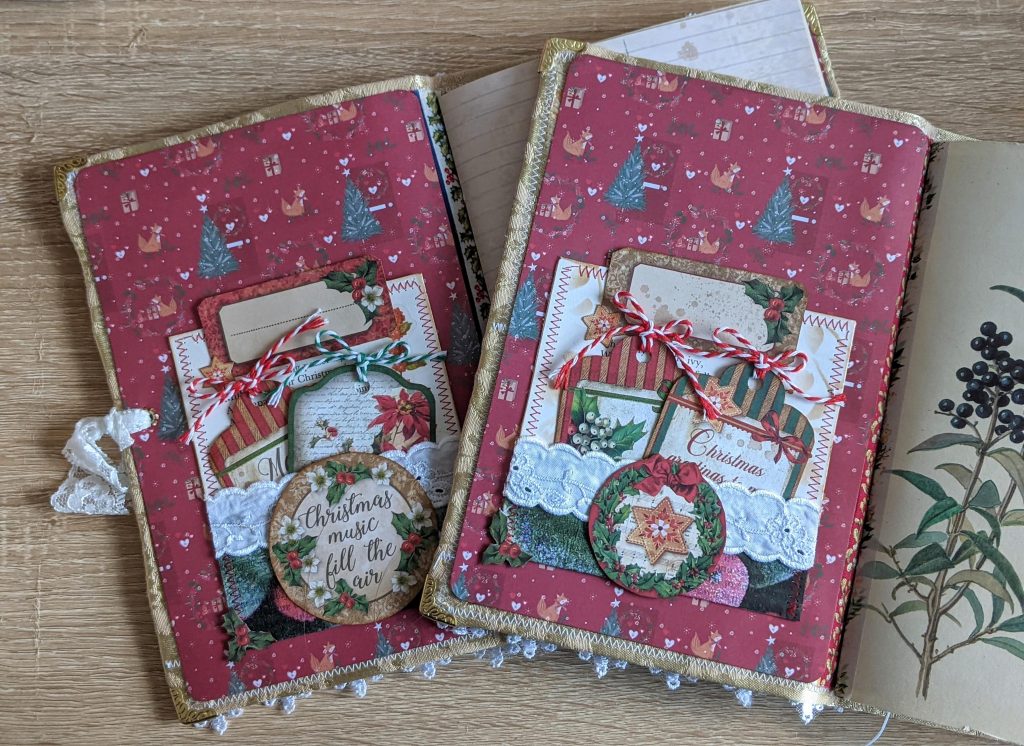 I don't know a single junk journaler who doesn't have an excessive supply of book pages; am I right?! The great thing is that they make handy pocket and tag bases. In this case, you can simply glue two or three pages together and turn up the bottom of them into a pocket. From there, you're free to decorate with stitching, stencilling, stickers, napkins, lace and more.
Take a look at my video to see how I made the examples above.
RELATED: 10 Easy Junk Journal Pockets: Ideas & Tutorials
Multi-Pocket Booklet
– Inspired by SunflowersAndDors
This cute little booklet has as many as three pockets or tuck spots inside as well as a scrappy notepad. I made mine following a tutorial from Mandy at SunflowersAndDors; they're so easy to make.
Take a look at Mandy's video now.
Christmas "Jag"
– Inspired by Angela Kerr
What do you get when you combine a journal card with a tag? Why a jag, of course! This fun idea comes from Angela Kerr. The tag part is a floating pocket with space to write on the back while the journal card lives inside the pocket. I had a lot of fun making mine and I'll definitely make more of them this year.
Here's Angela's video if you'd like to craft along with her.
Fold Out Envelope Writing Spot
– Inspired by Paper Grove Studio
This fun and festive idea comes from Leilani at Paper Grove Studio and involves just one sheet of paper plus some embellishments. By folding and glueing the paper in a certain way, you can make an envelope shape, which is both a pocket and a fold-out writing space at the same time. Fun, huh?!
Check out Leilani's tutorial now to see how to make one.
RELATED: Little Golden Book Christmas Junk Journals – Flip Throughs & Ideas
Nativity Tags
– Inspired by Dust to Roses
These pretty nativity tags were inspired by something I saw on Cassie from Dust to Roses' channel. She glued layers of torn book pages together and added some gold leaf and other embellishments to create Christmas tree decorations, which can also double up as journal tags if you want them to. I didn't have any gold leaf to make mine, so I used some gold ribbon instead to get the pretty sparkle.
Take a look at Cassie's video here.
Sparkles & Spice Shaker Tags
– Inspired by Gi Kerr
How pretty are these wintery shaker tags? I made them following Gi Kerr's tutorial (she even provided a freebie in her Facebook group to help us make them!) They fitted in just perfectly with my Shades of Winter journal.
Here's how you can make some of your own.
Christmas Junk Journal Page Ideas
Let's not forget our pages! Here are some ideas to level up your Christmas junk journal pages in a fun and interactive way.
Poinsettia Pocket Page
When making my Christmas journals last year, I used a lot of random book pages and vintage paper. But some of the book pages didn't quite suit the look I was going for, so I was after a pretty and interactive way to cover them up.
And this was how my poinsettia pocket page came to be!
I used two envelopes, some scrapbook paper, this digital from RachandBella Crafts and some poinsettia embellishments to make it – and it's easier to make than you might think.
Christmas Garland Page Idea
– Inspired by The Messy Palette
Here's another fun and festive junk journal page idea. I was inspired by The Messy Palette to add this garland to the top of my centre page spread. It was easy to do and adds yet another element of fun to our journals.
Check out Dianne's video for inspiration.
Festive Window Shaker Tip-In Page
These are window shaker tip-in pages. I plan on glueing them onto some of my Little Golden Book journal pages. Once I do, the one with a bauble cut out of it will frame parts of my other pages inside the bauble, while the other page just has the fun shaker element.
See how I made them and how I plan on using them in my latest festive video.
RELATED: 10 Junk Journal Page Ideas To Inspire You
Festive Embellishments For Your Christmas Junk Journal
Are you ready to add some pretty and festive embellishments to your Christmas junk journals? Here are some glitzy ideas to inspire you.
Festive Fabric Clusters
I adore making scrappy fabric clusters. They might just be my favourite thing to make when it comes to junk journals. They're easy, pretty and use up lots of little fabric scraps that frequently pile up on us.
Join me for a chatty crafty session in this video and make some of your own festive fabric clusters alongside me.
Christmas Spine Tassels
Journal jewelry and spine tassels are another favourite of mine when it comes to junk journal embellishments. And when making Christmas-themed ones, extra jingle bells are a must of course! I usually make mine using a keyring loop to keep things easy and then I add a pretty bow and charm to the front to give it an even prettier look along the spine.
See how I made the examples above in this video.
Festive Fabric Flip
Who doesn't love a secret writing spot?! One of the easiest ways to achieve that is with a simple fabric flip. In this case, I used an offcut of some festive fabric, sewed some lace to the top of it and then glued the top edge onto my journal page. It's only when you lift up the fabric flip that you can see what you've written. Super simple.
Christmas Happy Mail Ideas
And now for some Christmas happy mail ideas! Many of these would work well in a Christmas junk journal or folio, or they work just as well as standalone pieces to send to someone.
Envelope Happy Mail
– Inspired by Crafty Junk Journals
Inspired by Rebekah from Crafty Junk Journals, I made this little folio out of three envelopes. It has multiple pockets inside for journal cards and tags as well as a scrappy notepad. While I plan on using mine inside an altered file folder, it would make such a beautiful piece to send to someone in the mail.
Check out Rebekah's original video here.
Or take a look at my mini video series to see how I made the one pictured above.
Evergreen Trifold Folio
– Inspired by Periwinkle Matilda Journals
Here's another sweet happy mail idea; this time from Ellie of Periwinkle Matilda Journals. This mini trifold opens up to reveal two tuck spots and a waterfall writing spot. I thought it would also be a nifty place to keep a gift voucher and some stickers to give to a journaling penpal.
Take a look at Ellie's video to see how to make one.
Stuffed Pocket of Presents
– Inspired by Lilifee the Paper Witch
And finally, we have this sweet idea from Daniela aka Lillifee the Paper Witch. With just a few sheets of paper (book pages would be great for this one!), you can make a stuffed pocket full of ephemera to send to someone. As I was gifting mine, I wrapped it up with a bow (just like a present) and attached a jingle bell for a bit of extra festive fun. Once again, super easy, super effective.
Check out Daniela's video for the instructions.
BONUS: Even More Christmas Junk Journal Ideas!
If you're looking for even more Christmas junk journal ideas, then you might also want to check out this playlist on RachandBella Crafts' channel or the hashtag #jjchristmasinjuly on YouTube and Instagram.
---
I hope you found this roundup of Christmas junk journal ideas helpful and inspiring. Once again, thank you to the fabulous crafters who inspired so many of these makes.
So, over to you now – which one(s) are you excited to make first? Let me know in the comments below…
Did you like this list of Christmas junk journal ideas? Why not pin or bookmark it now, so you can refer back to it later?