This article may contain affiliate links, which may earn us a commission - at no extra cost to you - if you use one of our links. Please see our disclosures page for more information.
Just when I thought I'd made my last Christmas journal, another one came along.
This Christmas junk journal flip through features the intriguing story of how my latest beautiful journal came to be.
And the inspiration behind it is not at all what you'd expect.
Here's what happened…
RELATED: Christmas Junk Journal Collection 2021 – Flip Throughs & Ideas
"The Night Before Christmas" Junk Journal Flip Through
But before I get into the inspiration for my "The Night Before Christmas" journal, you can watch my video on YouTube to see a complete flip through of it.
Psst! This journal is also currently for sale in my Etsy shop if you like the look of it. Check it out here >>
The Inspiration Behind This Beautiful Christmas Junk Journal
When I sat down to make a video that day, I'd planned on upcycling a Christmas-themed children's book cover into an ephemera or Christmas card holder.
I'd fancied up the cover using pretty scrapbook paper from my stash.
I'd added pockets to the inside front covers using coordinating papers.
And I'd glued lace along the spine and added a dark blue ribbon closure.
It was at that point that I realised I wasn't making an ephemera holder.
I was making another Christmas junk journal – and a beautiful one at that!
By the end of the video, I was laughing and saying: "Well, it looks like I'll have to come back and work on this one some more then."
By the start of the next video, I'd created a signature and bound the pages together with a 5-hole pamphlet stitch.
I then attached the signature to the journal cover with a ribbon binding, so that the signature is removable.
I think the dark blue ribbon and bow along the spine look so lovely.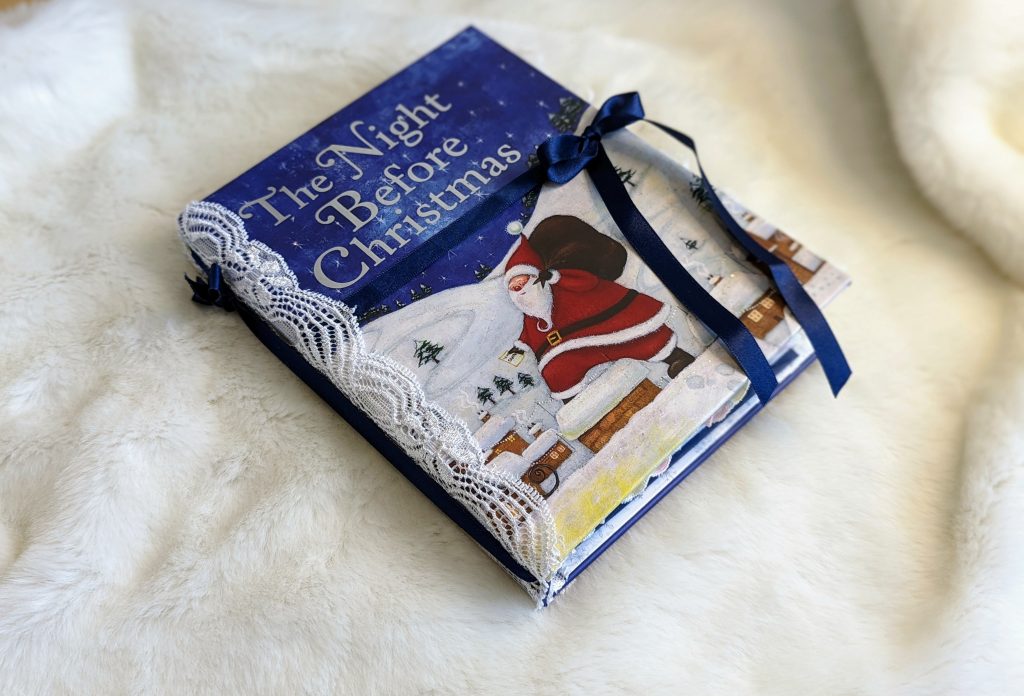 And with that, I was ready to add tuck spots and pockets and other ephemera and embellishments.
When I was finished, this little journal became my favourite Christmas-themed one of all.
Taking inspiration from the snowy Christmas scene on the front of the book cover, this journal features wintery pictures and embellishments.
It became the perfect project to move me away from the reds, greens and golds of a traditional Christmas project and towards the blues, silvers and whites of a traditional winter project.
I guess this journal was meant to be.
If you'd like to see exactly how I made this Christmas junk journal, then I have a two-part video series on my YouTube channel to show you most of the process. I hope you enjoy watching the videos!
RELATED: 17 Fun & Festive Christmas Junk Journal Ideas
The Verdict
While I loved making this beautiful Christmas junk journal, this was the last Christmas-themed project I intend on making – at least when it comes to junk journals.
In fact, I sold ALL of my Christmas papers, trims and other crafting items on my Etsy shop so that I couldn't change my mind later.
Why did I make this drastic decision?
Because I sell my junk journals, I would need to make and finish Christmas-themed ones in October or November.
And I just don't work well when I'm not crafting with the seasons.
I want to be working on Christmas projects in December and no earlier than that.
This means that – going forward – I'll only be making Christmas projects for fun rather than for my shop.
And you know, I'm totally okay with that.
RELATED: Little Golden Book Junk Journals – Flip Throughs & Ideas