Psst! This blog post probably has affiliate links in it, which earn us a small amount of commission if you buy something through them... at no extra cost to you.
If you're new to junk journaling and are looking for some junk journal definitions to help you out with any of the following questions:
What does RAK mean?
What's an ATC card?
What even is a junk journal?
Then you've come to the right place!
I had these same questions when I started junk journaling, so I wanted to create a resource (an A-Z glossary if you will) full of junk journal terms and definitions to help you out in your journey. I hope you find it useful.
And yes, I'll update it as and when I think of more jargon and confusing acronyms to add to it.
Am I missing any already? Probably. So help a girl out and comment below with what I've missed. Please and thank you!
Junk Journal Definitions: The Big One – What is a Junk Journal?
According to Urban Dictionary, a junk journal is "a book handmade from memorabilia/ephemera/photos out of recycled or vintage material significant or visually appealing to the intended owner."
But that sounds a little too dry for my liking.
Here's my definition: "A junk journal is a book that's made (usually by hand) out of found and recycled materials, such as paper scraps, book pages, music sheets, maps, illustrations, and ephemera (think stamps, ticket stubs, postcards, greeting cards, fussy cut pictures, etc), and is a place where one can record their thoughts, ideas, memories, and musings."
In other words, a junk journal is whatever you want it to be and can be made out of whatever you think looks good and will be useful to you.
You might want to use a junk journal as a daily diary or somewhere to record poetry or song lyrics that mean something to you. As for me? I have a botanical junk journal that I'm using to record my findings about flowers and plants I like.
Long story short, your junk journal is for you. It can be whatever you want it to be.
RELATED: The Intriguing History Of Junk Journals
Junk Journal Glossary: An A-Z List To Help You Figure Out All Those Confusing Acronyms and Jargon
Once you start junk journaling and watching tutorials on Youtube, you'll probably start to notice various words or acronyms that get thrown around. Unsure what they mean? Take a look at the list below for definitions and examples of some of the most commonly used junk journal words and phrases.
Altered Book Junk Journal
You can alter books in many different ways – including for your journaling. This is one of the easiest ways to get started with junk journals as you don't have to worry about binding your pages together.
You might want to use an altered book for collage journal spreads. You might want to create an altered book full of pockets to keep your ephemera safe. Or you might want to create journal spreads, pockets and collages inside one, so you can use it just like you would a junk journal.
The only golden rule here is to be careful of how much bulk you add. You'll probably need to rip out or remove some pages from the book first, so you can make room for all those lovely spreads, pockets and ephemera you plan on including.
RELATED: Altered Book Ideas: Using Margarete Miller's Collage Prompts For Inspiration
Altered Paperclips
If you're bored of using standard paperclips, you might want to think about "altering" them.
Altered paperclips are decorated or embellished paperclips that still serve their purpose as paperclips, but look much more decorative.
You could simply adorn your paperclips with ribbons, charms and fabrics. Or you might want to "hide" the paperclip like in this example:
ATC Cards
ATC stands for "Artist Trading Card" and their size is usually 2.5 inches by 3.5 inches. You can decorate them how you like, but generally, you'll want to back them with tea-or coffee-dyed paper or light-coloured cardstock, so that you can write on the back of them and use them as pretty journaling cards.
Bellybands
A bellyband is a page embellishment that's either glued or stitched onto the paper on two sides (either top and bottom or on the left and right) so that something can be tucked behind it.
You can make bellybands out of almost anything; just as long as it's sturdy enough. Thick scrapbook paper, cardstock, fabric trims and envelopes all make great bellybands.
And as with everything else, you can decorate them however you like.
Here's an example of a bellyband I made out of a beautiful vintage fabric trim for my botanical boho journal:
And here are a couple I made out of junk mail envelopes that also double up as pockets for a journal card or thin notebook: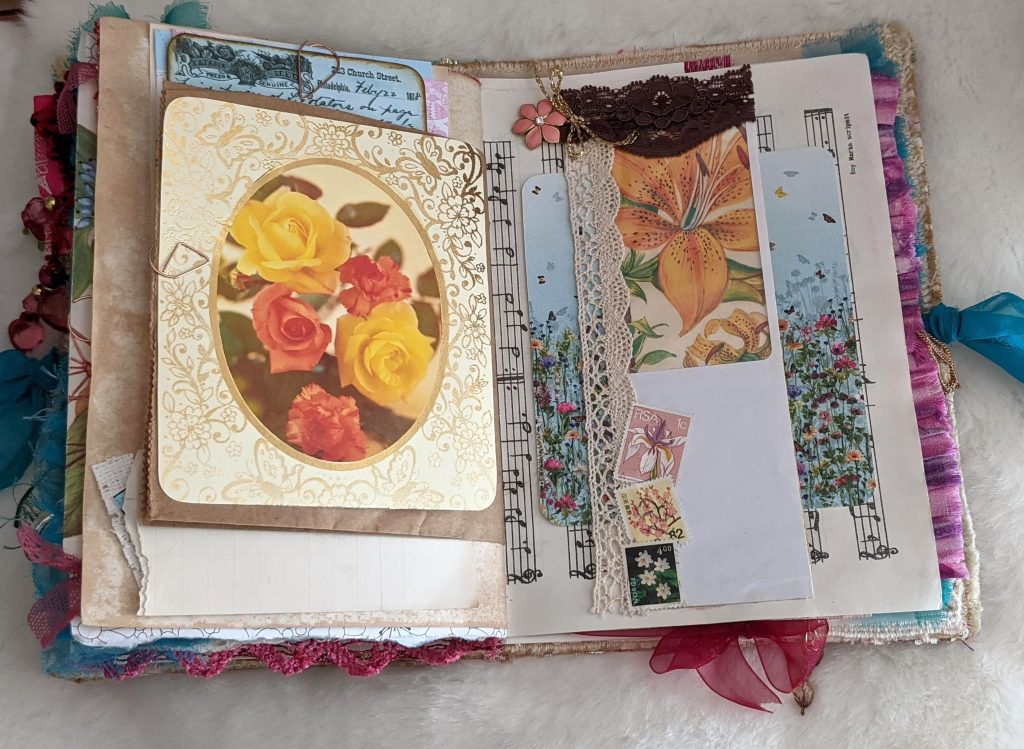 Bling, Charms, Dangles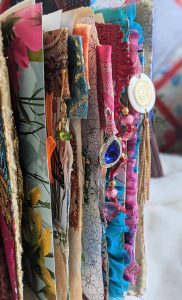 Whether you decide to upcycle some old jewellery, a vintage brooch or even a keyring, you can never add too much bling to a junk journal.
You can add charms or dangles to the tops of tags, use them to embellish your front covers, hang them from tabs and ruffles on the side of a page, or even along the spine of your journal.
Use paperclips, hinge clips, safety pins or bulb pins to do so – easy peasy!
Boho
In the junk journal world, boho is a type of theme or aesthetic. It's a little hard to define as it can be interpreted in different ways.
Some see it as anything that involves traveller or gypsy images. Others think Indian sari fabrics and trims work well for boho. While others think boho is all about colour and lots of it.
In my opinion, all of those people are right as boho can be this hodgepodge of different things. But generally speaking, opt for rich jewel colours like reds, oranges, golds, purples, blues, greens and pinks and lots of charms, dangles and bling – and you can't really go wrong!
Here's my take on the boho theme for my recently completed botanical boho junk journal:
RELATED: 35+ Types Of Junk Journals You Can Try Making
Clusters
Clusters are a type of junk journal embellishment that you can use to decorate your pages, envelopes, front covers, whatever you like.
You can make clusters out of fabric, lace or paper. And the best bit is that they're a fantastic scrap buster!
Grab three to five scraps, layer them up, secure them with a button or brad and you'll have something that looks a lot fancier than it sounds.
Here's a pretty fabric cluster I made using little scraps of lace and fabric, secured with a silver brad:
Challenges
Youtube, Facebook and Instagram are full of junk journal challenges if you know where to look – and they can be a great source of inspiration to get you out of a creative rut.
Join a junk journal Facebook group (like this one!), for instance, and you might be tasked with creating anything from tags and clusters to full-blown junk journals, often following some guidelines or a particular theme.
Or you might see YouTubers and Instagrammers running challenges for you to join in with like mass making challenges or using up your junk mail. You can then share your makes in a Facebook group or by using a special hashtag.
I recently took part in a "Scrap Pack Challenge" in the Junk Journal Trading Post group on Facebook where we had to send a pack of scraps to our partner (and receive one from them). We then had to make a mini journal, two tags and two clusters using the scraps.
It was a lot of fun and I created so many things I wouldn't have ordinarily made because I received things that wouldn't have usually been in my stash!
And since starting my own junk journal Facebook group with a friend, we've hosted different events each month – ranging from interesting collaborations to junk journal bingo and more! Take a look >>
Collage Masterboard
While you probably already know what a collage is (it's just a piece of art that uses up your scraps), a "collage masterboard" might be a new concept for you.
This is where you collage on a large piece of cardstock or some other suitable base material like packaging or thick book pages. The idea is that you can trim this "masterboard" down to make junk journal tags, journaling cards, pockets and more.
They're fun to make, super easy and you'll be surprised with your results each time you make one! You could even scan your masterboard into your computer so you have one to print out and use at any time.
Here are a couple of collage masterboards I've made recently, which I can't wait to cut down:
Crop-a-Dile Eyelet Setter
A crop-a-dile is an eyelet setting tool made by the company We R Memory Keepers and it's a very popular tool among junk journalers and crafters. Once you figure out which settings you need for your type of eyelets, you'll find it quick and easy to make journal closures and adorn your tags with eyelets – and quietly. No need to hammer on metal and keep all your neighbours awake!
December Daily / December Daily Journal
A December daily is a type of journal you might want to create and/or sell. They're usually Christmas or winter-themed and the idea is that you or whoever owns the journal would write in it every day throughout December.
RELATED: Christmas Junk Journal Collection 2021: Flip Throughs & Ideas
Digitals (or Printables)
Junk journal digitals (or printables) are a type of scrapbook paper if you will. If you're good with Photoshop, then you could try designing your own or you can buy them ready-to-print from Etsy sellers.
Digitals come in all different colours, themes and designs and are so pretty to work with – and not too expensive if you can print them out at home.
I've recently bought digitals from TheJournalBoat, SaturdayStamper and VectoriaDesigns – and I'm really happy with all of them.
RELATED: Recommended Junk Journal Printables (Tried & Tested!)
Edith Holden
Edith Holden is a writer from the early 1900s who penned a very popular book among junk journalers called "The Country Diary of an Edwardian Lady".
Her illustrations of birds, butterflies, wildflowers, and other flora and fauna she encountered during her "nature walks" are so beautiful and her diary entries use perfectly meticulous handwriting.
So, as you can imagine, pages from her book look gorgeous as junk journal pages or embellishments. Her book can be a little pricey these days given its popularity, but you might be lucky enough to find used copies on eBay, Etsy or in your local goodwill or used bookstore for a bit cheaper.
If you're struggling, I also sell pages salvaged from her books on my Etsy shop, which are taken from copies that were too far gone to be sold on.
Embellishments
Junk journal embellishments are anything you use to decorate a page, pocket, tuck spot or journal cover such as clusters, charms, ruffles, snippets, die cuts, fussy cuts, etc. You'd be surprised how pretty a blank page can look once you've added a little something to it!
Ephemera
If you look ephemera up in the dictionary, you might find something like:
"Things that exist or are used or enjoyed for only a short time" or "Collectable items that were originally expected to have only short-term usefulness or popularity".
In the junk journal world, ephemera can be anything from letters and postcards to stamps and envelopes to ticket stubs, playing cards – and much more!
If you're new to junk journaling, why not take a look at my vintage paper ephemera packs on Etsy, so you can get a headstart with building your stash of ephemera.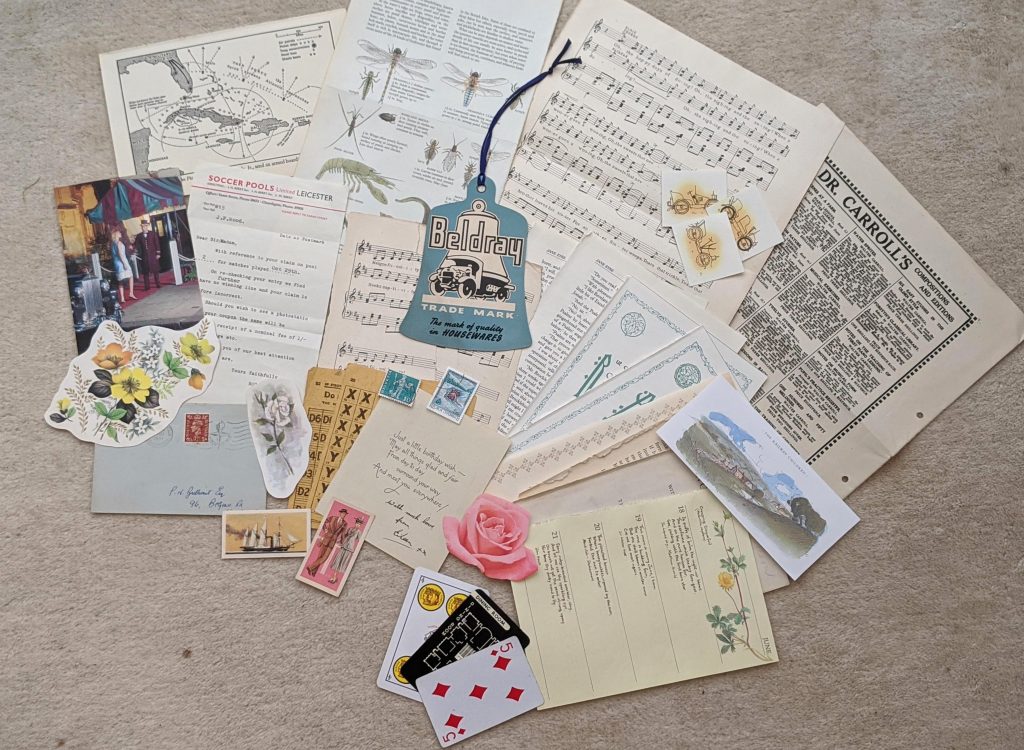 For even more inspiration, search for junk journal ephemera on Etsy and you'll see a whole heap of different things to choose from.
Or if you're after ephemera for a certain theme, try searching for that too – like butterfly ephemera or botanical ephemera.
Flip Ups, Flip Downs, Flip Outs, Everything That Flips
If you create a page that folds out or a pocket that flips open like this:
Then you've created some kind of "flip" for your junk journal.
You can have them flipping upwards, downwards, to the left or the right – and they add such a fun and interactive element to your journals. You can even use them to hide secret journaling spots.
Flip Through
A flip through is usually a video, but could also be a detailed blog post with photos, showing your journal in detail.
As most pages are different in junk journals and you would've added lots of beautiful ephemera to them, a flip through helps fellow junk journalers (and potential customers) to see every inch of your journal.
Flip through videos also enable you to explain why you've chosen certain colours or embellishments.
For inspiration, check out my junk journal flip through playlist on Youtube to see some of my videos.
Fussy Cuts / Fussy Cutting
If you've ever cut out an image from a book page or cut around part of a greeting card, then you've probably done "fussy cutting". A "fussy cut" is just the fruits of your labour – so the pretty flower you cut out for example.
But for it to be considered a fussy cut, you must cut directly around the item without leaving a border. Otherwise, you'll have done kiss cutting instead. Hopefully that's not too confusing!
Short on time? You can buy fussy cuts and kiss cuts ready-made from various Etsy shops.
Journaling Cards
Journal cards or journaling cards are cards that you create, which can be written on. You can make them out of absolutely anything – from greeting cards and ephemera to playing cards and junk mail – and everything in between.
Journaling cards are not only pretty, but you can also move them around your journals for extra fun and interactivity.
Shown below are a couple of different types of journal cards I've made. The floral ones have scraps of vintage paper on the back with a torn look, while the one on the right has a flip up card attached to it that can also be journaled on:
RELATED: 15 Junk Journal Tags & Journal Cards To Inspire You
Journaling Spots
Journaling spots are another place for you to write on, in, or under. There might be a bit of blank space on a colourful page. That's a journaling spot. You might even "hide" a journaling spot underneath something that flips out, up or down like these little spaces I created that also double up as pockets for little tags or ephemera:
RELATED: 10 Junk Journal Page Ideas To Inspire You
Junk
I just had to include this one! "Junk" is open to interpretation, but I see it as anything that people usually throw away.
That unwelcome piece of advertising that comes through the door? Junk.
The envelopes your bills come in? Junk.
That old newspaper you're finished reading? Yep, that's junk too.
That ticket you're finished with that usually ends up in the bin? That's also junk – although probably quite pretty junk to be fair!
We junk journalers never like to throw anything away, so I challenge you to grab some "junk" and see what you can make with it – because there'll always be something beautiful or functional you can create with it.
Kiss Cutting
Kiss cutting is like fussy cutting in that you're cutting out an image from a book, greeting card, scrapbook paper, etc. But with kiss cutting, you leave a border around the outside of the image (just like a sticker that has a white border around it).
Pockets
A pocket in a junk journal is a little place for you to pop something inside. Unlike a tuck spot, a pocket is usually glued or stitched on three sides to give you just one opening.
You might glue a paper pocket down onto a page for some ephemera to sit inside. You might clip a vellum pocket onto the side of a page for a movable pocket for tags and other goodies. You might stitch an envelope or paper bag into your journal signature and have that as a pocket. You might even pop a pocket onto the top of another pocket (a double pocket if you will) or even add a pocket to the front of a tag.
You can make pockets out of all sorts of things like…
Vellum
Book pages
Pretty paper or card
Envelopes
RELATED: 10 Easy Junk Journal Pockets: Ideas & Tutorials
RAK(s)
RAK stands for "Random Act of Kindness". The junk journal community is one of the most generous and giving communities I've found online, so if you join an active Facebook group, you'll often find something on there called a "RAK list" or something similar.
The idea is that you choose someone or several people to send random goodies to in the post, or you might even be lucky enough to be on the receiving end of getting a surprise RAK in the post.
A RAK could be some junk journal supplies, something handmade or a mixture of the two.
I've been fortunate enough to receive a couple of RAKs recently and mine were stuffed full of various items like book pages, illustrations, tea-dyed paper, ruffles, fabrics, trims; absolute all sorts that I could use for my journals.
When you receive a RAK, obviously be sure to thank the person who sent it to you. But it's also a nice idea for you to pay it forward and send a RAK on to someone else as well. That way it's almost like a circular thing where lots of people receive RAKs in the post. And they can really make someone's day!
Ruffles
A ruffle can be made out of fabric or paper and they're usually sewn to get the "ruffle" effect. This one is a bit hard to describe, so in this photo, you can see two fabric ruffles I made for my boho journal:
You can use ruffles to embellish the side of a page (they really make the side view of your journal look extra gorgeous!), you could use them as tag or journal card toppers, as page tabs or even as embellishments on the front of your journal.
There are all sorts of tutorials online for ruffles, so if you've never made one before, have a look. They're super easy but look really effective!
Shabby Chic
First off, "Shabby Chic" is actually trademarked, so be cautious of trying to sell or pass off your own creations as "Shabby Chic". But the term is used a lot within the junk journal community, so I still wanted to include it.
This is another type of aesthetic; this time where you'll often see a lot of lace, fabric, feminine colours and pastels.
Here's my take on an ephemera folio that could be classed as "Shabby Chic" (but I chose to call it "Pink Chic" or "Pretty Chic" instead to get around the trademark):
Snippets or Snippet Roll
Snippets are a type of junk journal embellishment. They're similar to clusters in that they're made up of layers of fabric, paper or a combination of the two.
But snippets are usually created in the form of a roll that you cut little snippets from.
You could make a snippet bellyband, you could embellish your pages or pockets with snippets you've cut from your roll like in my examples below, or you could embellish the side of a page with a long snippet.
I followed this tutorial from PinkMonarchPrints to make mine. They were super easy and look so pretty!
Steampunk
Steampunk is another type of junk journal aesthetic and is very "industrial" in appearance.
Think steam trains, clocks, cogs, chains, metallic colours, and machinery/inventions and you'll be onto a winner here.
Some journalers will also pretty it up a bit by mixing in lace, flowers or feminine colours with all of the industrial goodness. This is sometimes called "Romantic Steampunk" or "Shabby Steampunk".
Tabs
Tabs are usually on the side of a page and serve two purposes: to help you find a particular page or section of your journal quickly and easily and to give you something pretty to look at (especially when looking at your journal from the side).
You can glue or stitch them onto the page and you can make them from fabric, cardstock or thick paper, maybe even some lace – anything that's strong enough to be pulled around a bit without tearing or ruining your page.
You could also add tabs to a journal card or tag to make it easier to pull them out of a pocket. Or you could add them to a flip up, flip out, flip down, etc to make it clear that there's something to lift or pull.
Tags
Tags are like journal cards – the idea is for you to write on the back (or front!) of them. But tags are often shaped differently. Like a luggage tag, you might snip the top corners off, for example.
Journalers often add tabs, ribbon or lace to the tops of tags as well, whereas journal cards don't usually have this on them (unless it's needed).
RELATED: 15 Junk Journal Tags & Journal Cards To Inspire You
TN
TN stands for "Traveller's Notebook" and refers to the specific size of a journal. A standard size TN is approx 4.5 inches x 8.25 inches, so it's slimmer than an A5-sized journal.
As the name suggests, this size is ideal for slipping into your handbag for some on-the-go journaling.
Tucks
Tucks are like pockets, but they're usually open on two sides rather than just one. Tucks are useful when you want to add some larger or thicker ephemera that won't fit into pockets.
Tucks can be glued or stitched down, or you can make "moveable" tucks with the help of altered paperclips or things that are hung over a page like an envelope.
Here are a few examples from my own journals:
Vintage
Vintage is another type of junk journal aesthetic, but it can also refer to anything that's over 20 years old.
From an aesthetic point of view, expect to see lots of tea- or coffee-dyed papers, vintage trims, neutral colours, Victorian or Edwardian illustrations and black and white (or sepia-toned) photographs.
Writing Boards
As you might imagine, junk journals have a lot of lumps and bumps in them.
Tucks, pockets, altered paperclips, clusters, snippets, etc can all create an uneven surface underneath the page you're writing on, so you can use writing boards to help you get a flat surface.
You can easily make one from some heavy-duty cardstock or even a book board that's come away from the spine. Decorate it up with illustrations or book pages, finish with some mod podge and pretty book corners – and you would've made something pretty but also very useful!
Here's one I made for my botanical boho junk journal. I made mine from a vintage book board (tutorial coming soon!)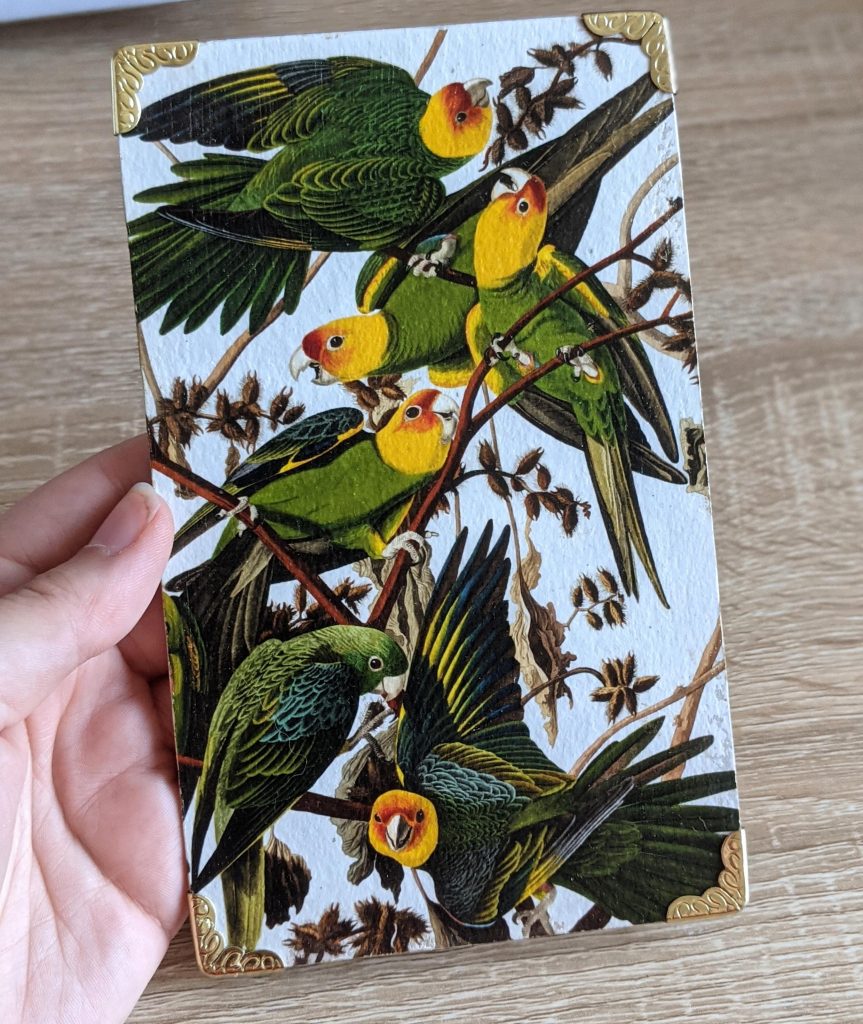 Final thoughts
And there you have it – a whole bunch of junk journal definitions to help you debunk some of those mystifying acronyms and jargon. I hope you found this glossary helpful! I'll likely add to this over time as I discover more about the wonderful world of junk journaling, but if you spot something I've missed off, please do leave me a comment below.
Are you new to junk journaling? Take a look at my junk journal 101 blog post now.