This blog post may contain affiliate links, which earn us a small amount of commission if you buy something through them - at no extra cost to you.
Altered book journals are some of the easiest DIY journals you can make since you don't have to make a journal cover from scratch or even bind the journal pages into the cover.
But if you're wondering what is an altered book journal and exactly how to make one of your very own, then look no further because I've got you covered.
I'll also take you through the steps involved in choosing the best book to turn into a journal and other important things to consider when making an altered book junk journal.
So, are you ready to have fun upcycling an old and unloved book? Let's dive in!
What is an altered book journal?
An altered book journal is a diary, planner or any other kind of journal that either you've made or someone else has made by repurposing a book.
Usually, altered book journals involve leaving the book cover and most of the original book pages intact.
You simply decorate the pages and add pockets and journaling spots. This means you don't have to bind the journal since the pages are already bound into the original book spine.
Very handy for beginner crafters and junk journalers!
If this sounds like something you want to make, then read on for my instructions and other things to consider when making your very own altered book junk journal.
How to make an altered book journal
Altered book journals are some of the easiest journals to make because the cover and binding are already done for you.
This means you can focus on making beautiful ephemera and adding embellishments to your journal cover and pages – which most people say is the fun part!
That said, there are still some important things to consider when making an altered book journal such as which books you can alter and how to prepare your book.
Choosing a book to alter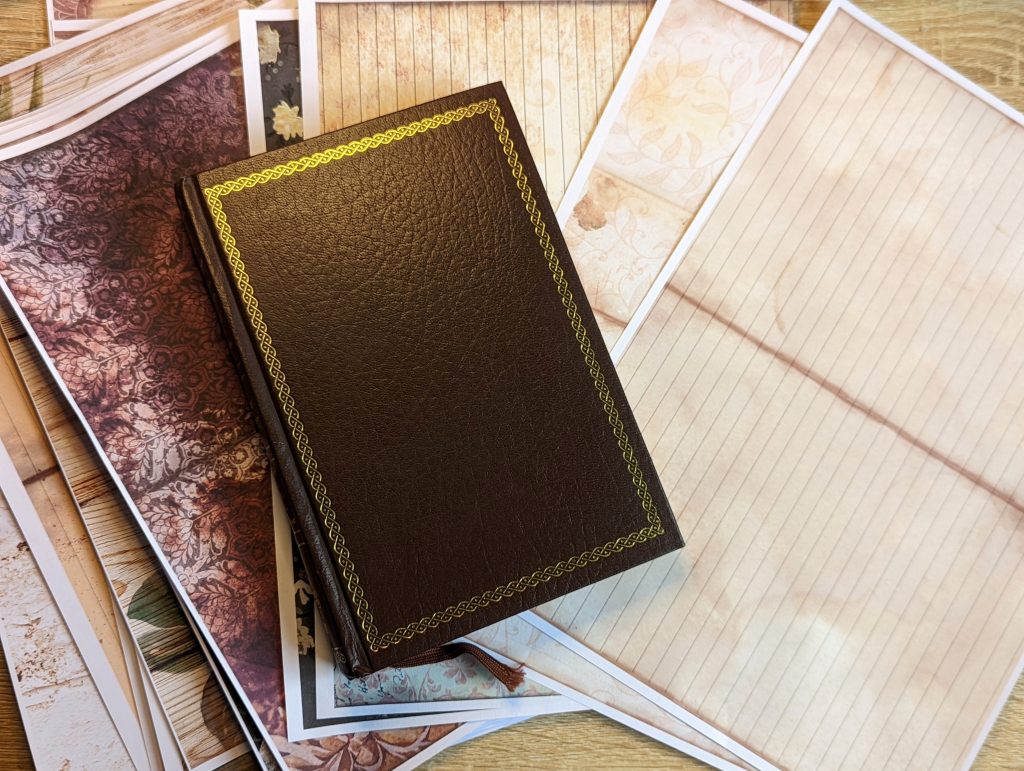 When choosing a book to make into a journal or junk journal, there are a few important things to consider.
1. How wide is the spine?
Once you've removed the excess book pages (more on this later), are there enough pages left to make a journal to suit your needs?
Don't forget you'll probably want to add pockets and embellishments to some of your pages.
Personally, I only alter books which have a spine that's at least an inch wide.
2. Is the book a paperback or hardback?
While you can technically alter both paperbacks and hardbacks, a hardback book will provide more strength and stability resulting in a longer-lasting journal.
3. What kind of binding does the book have?
Here's where lots of people disagree.
While some crafters say you should go for a book that has the pages stitched into it, others say you should choose books that have the pages glued into the spine (like most modern-day books).
Having altered both types of book myself, I personally think my journal with the pages glued in is actually stronger than my altered book journal with a sewn binding.
That said, there are yet more things to consider for both types of book you're altering.
For a sewn binding, always remember that the pages are joined together to make the book. So if you remove a page at the front, you'll also need to remove its "twin" at the back of the signature.
You'll need to bear this in mind every time you remove a page from the book.
While you don't need to worry about this for a glued binding (since the pages are glued into the spine independently of each other), your journal will be longer-lasting and will look better if – whenever you remove a page – you glue the two pages on either side of it to each other.
This not only hides where you've removed a page, but it also means your remaining pages will be more protected and shouldn't just fall out of your spine.
4. How thick are the book pages inside?
Once again, you can technically alter any kind of book page.
But if the pages are too thin, then you might find they're too fragile to bear any extra weight (such as when adding pockets or embellishments to them). They may even wrinkle when you glue papers onto them.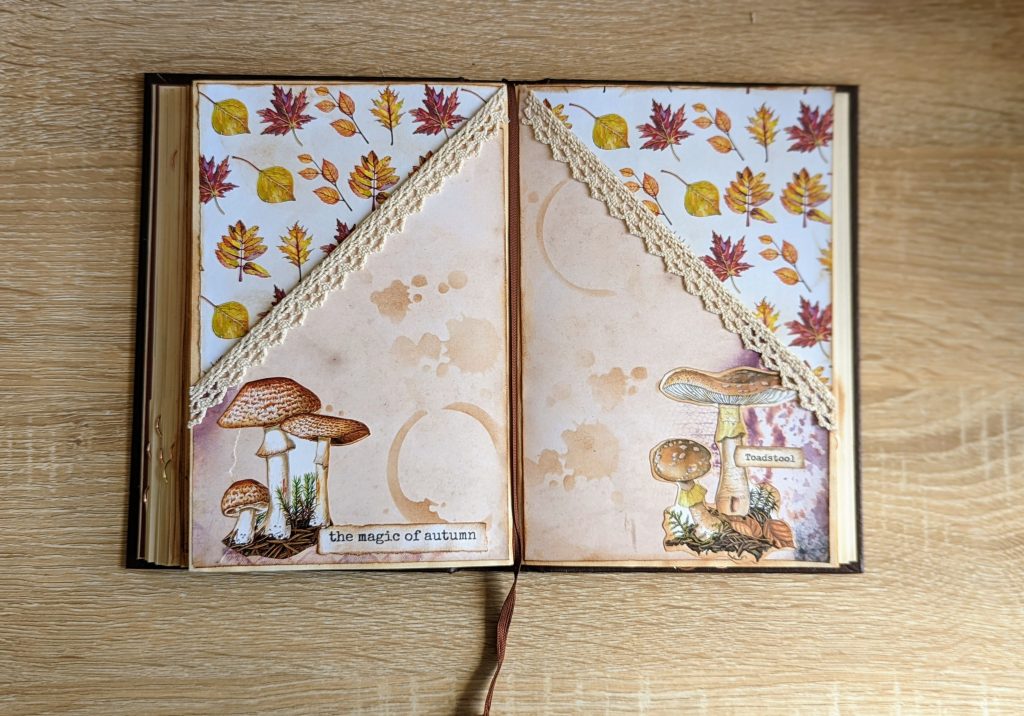 Furthermore, if the book pages are too thick, then you might find you can't add as many pockets and embellishments as you would like.
I seem to have found a happy middle ground with most Reader's Digest books (provided the condition of the book is good and strong).
This brings me nicely onto…
5. What kind of condition is the book in?
Ideally, you'll want a book that's in okay or good condition. Basically, it needs to be sturdy enough for you to work with without worrying it'll fall apart on you.
I'm sure you'll find plenty of unloved yet sturdy books (probably also many that haven't even been read yet!) in a used bookstore or second-hand shop.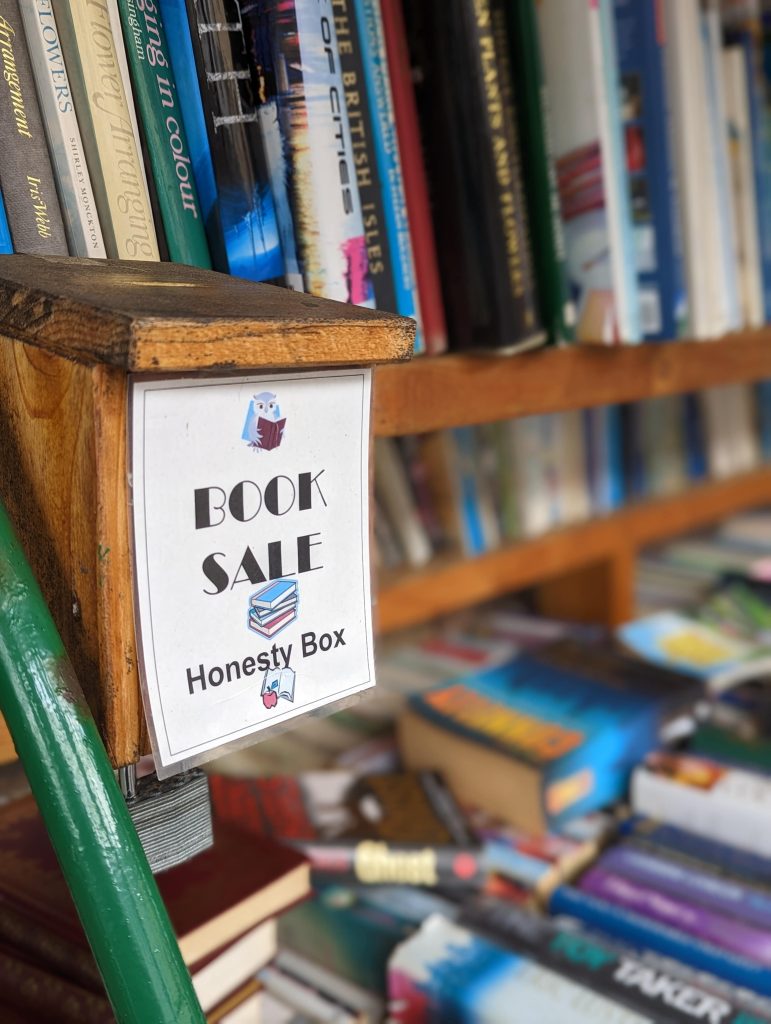 Preparing your book
Regardless of what kind of book you're altering, you'll usually always need to remove some pages to make room for all the extra fun stuff you're going to add.
But how do you know how many pages to remove?
There's no hard and fast rule since only you know how many pages you need for your particular journal. But as a guide, here's what I've tried so far.
Preparing a book with a glued binding
When I made my altered book journal with a glued spine, I followed this tutorial from Barbara at 49dragonflies.
She suggested removing 8 pages at a time. So, you keep the first few pages, remove 8 and then glue the pages on either side of the removed ones together – either as a pocket or totally glued together.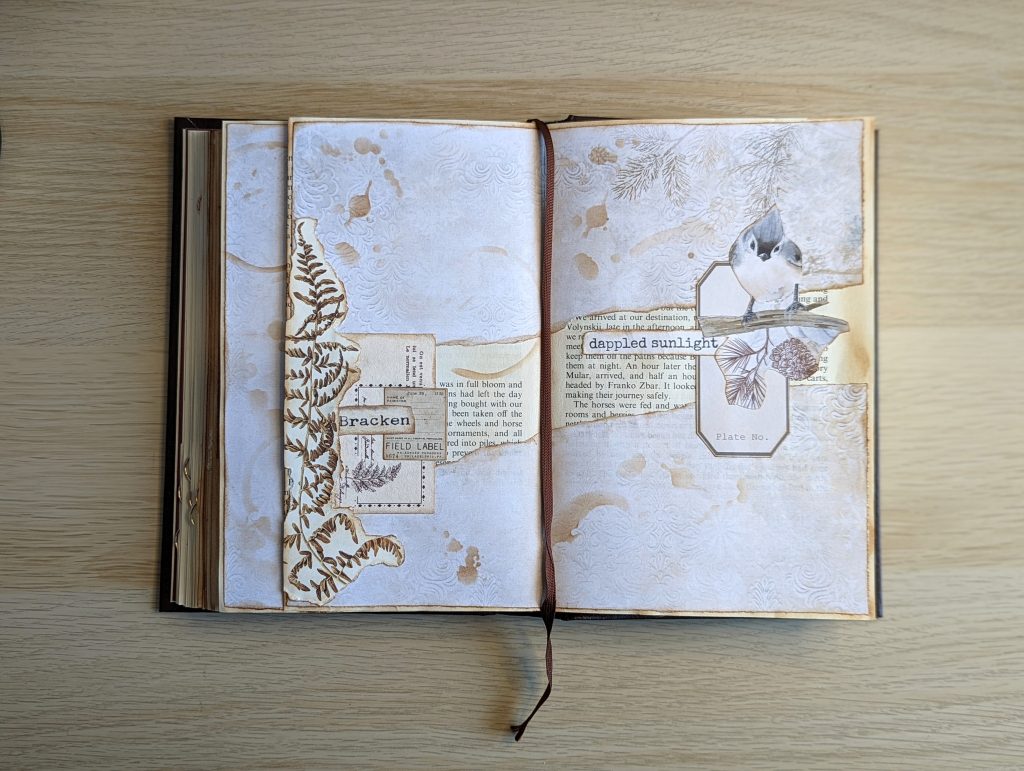 It just so happens that when I did this, my Reader's Digest book which had over 500 pages in it left me with roughly 50 or so sides to decorate.
I then worked out that this would give me 12 journal pages per season (one page per week), which is how I decided on my chosen theme of "Through The Seasons" aka a journal for an entire year.
Psst! Wanna see exactly how I made and designed each page of my altered book journal? Check out my YouTube playlist now >>
Preparing a book with a sewn binding
When I altered my book that had a sewn spine, I was altering it for a weekly collage challenge from Margarete Miller.
This meant I knew I needed to have at least 52 pages or sides to play with.
I also wanted a few extras in case I wanted to use the book for anything else or if I collaged across two pages during some weeks of the challenge.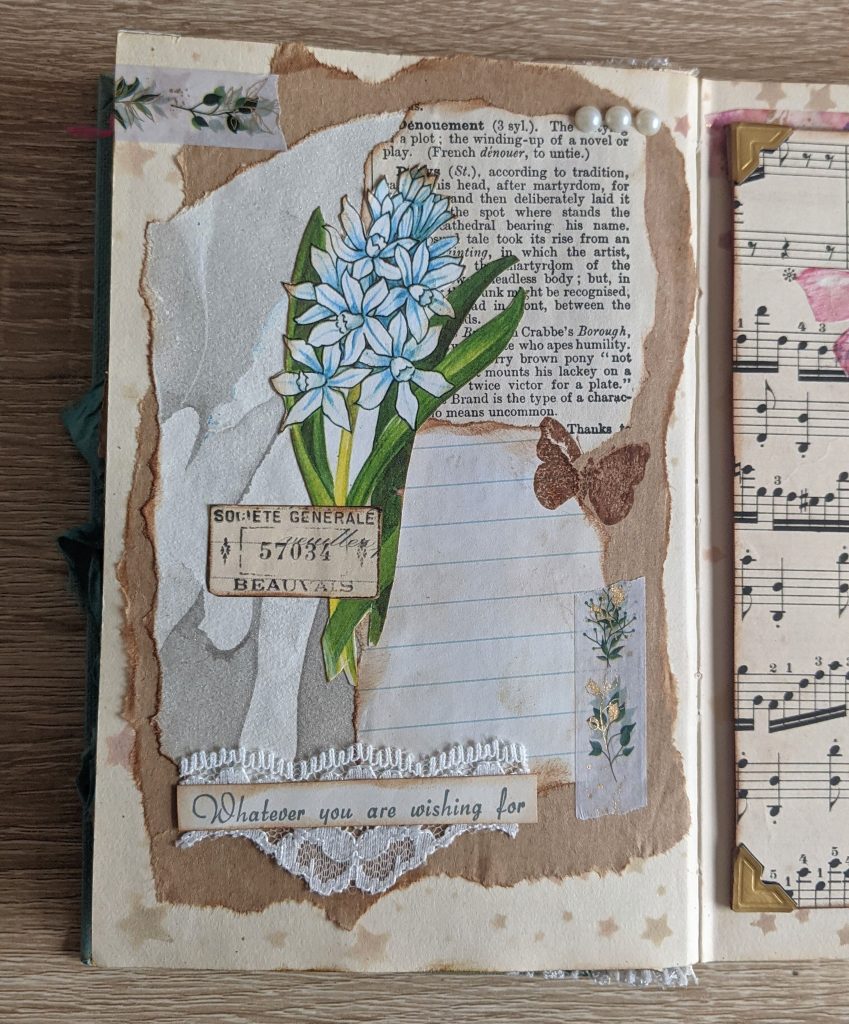 So, I removed the pages in twos throughout all the signatures until I had 60 pages left (10 in each signature).
This kept my book solid and even, rather than having one "chunky" signature and a load of other "skinny" signatures before or after it.
As per this video tutorial from Natasa at Treasure Books, you should always keep the middle pages within each signature intact. This stops you from interfering with the structure of the book.
You'll know you've found these when you can visibly see stitching down the middle of the centre two pages. You're then free to remove as many "filler" pages as you need.
Remember: For every page you remove from a sewn binding, you'll need to remove its counterpart on the other side as they're joined together.
Designing page spreads
Once you've removed some of the original book pages, don't be surprised if you have less than a third of the pages left to work with.
But most importantly, now comes the fun part: designing your page spreads and making your ephemera!
From interesting window pages and pocket pages to fun collage pages and everything in between, there are lots of ways you can design your altered book pages to offer interest, excitement and ample writing space.
For more ideas, check out my blog post: 'Altered Book Pages: 11 Easy & Beautiful Page Ideas To Inspire You!'
You can also see how I made and designed each page via the various videos on my YouTube channel.
You might also enjoy my blog posts that walk you through some interesting ephemera ideas:
You'll also need to consider whether you want your altered book journal to have a certain style or theme.
For example, do you want to make an art journal or a writing journal? And do you want to stick to a certain theme like botanicals and nature or a vintage theme?
These decisions will also help you to design your pages, ephemera and journal cover.
RELATED: 35+ Types Of Junk Journals You Can Try Making
Decorating your journal cover
Just as you've designed your own journal pages, you can also design your own journal cover by altering the actual book cover.
This can be something as simple as attaching a bookplate to the front of it using brads or glueing an image onto the front of the book.
Alternatively, you might not like the original book cover or the colour of it at all and so you might want to completely cover it with fabric, paper or cardstock.
In case it helps, I also have a blog post showcasing various journal cover ideas.
While some of them might not work for an altered book journal, many of them will. I hope it serves as some inspiration.
Is it okay to alter and use books in this way?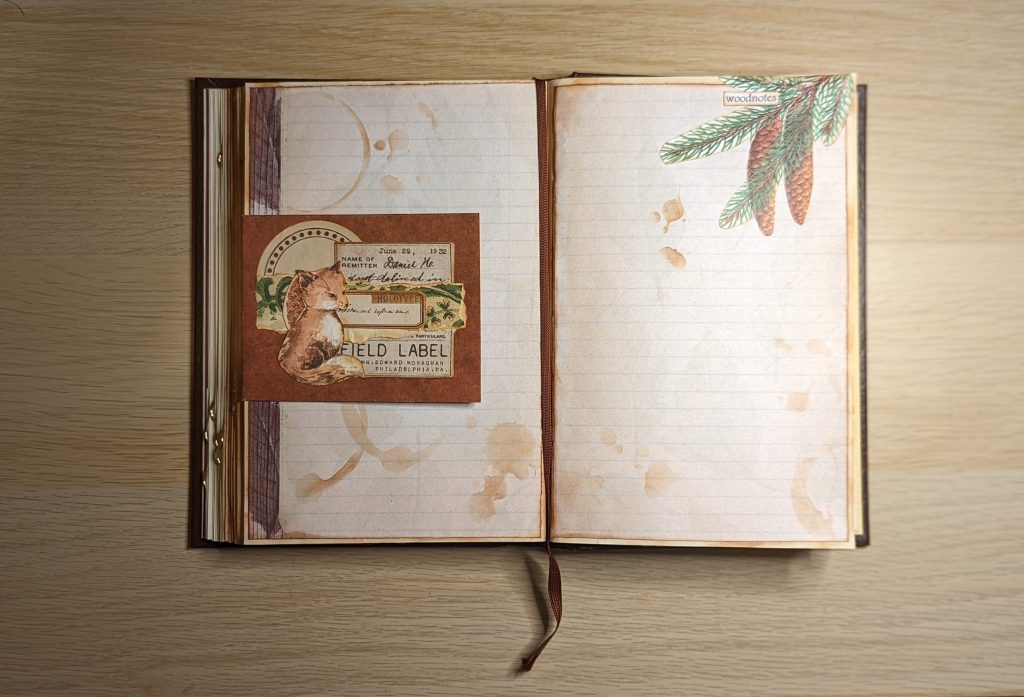 This is a question so many of us battle with when we decide to upcycle books: "Is it okay for us to use books in this way?"
Really this question is two-fold: Where do we stand when it comes to copyright issues? And are we ruining the books (or other people's enjoyment of the books) by altering them?
Copyright is a tricky one and certainly not something I'm going to be able to get into now – especially as copyright law differs across countries. I'd suggest reading up on copyright laws for where you live.
But equally, remember that many altered book journals involve completely covering up the original book pages, so you should be fairly safe in that respect.
As for "ruining" the books or feeling guilty about altering books in this way, I never feel guilty about upcycling books.
Firstly, did you know that around 320 million books go to landfill every single year?
And secondly, you should see how many books I've found in second-hand stores that look like they've never been read – even books that are older than me!
How can I possibly "ruin" someone's enjoyment when other people have had umpteen chances to make that book feel loved?
And likewise, why shouldn't I save these books from going to landfill?
Surely, it's better to upcycle a book into something you or someone else can enjoy for many years rather than just leave the books in the shop, only for them to go to landfill later on.
Hopefully, you're feeling far less guilty about your altered book project now.
What to make with the pages you tear out
Of course, I can't possibly talk about saving books and the planet without also acknowledging that you must remove book pages in order to alter your book for journaling.
So, what can you do with those excess pages? The simple answer: LOTS of things!
Here are a few ideas to get you thinking:
Make book page pockets, tags and journal cards for your other journals
Make shapes out of the book pages to use as artwork, or even paint and draw on them
Use the book pages as actual pages in your other journals
Make a writing board
Make table confetti
Use the book pages as envelopes and packaging for your shop or to send happy mail items in
Make fun coasters for your table
Use the book pages to decoupage something – maybe a table or shelf in your craft room?
Discover more ways to upcycle old and unloved books >>
---
I hope you've found this blog post about altered book journals helpful and full of ideas and inspiration to help you get started with your very own journal.
If you have any questions not yet covered above, then please drop me a line in the comments section below and I'll reply asap. Happy crafting and upcycling!
Did you like this blog post about altered book journals? Why not pin or bookmark it now, so you can read it again later?