This article may contain affiliate links, which may earn us a commission - at no extra cost to you - if you use one of our links. Please see our disclosures page for more information.
It's now been well over a year since I discovered junk journaling and I fall more and more in love with this addictive craft every single day.
But when you first start out, it can be overwhelming to understand what junk journal supplies you should look for and which ones can wait for later.
That's why I've split this junk journal supplies list into two categories – essentials (or what I personally would be lost without) versus "nice-to-haves".
I hope you find it helpful and full of inspiration for which items you should buy and save.
But remember: this craft is all about having fun and coming up with new ideas for how to do things. So… what I might consider essential, you may be able to find ways to work around those too!
Psst! Don't have time to read this whole list right now? You can grab a printable version of it right here >>
My "Essential" Junk Journal Supplies List
Paper
Yes, I know. This sounds obvious given junk journaling is a form of paper crafting. But it might be helpful to know about the most common types of paper used in junk journals and ephemera, such as:
Tea- or coffee-dyed paper (usually copy paper)
Book pages (both text and illustrations)
Scrapbook paper
Cardstock
Notebook paper (lined, graph, dotted, etc)
Vintage paper (book pages, ephemera, ledger pages, etc)
Music sheets
Wallpaper
Envelopes
Parchment paper
Paper doilies
Vellum, tracing or baking paper
Some people – like me – also like to use digital papers in their junk journals (my current favourites are listed here).
While some people prefer to print digitals onto matte photo paper, I print mine onto this 100 GSM Presentation paper. Everyone's different, but this paper gives a good quality image and is slightly stronger than regular copy paper without being too bulky in journals. I also found it much cheaper than matte photo paper.
I sometimes also print onto white cardstock – such as if I'm printing labels. I also occasionally use linen-effect paper when I'm printing replica vintage ephemera. This is expensive paper, though, so I don't do it often!
Junk
Start saving your "junk", such as:
Food packaging (especially ones with windows!)
Junk mail
Envelopes
Empty tea bags (such as after doing your tea dying)
Paper bags
Tissue paper
Packing paper
Wrapping paper
Plastic (this can be used with your "windows" or to make specimen cards and lots of other interesting ephemera)
Clothing tags
Corrugated cardboard
Christmas crackers
You name it. Most forms of junk can be used in your journals – your imagination is the only limit!
Glue
Everyone has their favourite brand of glue for junk journaling – and once they've found it – they usually don't like to stray away from it.
These are my favourite glues for junk journaling (for both quality and price) and how I like to use them:
Beacon 3-in-1: It's like Fabri-tac but more readily available in the UK. I use this for fabrics, trims and "unusual" surfaces like plastic and embellishments, or anything else that needs a good strong glue like book spines.
Uhu or Scotch Glue Sticks: I like both of these as they're very good quality glue sticks and I trust them for lots of paper on paper projects.
Anita's Tacky Glue: This is the second tacky glue I've used and my favourite so far. It's quick-drying (a must when you're a busy crafter!) and not too expensive. I use this for more intricate glueing, such as fussy cuts, die cuts and other small areas.
Collall All Purpose Glue: I use this for glueing large paper areas as it's quick and dries clear. It's also fairly inexpensive.
PVA Glue: I use watered down PVA glue when decoupaging napkins onto book pages or journal covers. I just have a bottle of it from a cheap craft shop and it works well enough, so I don't think the brand of glue matters as much here.
Whichever glue you decide to use, there's one thing you have to be wary of – warping your paper! From what I understand (I'm certainly no glue expert!), the best glue for junk journals usually contain acetone and are acid-free. I believe these ingredients prevent warping and the degradation of paper over time.
I never thought I'd own as many different types of glue as I do now, but they each have their pros and cons within this craft, so put together, I've got all my bases covered.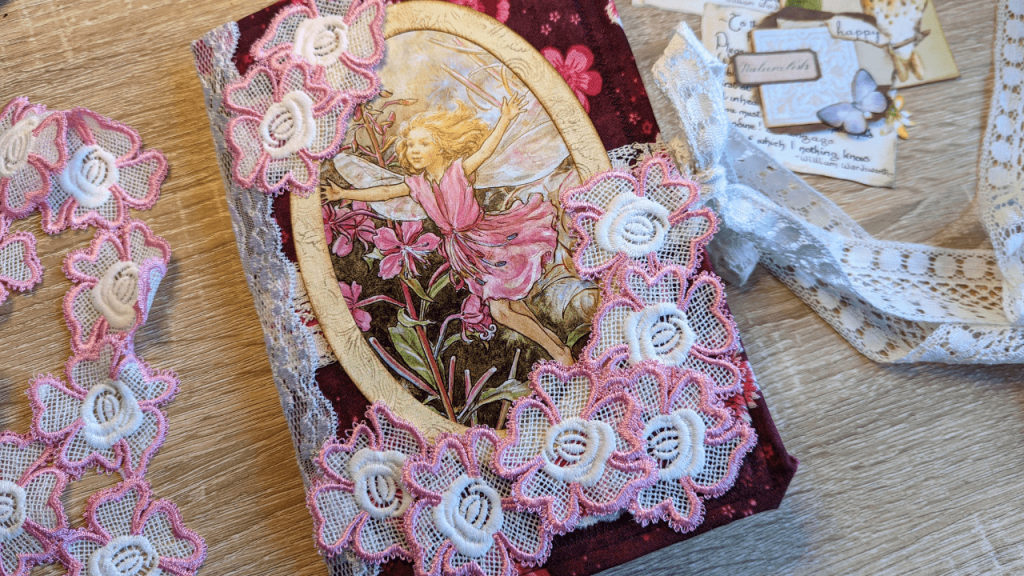 Scissors
I use four pairs of scissors:
Tim Holtz Shears – these are very sharp, which helps with cutting straight lines.
Cheap £2 Scissors – I use these for cutting around things I've recently glued so that I don't mess up my Tim Holtz ones.
Small Sharp Scissors – mine are actually a pair of children's embroidery scissors, but because of how small and sharp they are, I find them very helpful when fussy cutting.
Fabric Scissors – mine are just a cheap pair as I usually tear my fabric rather than cutting it.
Bookbinding Tools
When you're first starting out, a bookbinding kit will come in handy to help you start your stash of journal making supplies.
Here are the essentials you'll need:
Awl – aka a "pokey tool" to enable you to poke holes in your pages and journal cover easily.
Needle – with experience, you'll learn which needles work for you. Just don't go for anything with a large eye as you don't need large holes in your pages.
Thread – I use this lightly waxed linen thread. You may find some threads in bookbinding kits are quite plasticy and thick; I tend to stay well clear of these threads now. Some people use embroidery thread, but I'm not convinced it holds up as well as the waxed linen thread I like to use.
Bulldog clips or large paper clips – to keep your papers in place while you bind them together.
You may also find bookbinding templates or a cradle helpful – especially once you start working on journals with more than one signature. You don't need them, but they may save you a lot of time and stress in the long run.
READ NEXT: 10 Junk Journal Binding Ideas & Tutorials To Inspire You
Books & Greeting Cards
While you can make so many things with book pages – including junk journal pages, book page pockets, tag bases and more – I also fussy cut images and phrases out of them. I also love to use greeting cards – both for the images and for the sentiments inside.
In case it proves useful, here's a list of the books I love using:
Anything related to The Country Diary brand; specifically:

The Country Diary of an Edwardian Lady
The Nature Notes of an Edwardian Lady
The Country Diary Book of Creating a Butterfly Garden
The Country Diary Book of Creating a Wildflower Garden
The Country Diary Christmas Book

Anything by Gordon Beningfield; specifically:

Beningfield's Woodlands
Beningfield's Butterflies
Poems of the Countryside
Poems of the Seasons

Bird, Butterfly and Wildlife Books; specifically:

British Birds Field Guide
Britain's Wildlife, Plants & Flowers
Spotter's Guide to Butterflies

The National Trust Nature Companion
Island: Diary of a Year on Easdale
The Flower Fairies Treasury
A Victorian Flower Album
Punches
I use my corner rounder and circle punches all the time; they save me so much time.
I use my corner rounder when making envelopes or journal cards as I personally think rounded corners make them look more finished.
I have this 1-inch circle punch for creating thumb notches in pockets and cutting circles out of paper and cardstock for policy closures.
And I've also recently treated myself to this 2.5-inch circle punch, which will come in handy when making larger ephemera and specimen cards.
Fabric & Trims
If you like the idea of mixing textures in your journals, then you may want to purchase some pretty fabrics and trims.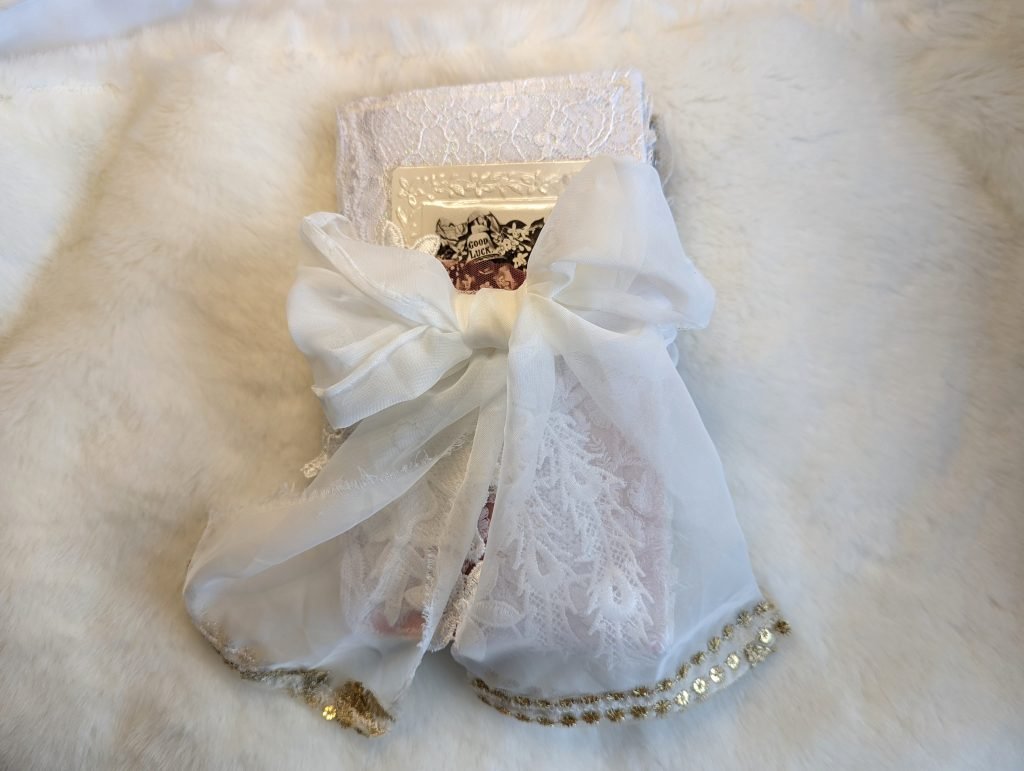 You may find some items in charity shops and thrift stores, but you might also find it cheaper to buy curtains or clothing to harvest the material from.
As for trims, I use these types the most:
Lace – to cover my binding along the spine, to use as decoration and to make pretty embellishments (especially fabric clusters)
Crochet – same as above
Eyelash trim – for tag toppers and embellishments like these
Ribbon – for journal closures
Crinkled seam binding – for journal closures and tag toppers
Sewing Machine
While you can absolutely do junk journaling without a sewing machine, I personally would be lost without mine as I usually make soft cover fabric journals.
I could make them with just fabric glue, but I personally feel more comfortable with the longevity of my journals when I sew them.
I have a very simple Brother sewing machine like this one, which has just straight and zigzag stitches. It's worked perfectly with lots of different paper types, materials and thicknesses and it cost me less than £100.
I even made this sweet wrapper journal cover with it!
Distress Inks & Daubers
Once again, this is a personal preference but I think distress inks help cover up a multitude of sins – particularly as I struggle with cutting straight lines.
Don't feel you need every colour under the sun though!
I do just fine with my Vintage Photo Distress Ink for most things and then I have a blue ink (Stormy Sky) and a pink Distress Oxide (Victorian Velvet) for certain projects. But I rarely use these ones, to be honest.
I also have a few stamping inks I got in a bundle from someone on eBay, which I use for the odd project here and there, such as when I want to decorate something with a bit of random script or flourish stamping to give it a bit of interest.
As I say, my Vintage Photo distress ink (or really any brown distress ink) is my absolute go-to!
You might also like to buy an ink dauber like this one to help you ink the edges of your papers easily. I used makeup sponges in the beginning, but I've found these daubers last so much longer. So, in my opinion, they're worth the slightly higher cost.
Want to jazz up your plain pages without using distress inks or sprays? Here are a few ideas for you to try! >>
My "Nice-to-Have" Junk Journal Supplies List
Once you really get into this addictive hobby, you'll start to get a better idea of what you like to use currently and what you'd like to use more of in the future.
Here are some other items you may like to start looking for – either now or later on, but I wouldn't call these essential. They're more like "nice-to-haves" – especially if you can find a bargain or two.
Napkins: To make decoupaged journal covers, tags/journal cards, pockets and even pages.
Washi Tape: To use as decorations, fix up tears and join pages together for binding. I love these gold foil ones.
Embellishments: Such as buttons, flatback pearls, brads, bulb pins and safety pins to help you make beautiful clusters, dangles and other pretty junk journal embellishments.
Broken jewellery: Harvest beads, jump rings, charms, chains, clasps and more from broken jewellery and use them in dangles and pretty embellishments.
Jewellery Pliers: Useful if you plan on making lots of dangles and things like that. Look for needle nose pliers (to help you hold things), round-nose pliers (to help you curl pins and wires) and diagonal pliers (to help you cut thin metals) and you should have all your bases covered. You can usually find these pliers together in a set – just like this one.
Metal Book Plates and Corner Protectors: For a professional look on the front of your journals.
Wax Seal Kit: Just for fun and because you can make some gorgeous vintage-inspired ephemera and embellishments with wax seals.
Where To Find Junk Journal Supplies
As the name suggests, you can find junk journal supplies almost anywhere.
Start saving things like junk mail, envelopes and packaging, which can all be used in this fabulous craft.
Ask your friends and family if they've got anything they can give you, such as unwanted jewellery, greeting cards or any other crafty bits they might have lying around and not know what to do with.
You could also join some junk journal Facebook groups and partake in swaps – including supply swaps.
But you may also want to buy some of your supplies as well.
In this case, you'll probably find the following types of stores and online marketplaces the most helpful:
Etsy – especially when looking for beautiful junk journal printables
eBay – especially if you're on the hunt for vintage ephemera and/or random craft bundles
Amazon – helpful for paper, glue, stickers, washi tape, etc
Thrift stores and charity shops – look for unwanted craft items as well as jewellery and clothing you can repurpose
Car boots, yard sales and estate sales – you may be lucky enough to find amazing vintage items as well as regular junk journal supplies
Printable Junk Journal Supplies List
If you'd like to receive a printable version of this list, then please complete the form below, or head to this page and enter your details.
---
And there you have it! A list of "essential" junk journal supplies I personally would be lost without, alongside some "nice-to-haves" once you're ready to start growing your craft stash. I hope you found it helpful, but please feel free to drop me a line below should you have any questions about anything I've said.
Did you find this junk journal supplies list helpful? Why not pin or bookmark it now, so you can refer back to it later?