This article may contain affiliate links, which may earn us a commission - at no extra cost to you - if you use one of our links. Please see our disclosures page for more information.
Just like with most things when it comes to junk journaling, there are lots of page layouts to choose from. The following junk journal page ideas are by no means an exhaustive list, but should hopefully get you thinking.
Along the way, I'll offer tips on how to approach each page layout, as well as examples of how each of them could look. I hope you find this blog helpful and inspiring!
10 Junk Journal Page Ideas To Inspire You
1. The Creative Collage Page
One of the things many junk journalers can agree on is how much we all love the different textures and aesthetics you can get from different types of paper. Of course, this means collaging is also a firm favourite among us!
If you want to, you could dedicate an entire page or half a page to some form of collage. This could be your journaling done for the day (because who says journaling should only be writing?).
Or if you sell your journals, then collage pages can also be a fun way to showcase your skills and give the person who buys your journal something interesting, beautiful and inspiring to look at – and to kickstart their own creative process while journaling.
Here are a couple of collage pages I've created recently: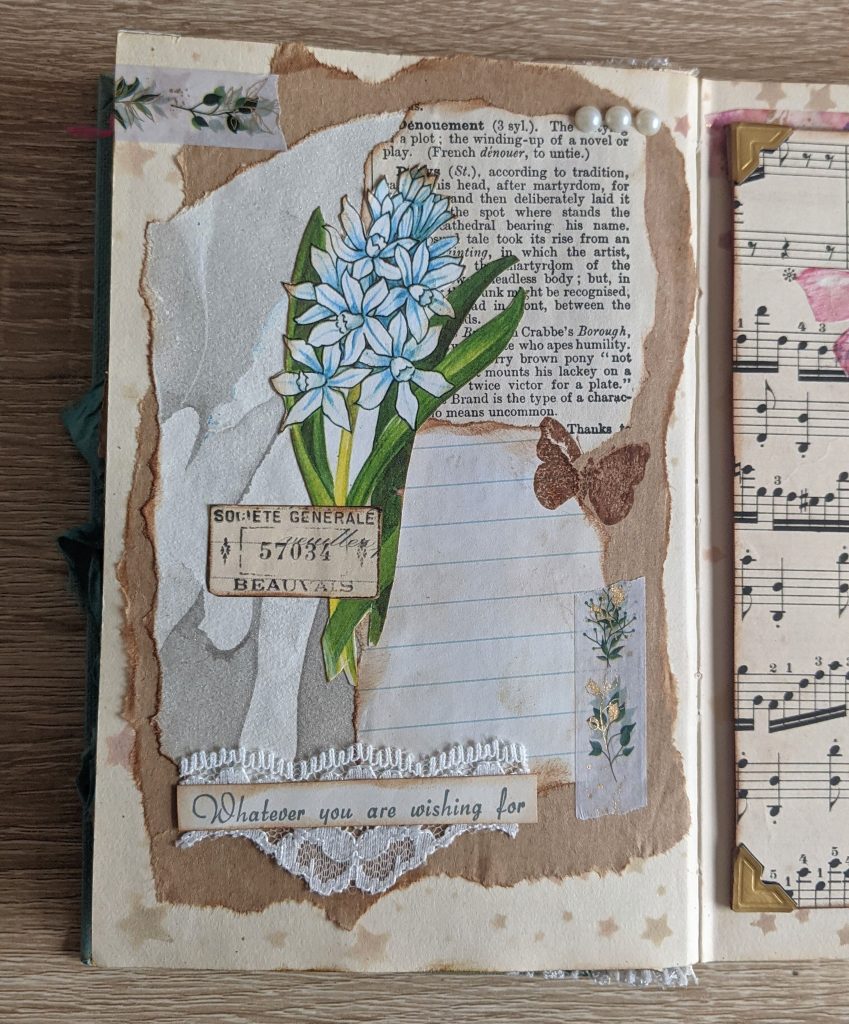 Psst! I created both of these junk journal pages on camera. Check out my playlist on YouTube to see them.
2. The Beautiful Bellyband Page
In case you're not completely au fait with all of the junk journal definitions and jargon just yet, a bellyband is either a horizontal or vertical strip on your page, which can act as a kind of tuck spot.
You simply glue (or stitch) two ends of the bellyband onto your page and then you can slip something through the middle of it – like a small notebook, journal card, tag or some other type of ephemera.
You can make bellybands out of almost anything, such as thick paper, cardstock, fabric trims, or even junk mail envelopes!
Here are a couple of examples of bellyband pages from my own journals: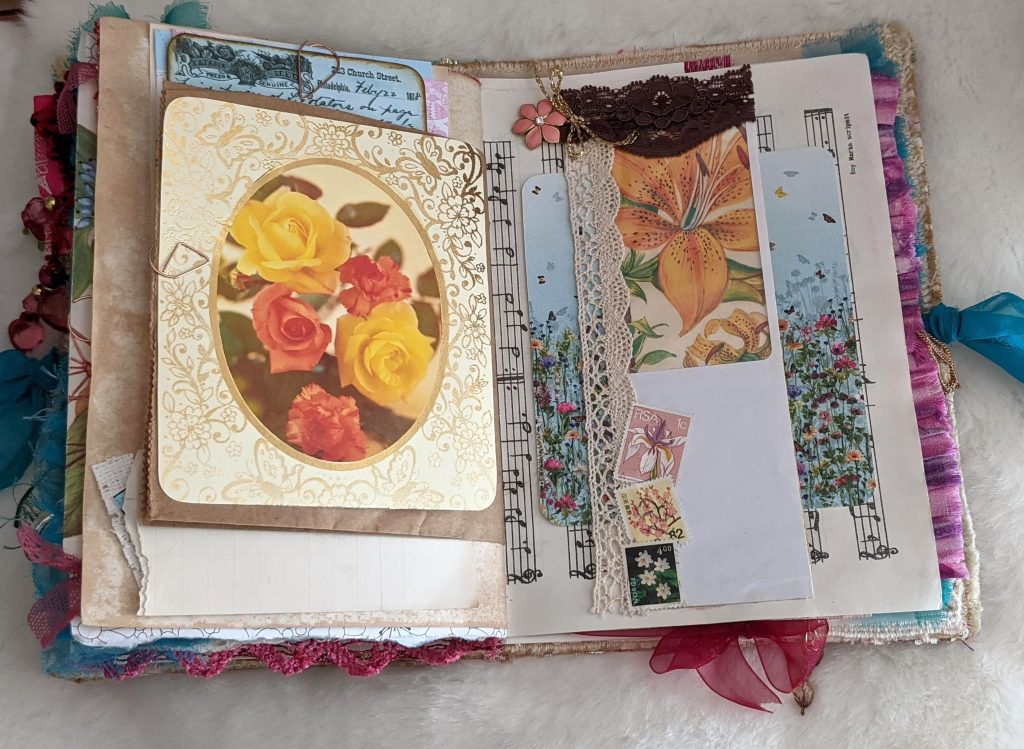 I've also recently shown you how to make these beautiful "enchanted leaf" belly bands, which were quite popular. I think they're simply perfect for a fairy or woodland journal!
3. The Practical Pocket Page
Junk journal pockets can be as simple or as elaborate as you like. But one thing's for certain, they are very welcome in junk journals! Where else would you store all your gorgeous vintage ephemera, journal cards, tags and more?
You could glue (or stitch) a piece of fabric, paper or card onto your page to form a simple pocket – just like I did in one of my altered book journals with this beautiful vintage wallpaper scrap: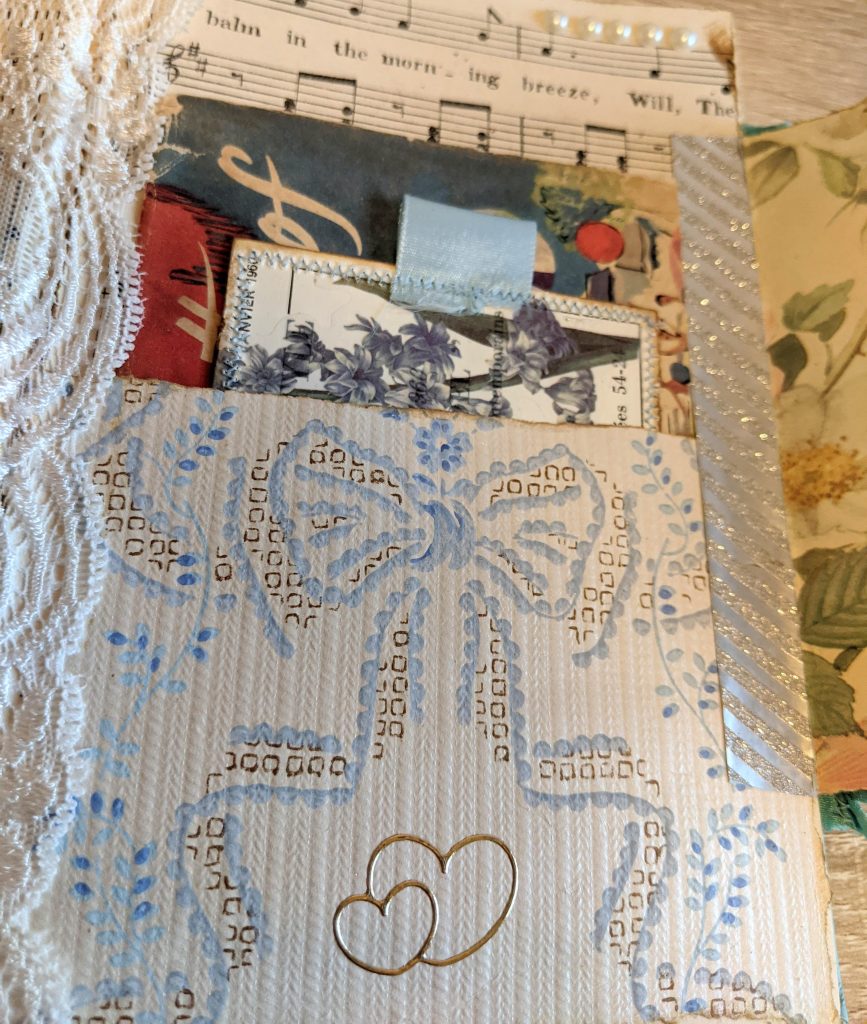 Or you could create a pocket using book pages (backed with cardstock) – like this sweet pocket I included in one of my Christmas junk journals:
You can even fold your book pages or paper in such a way as to create extra pockets from just one sheet!
Take a look at my video here to see how I made some fun book page pockets, which each have four pockets (as well as a fifth one once you've glued the whole thing down on three sides onto your actual journal page!)
Once you've chosen your style of pocket, you can embellish it further or let the book page or paper do the talking for you. And once you've added your ephemera into your pocket, you'll instantly have a fun, interactive and useful journal page.
Here's how one of my pocket pages turned out when I added some beautiful butterflies and other details. It's just a book page pocket on top of a junk mail envelope, but don't you agree it looks stunning? Check out my video of how I made this page here.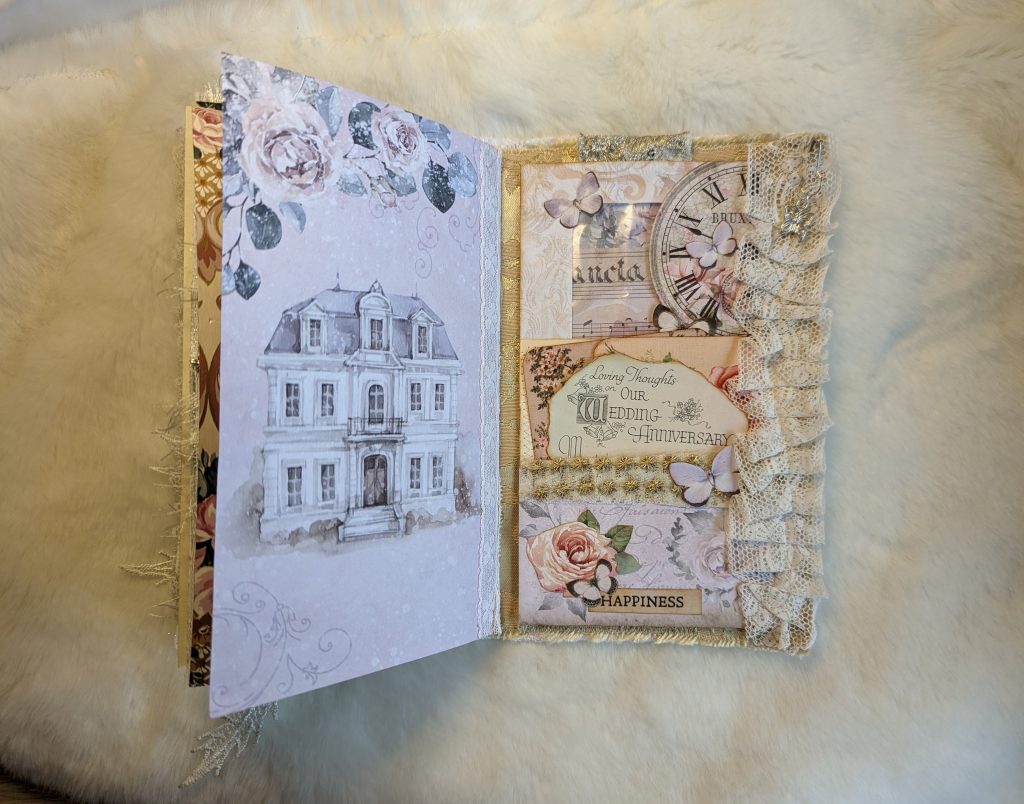 RELATED: 10 Easy Junk Journal Pockets: Ideas & Tutorials
4. The Tuck Spot Page
A tuck spot is like a pocket in that you can use them to hold pieces of ephemera.
But while a pocket is often glued on three sides, a tuck spot is often only glued on two or sometimes only one side. This is handy for when you want to include a large piece of ephemera on your page, which won't fit inside a restrictive pocket.
And – as you might've guessed – you can use almost anything as a tuck spot. Just as long as it's sturdy enough to hold whatever it is that you want to "tuck" inside.
In the past, I've used playing cards, ticket embellishments, book pages and fabric to create fun tuck spots, but I'm sure you'll also come up with lots of ideas as well.
Hidden journaling spots are a lot of fun to create, and once again, they can be as simple or as elaborate as you like.
You could have a pocket that flips up, down or out to reveal a hidden journaling spot just – like I've created on this page in one of my journals:
You could also glue a pocket down onto a page almost fully, leaving a small space for a piece of notepaper or tag to slip inside – just like I did in my botanical boho journal:
Or you could even use a brad or split pin to help conceal a journaling spot on a card or tag. I also did this in my boho journal:
Have fun with this page – only your creativity and imagination are the limit!
6. The Interactive Flip Up, Flip Down or Flip Out Page
Here's another interactive junk journal page idea: the flip. Again, there are lots of ways you can approach this type of page.
Your first choice is which direction do you want your flip to go? Up, down, left, or right?
Next: How will you create your flip up, down or out?
Will you add a pretty fabric flip to your page, which when flipped up, reveals a journaling spot underneath?
Or will you use envelopes to create some kind of flip out, which reveals some more writing space and a pocket inside the envelope?
Will you hinge a piece of paper to your page to act as a flip out instead?
Or will you make a little envelope, which turns into a fun flip down journaling spot when pulled open – like in this tutorial by Natasa from Treasure Books.
The above are just some initial ideas and examples to get you thinking. Once again, be creative with this one!
RELATED: 14 Creative Things To Do In A Journal Or Notebook
7. The Simple Fold Out Page
The fold out page is slightly different from a flip out. While a flip out usually involves adding something extra to your page, the fold out page simply refers to a page folding out to reveal more journaling space.
This is a popular page idea for when your pages are quite large and you don't want to trim them down or lose any journaling space.
Ledger pages and vintage music sheets, for example, are often larger than a standard size junk journal, but when included as a fold out page, they offer lots more journaling space.
I used a very large book page in my boho journal, so I folded over one end of it to create a tuck spot (using a pretty paperclip), as well as extra journaling space when you fold the page open.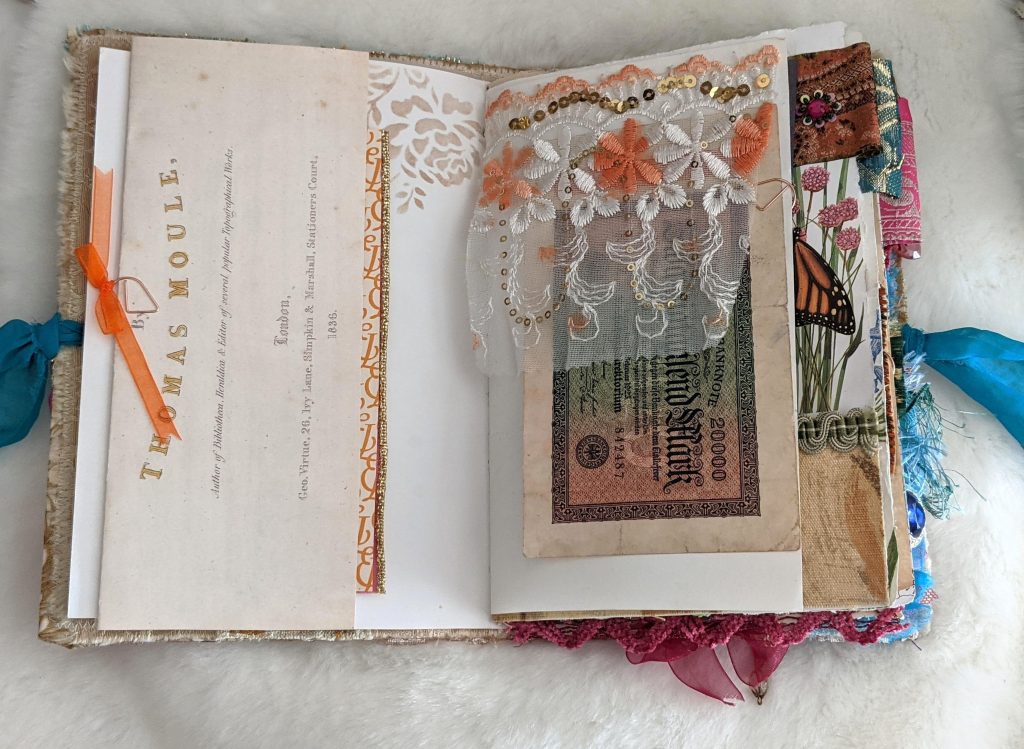 I've actually done this many times as it instantly adds a useful tuck spot without adding too much bulk to your journal.
8. The Whimsical Window Page
Window pages are another super fun junk journal page idea – and there are lots of ways you can create them. Yes, I know I sound like a broken record at this point!
The idea behind the window page is that you'll frame something beautiful or interesting to make a fun, interactive talking point within your journal.
You might cut a hole in your page to reveal something on the page behind it – just like Luise Heinzl did in her video here.
Or you might use a window envelope to frame something and then turn that into a bellyband, pocket or flip up, down, out, etc.
9. The Decorative Decoupage Page
Ahh, napkins… so beautiful and fun to use that I must've bought well over thirty different ones during my early days of junk journaling.
They can be used to embellish so many different things – from pockets and tucks to playing cards and other ephemera. They can also be used to create some interest on your junk journal pages.
Decoupage a napkin over a music sheet, for example, and you'll instantly have a beautiful page in your journal!
10. The Giant Pocket Page
Okay, so you've seen how you can make interesting journal pages by adding pockets to them. But what if you glued (or stitched) two pages together to make a giant pocket?
You could do this by simply glueing two of your journal pages together – like in this tutorial from Pam at The Paper Outpost.
Or you could glue extra scrapbook paper, a book page or something else like this onto your page on three sides, leaving space in the top or side to slip a large journal card into. Here's an example from my altered book junk journal:
This is a great junk journal page idea for when you want to include a large journal card in your journal, which are also a lot of fun to make and write on!
BONUS: The Humble Writing Page
While there are all kinds of beautiful page layouts you can design, don't forget about the humble writing page. Junk journals are – after all – journals.
While your writing pages should leave plenty of room for writing and creativity, that doesn't mean they have to be boring!
You could fancy things up a bit by trying out different types of paper. Tea- or coffee-dyed papers are popular writing pages in junk journals, but you could also use ledger pages, old receipts, or maybe even colouring book pages if they have enough room to write on them.
Here's a writing page from one of my recent Christmas junk journals:
Although this page came from a colouring book, I thought the circles would make for a really fun and interesting place for writing. I also added a fun fabric flip to add even more interest to the page.
You can also change up how you dye your papers for added interest. Try splashing your tea or coffee on your page to get a fun effect like I've done here in my fairy journal:
Or dry your papers underneath something decorative like a plastic doily to get some fun effects on the paper. Natasa from Treasure Books has a great tutorial video on this here – and it really works!
You might also want to add something extra to some of your writing pages to make them stand out even more.
Something as simple as a fabric or paper cluster, altered paperclip, ruffle or fabric flip can really make your writing pages sing – without taking away from the practical purpose of the page.
---
Over to you now… what are some other junk journal page ideas myself and other crafters can try? Leave me a note in the comments below…
Did you find this list of junk journal page ideas helpful? Pin or bookmark it now, so you can read it again later!