This blog post may contain affiliate links, which earn us a small amount of commission if you buy something through them - at no extra cost to you.
Do you want to know how to make journaling cards – and pretty ones at that? Are you looking for some fresh ideas for your junk journal tags and journal cards? Fabulous, you're in the right place!
From collaged backgrounds and pretty decoupage to using up paper and fabric scraps, I hope the following 15 tags and journal cards inspire you to make some of your own.
Junk Journal Tags & Journal Cards
But first, why do you need unique and beautiful tags or cards for your journals?
Tags and journal cards are enjoyable to make and they can be mini pieces of artwork in themselves. Get creative with your fabrics and papers and see what you can come up with.
Also, as the tags and journal cards are so unique and interesting, they also make for very inspiring pieces of ephemera to write on. You could even use your artwork on the front as a journal prompt.
Sound good? Read on for photos and videos of some of my favourite tags and journal cards I've made recently. I hope you like them and feel inspired.
11 Junk Journal Tags To Inspire You
Scrap Buster Tags
If you've been neglecting your scrap box recently, then why not challenge yourself to make some junk journal tags out of whatever you've got lying around.
That's how my first set of "scrap buster tags" came to be (pictured above and below).
I simply grabbed a pile of stuff from my scrap box and got to work. You can see the full process in this video and in this video.
Since then, I've made tags out of my scraps multiple times. I'm especially pleased with how these pretty pink ones turned out, which also used up some vintage wallpaper scraps I'd been hoarding. Check out my process video now >>
Pretty Lace & Book Page Tags
Book pages and lace are two of my favourite junk journal supplies, so it should come as no surprise that I found a way to use both when making one of my first junk journal tags.
Simply line a cardstock tag with some book page and top it with some pretty lace and fussy cuts – and hey presto! – you've got yourself a gorgeous junk journal tag.
Junk Journal Tag Bookmark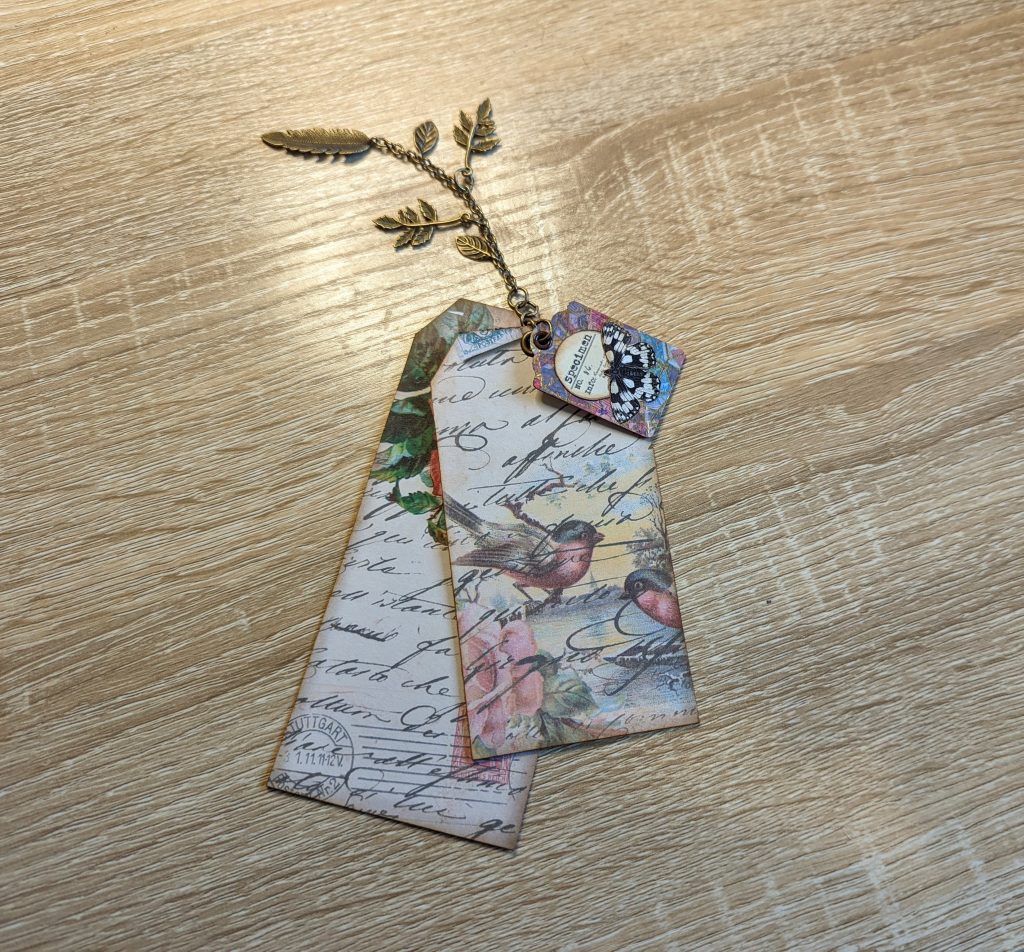 With this easy project, you can make a stunning junk journal tag that also doubles up as a bookmark.
For my version pictured above, I attached three different sized tags to each other with jump rings to give them a layered look. The best bit is that you can write on each individual tag.
And then once you attach some chain and charms to the tags, they'll become bookmarks, which will also serve as some very pretty (and useful) junk journal jewelry at the same time.
Check out my process video here >>
Flippy Junk Journal Tags
These flippy journal tags are so fun to make and who doesn't love an interactive element in their journals?
I first saw this idea on the YouTube channel: Paws & Paper. You can check out her video here where she made some pretty lace tags for her wedding journal.
There are lots of different variations you could try to change these up to suit you. For example, one of mine has a pocket hidden behind the bottom flap. Here's how I made mine >>
You could turn the whole piece into a writing tag, or you could even glue it onto your page as a side tuck or bellyband. That's probably how I'll use mine.
Colourful Collage Masterboard Tags
Collage masterboard tags are some of the easiest and most unique tags you can make.
Start by making a collage masterboard from your scraps. Then, if you're feeling brave enough, turn it over and cut tag and/or journal card shapes from your masterboard.
From there, you can further embellish your tags with stickers, stamping, stencilling, fussy cuts, labels… you name it!
The best bit is that your tags will be different every single time and are sure to look fabulous.
Want to see how I made the masterboard tags pictured above? Here's my process video >>
RELATED: Junk Journal Definitions | A-Z Junk Journal Glossary For Beginners
Collaged Book Page Tags
Another of my favourite ways to make junk journal tags is to make a neutral, collaged background, to which I then add fussy cuts and labels.
Start by lining a tag shape with book page and then add strips of music sheet, packing paper or tissue paper down one side. This will give you a neutral yet interesting background.
You're then free to decorate in any theme you choose.
Here's how I made these fun tags for my recipe journals.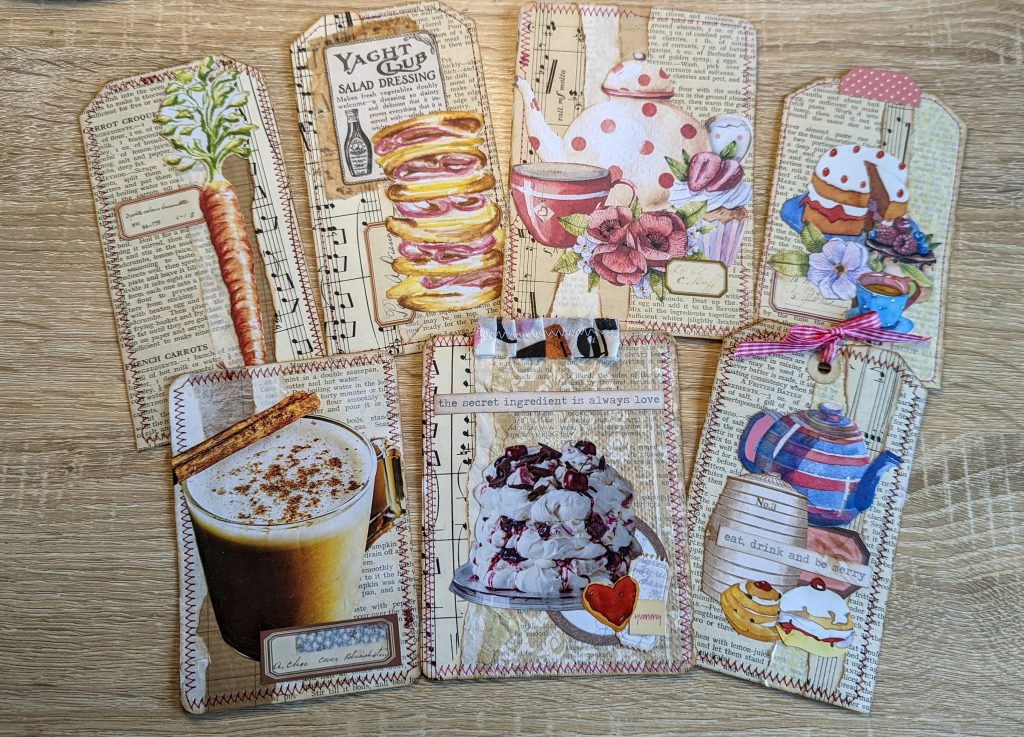 And here's how I made some tags in an Edith Holden theme (pictured above).
All using the same technique for the background. Fabulous and fun, right?
Advent Tags For Christmas Journals
Looking for a festive junk journal tag idea for your Christmas journals? Check out this video from Nonstop Papercrafts, where she shows you how to make an advent tag like the one pictured above.
Just like an advent calendar, the tag has a "window" on the front, which opens up to reveal a festive image and/or sentiment. Fun, huh?!
Winter-Themed Shaker Tags
And finally, here's another idea that's perfect for both winter-themed and Christmas journals: Shaker Tags.
This idea comes from Gi Kerr who also provided a free digital to help everyone make the tag from her tutorial.
I thought these were so pretty and fun! I'll definitely make them again.
8 Junk Journal Cards To Inspire You
Specimen Card Journal Cards
One of my favourite kinds of journal cards to make are specimen cards and faux specimen cards.
While most people make specimen cards as purely decorative elements, I prefer mine to have a practical purpose to them (especially space to write).
There are lots of ways you can turn specimen cards into journal cards.
You can make them out of junk mail envelopes and add writing space to the back. Here's my process video for the purple ones pictured above and here's my video for the collaged versions pictured below.
You could even make them out of playing cards with writing space on the back. Check out my process video here >>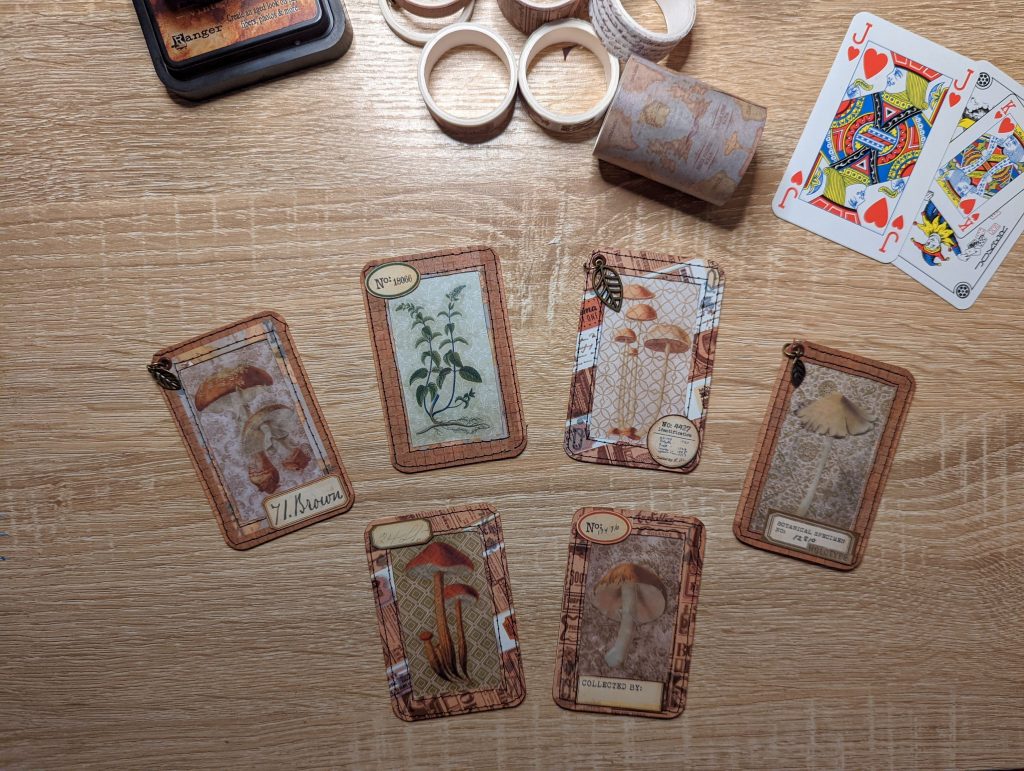 RELATED: How To Keep Pressed Flowers In A Journal (7 Easy Ideas To Try!)
Layered Junk Journal Cards
With the help of some pretty papers, fabric scraps and fussy cuts, you can make some very pretty layered junk journal cards – just like the ones pictured above.
Check out my process video to see how I made them >>
Magical Decoupaged Junk Journal Cards
Here's another easy junk journal card idea using music sheets and napkins.
Start by lining some cardstock with a music sheet and then cover this with some pretty decoupage napkin. Once your card is dry, you can embellish it in whatever theme you like.
I made some pretty fairy journal cards using this method and they turned out so gorgeous! Here's my process video >>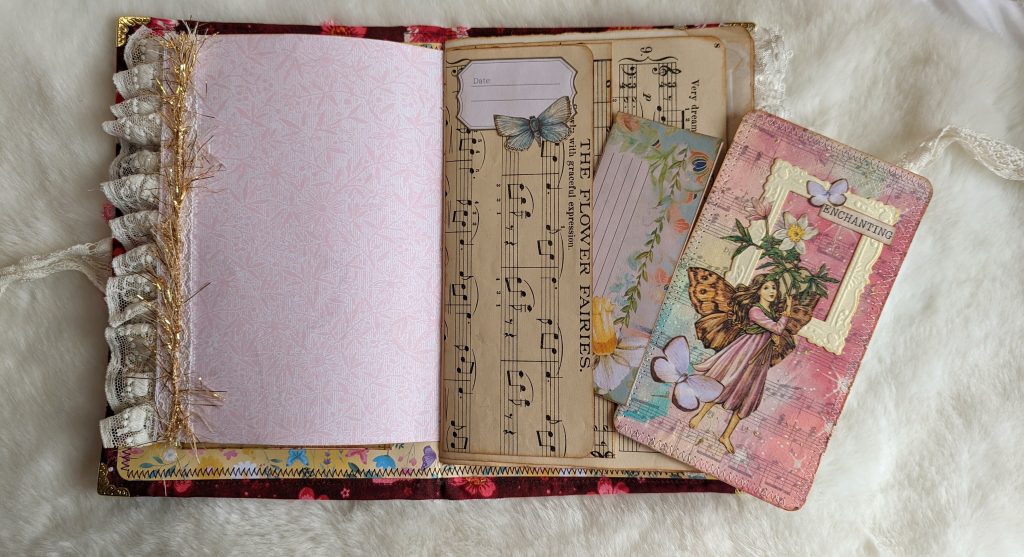 Book Page Junk Mail Cards
If you've got some pretty illustrated book pages and junk mail lying around, then you can easily make some gorgeous junk journal cards with very little effort.
Following a video from Pam at The Paper Outpost, I made a couple of botanical journal cards in just a few minutes!
All you need to do is wrap a book page around some junk mail and add writing space to the back. You can then embellish them further if you like.
Book Page Postcards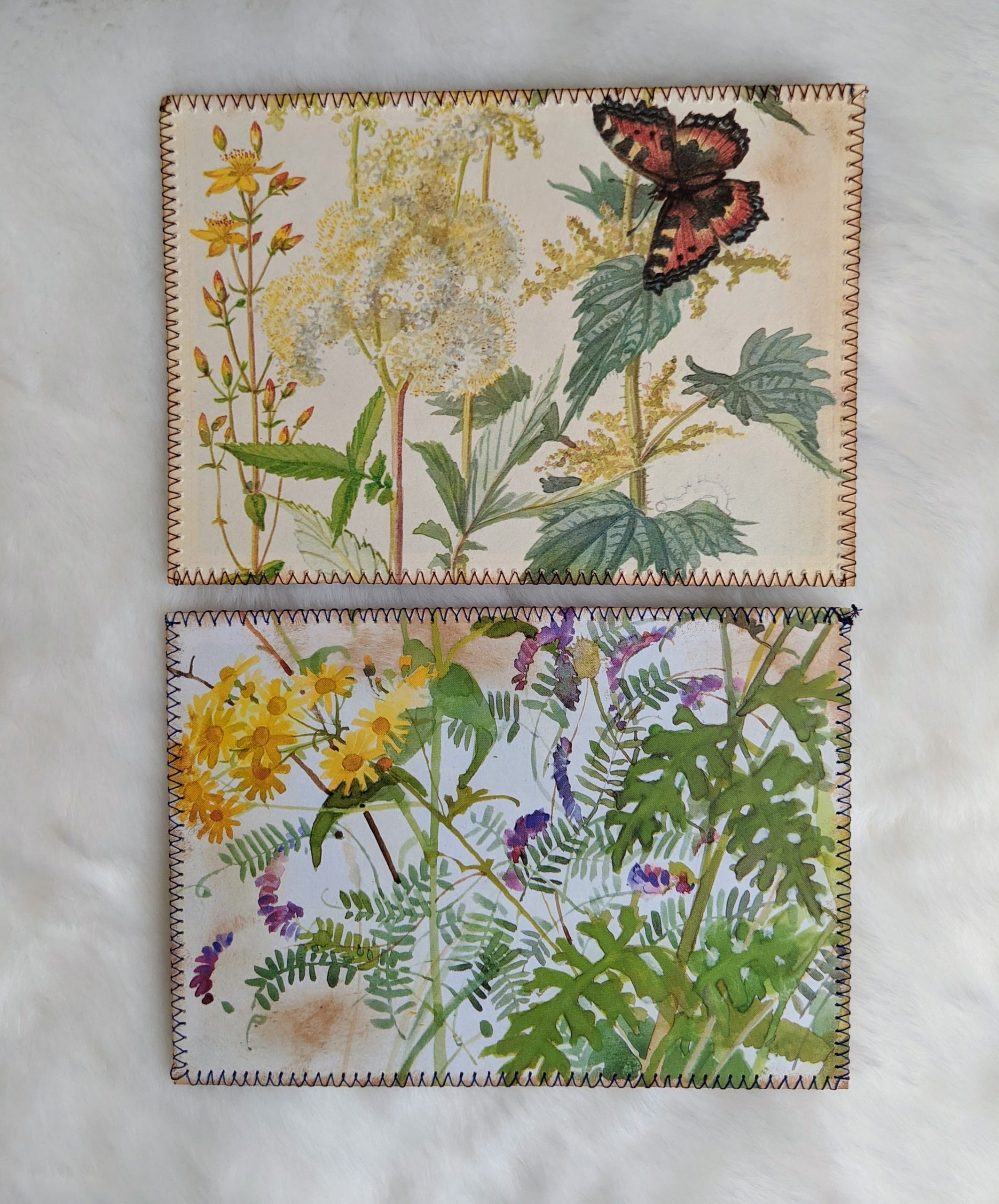 Here's another super simple junk journal card idea!
Grab some souvenir postcards you don't like, cover the pictured side with a pretty book page you do like and then you can use the back of the original postcard for your writing space.
You may even want to add a vintage postage stamp to the back for that little something extra.
Wrapping Paper & Christmas Cracker Journal Cards
And finally, if you've got some wrapping paper or Christmas crackers lying around, then you can use those to make some beautiful festive journal cards.
Check out my video here to see how I made the ones pictured above >>
---
I hope these 15 junk journal tag ideas and junk journal card ideas have inspired you! What kinds of tags and journal cards do you like to make? Let me know in the comments down below…
Did you like this list of junk journal tags and journal card ideas? Why not pin or bookmark it now, so you can refer back to it later?