Read on to find out all about me (Justine from House of Mahalo) and why I started my craft blog, YouTube channel, Etsy shop, Patreon and all the rest…
Who am I?
Hi, I'm Justine!
This is me with my husband, Scott and our beautiful Rough Collie, Kai on our wedding day many moons ago.
I'm the brains behind the House of Mahalo craft blog, YouTube channel and Etsy shop. The other two are the beauties who keep me sane week in and week out.
Some of you might recognise me (and Scott) from the couples travel blog Wanderers of the World. That's our other love.
But when we're not travelling together, we're always busy making something and busying about the house.
Scott does a lot of technical projects like 3D printing and digital displays, while I've been cross-stitching since I was 10, baking since I was 6 and just generally creating something fabulous for as far back as I can remember.
Over the years, Scott and I have also really gotten into upcycling. We like to save money and we really care about the planet, you see.
So really, given all this, it's no surprise that House of Mahalo was born!
Why did I create House of Mahalo?
I think we can all agree that the last few years were tough on the travel industry. Understatement of the century right there.
With lots more time to think, it really made me think about who I am without travel (and without travel blogging). I didn't have to look far before realising that our "double life" at home is what also makes both myself and Scott very happy.
We're proud of the house we bought together in December 2018 and we're really proud of the artwork and DIY home decor we've made for it.
I started House of Mahalo with the intention of sharing tutorials and ideas all about that.
But since then, House of Mahalo has grown far beyond what I could've ever dreamed of back then.
Alongside this here craft blog you're on right now, I now have an Etsy shop, YouTube channel and a Patreon site, which are all about junk journals, altered book journals and easy upcycling projects.
You could say I'm even more addicted to crafting than I ever was.
And you'd be right!
So, who is House of Mahalo for?
You'll find lots of blog posts about junk journals on the House of Mahalo blog.
But I also share easy upcycling projects, DIY gift ideas and the occasional other easy craft whenever I try my hand at something new.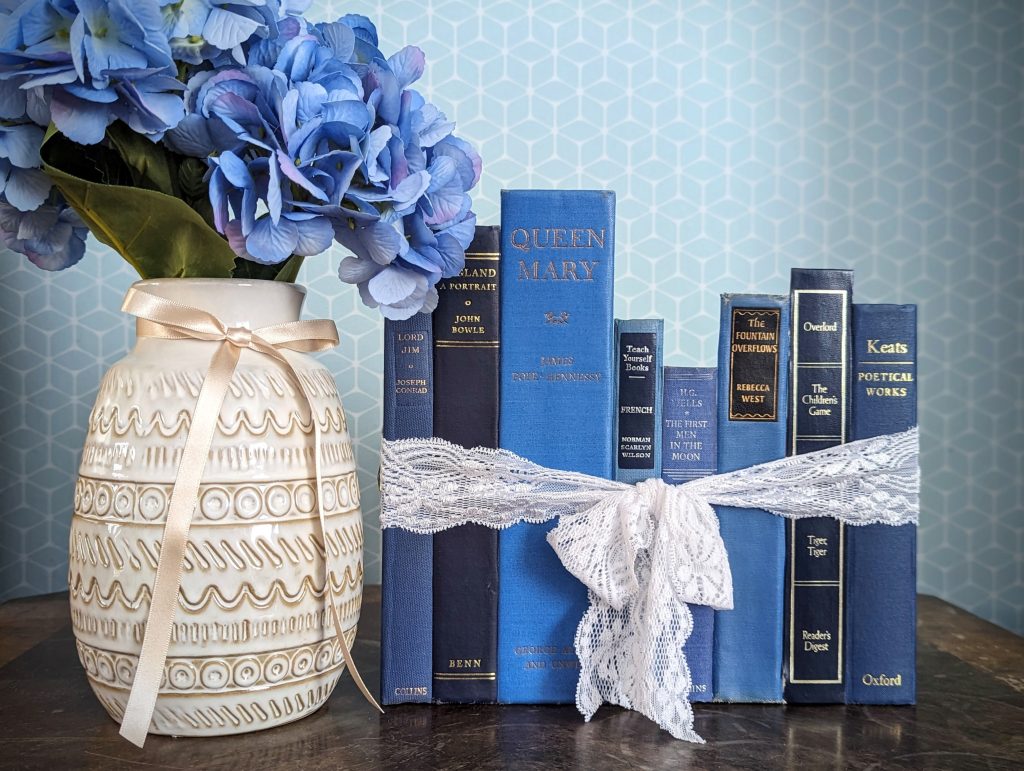 Basically, if you love making things and want your home (and craft room!) to be a place of love, respect, kindness, warmth, comfort and safety, then House of Mahalo is for you.
I hope you find oodles of ideas and inspiration here. But just in case you need a helping hand, listed below are some of my most popular blog posts and videos.
Popular blogs on House of Mahalo
Popular projects on the House of Mahalo YouTube channel
What does House of Mahalo mean?
This is something lots of people ask me.
First off: No, I'm not Hawaiian. Sadly.
I'm British (and about as British as you can get!)
The name: House of Mahalo is all thanks to the first BIG trip Scott and I took together way back in 2016. We spent a couple of weeks in the USA; one week of which was in Hawaii.
We loved the place, the vibe, the culture, absolutely everything about Hawaii so much that it's been a huge part of our lives ever since.
Hawaii was what motivated us to start our travel blog. We named our dog Kai, which is Hawaiian for 'sea'. And now the House of Mahalo blog shares some Hawaiian roots too.
Mahalo is a Hawaiian phrase meaning thanks, gratitude, respect, pride and esteem. Scott and I are both grateful for our loving home. We're respectful of each other and everyone who comes inside it. And we want to continue to be happy in and proud of the home we bought together.
That's what 'House of Mahalo' means to me.
Do you want to know even more about me? I answered a bunch of questions my YouTube subscribers had for me in this face-to-face video >>
Say hello!
If you'd like to send me an email, then here's where you'll find my contact page.
You can also check out this page to find all my social media links and where else you can find me on the Interwebs. I'm dotted around quite a few places now!
Speak soon xoxo