This article may contain affiliate links, which may earn us a commission - at no extra cost to you - if you use one of our links. Please see our disclosures page for more information.
If you're looking for some easy DIY paper anniversary gifts that you can make for your other half in just one weekend, then we hope you find the list below helpful.
Scott and I love making each other homemade gifts. Not only are they extra special, but you can personalise them exactly how you like.
Each of the gifts below are all ones that we've personally given to each other over the years – and we hope you love making them just as much as we have.
14 DIY Paper Anniversary Gifts To Make In A Weekend
1. Heart Map Art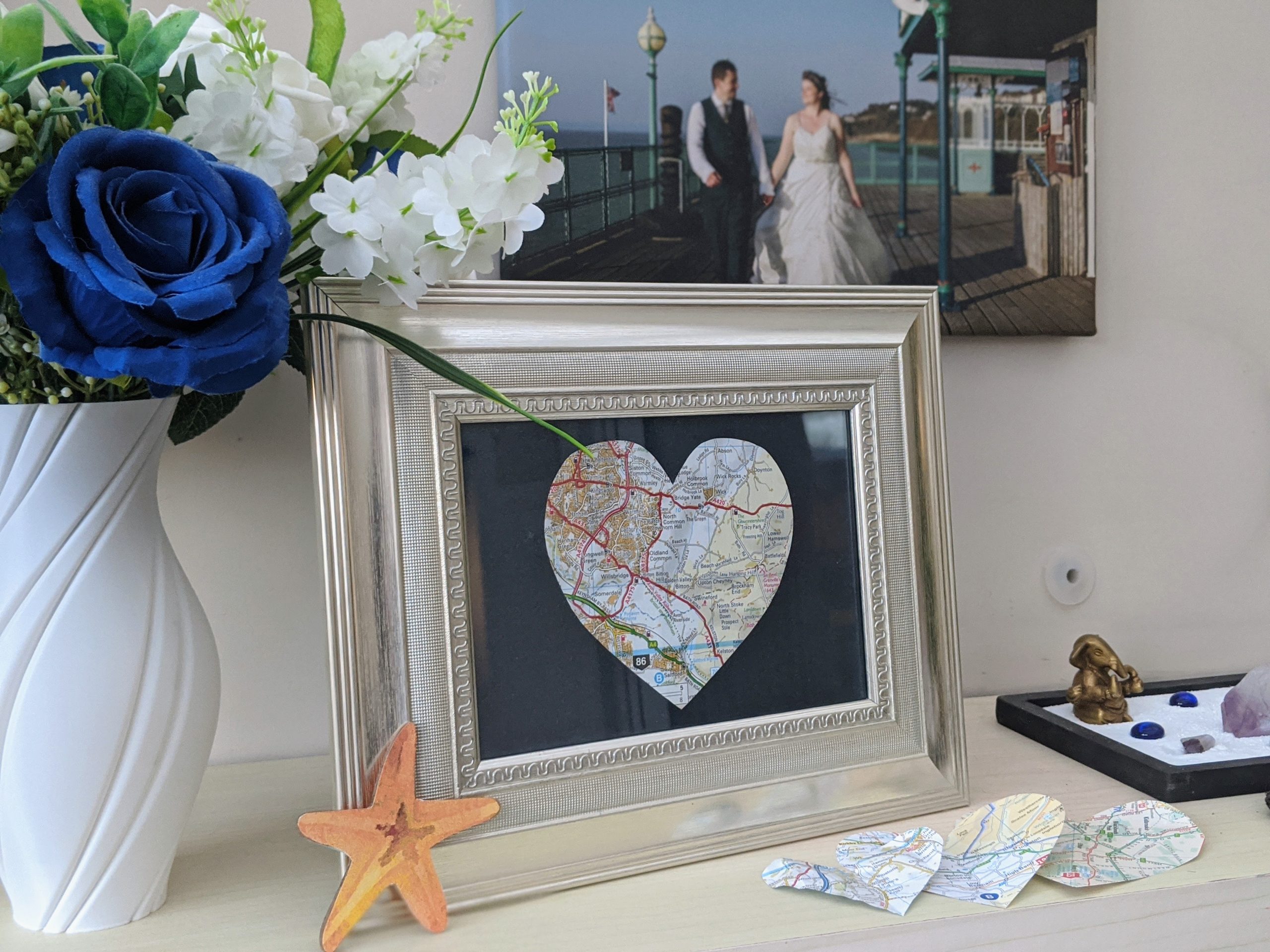 There are so many map art projects you could make but DIY heart map art pictures are probably our favourite. They're easy to make, taking less than ten minutes in total, and look so cute once popped inside a beautiful frame.
You could even make a set of these to show where you met, got engaged, got married and bought your first home together. You could either use a multi-aperture frame or use separate frames to help create a cute gallery wall.
Either way, you're going to love making this DIY map heart frame… and whoever it's for will love it too! Here's the tutorial >>
2. A Bouquet of Paper Flowers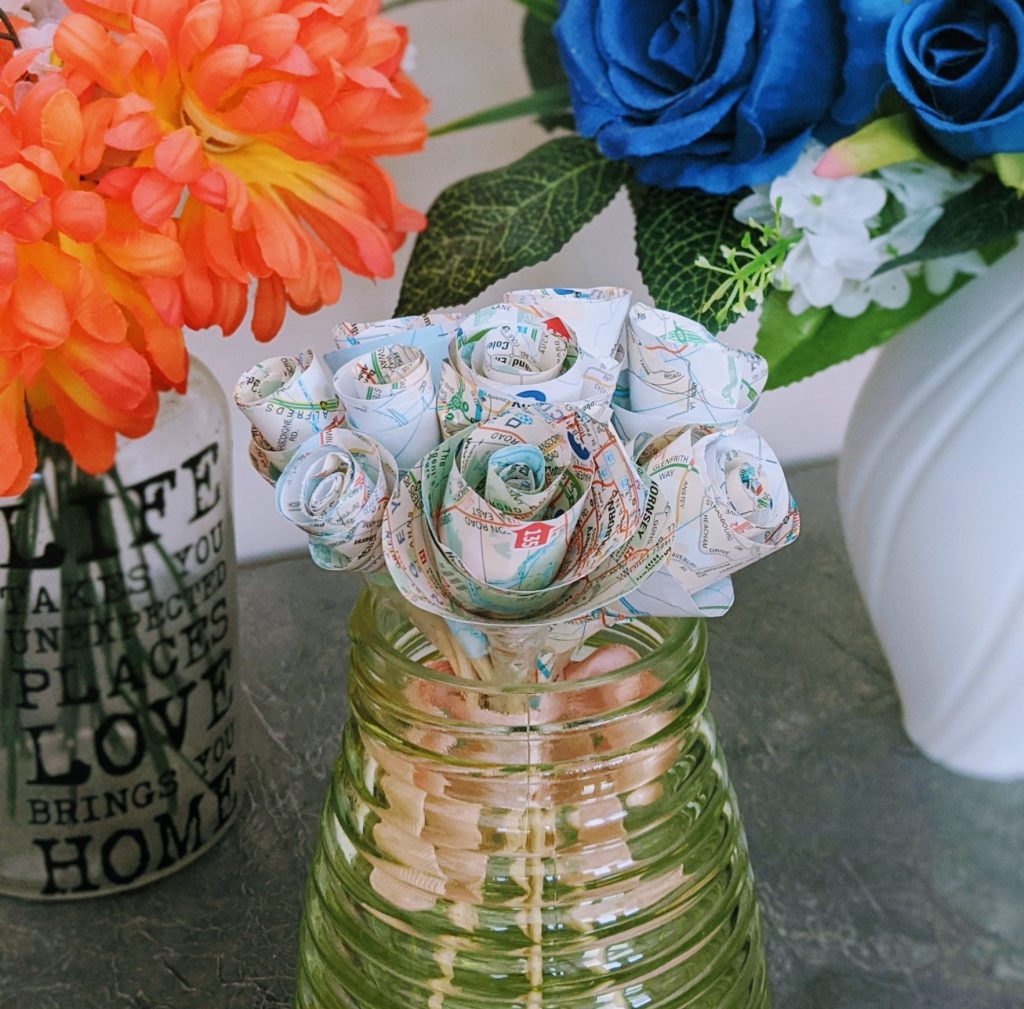 Speaking of maps, you can also make beautiful paper roses with them… or even an entire bouquet of paper flowers!
Of course, you don't just have to use maps either. Just as long as you can cut and roll your paper, any paper will do. Here's how… >>
3. Love / Date Night Coupons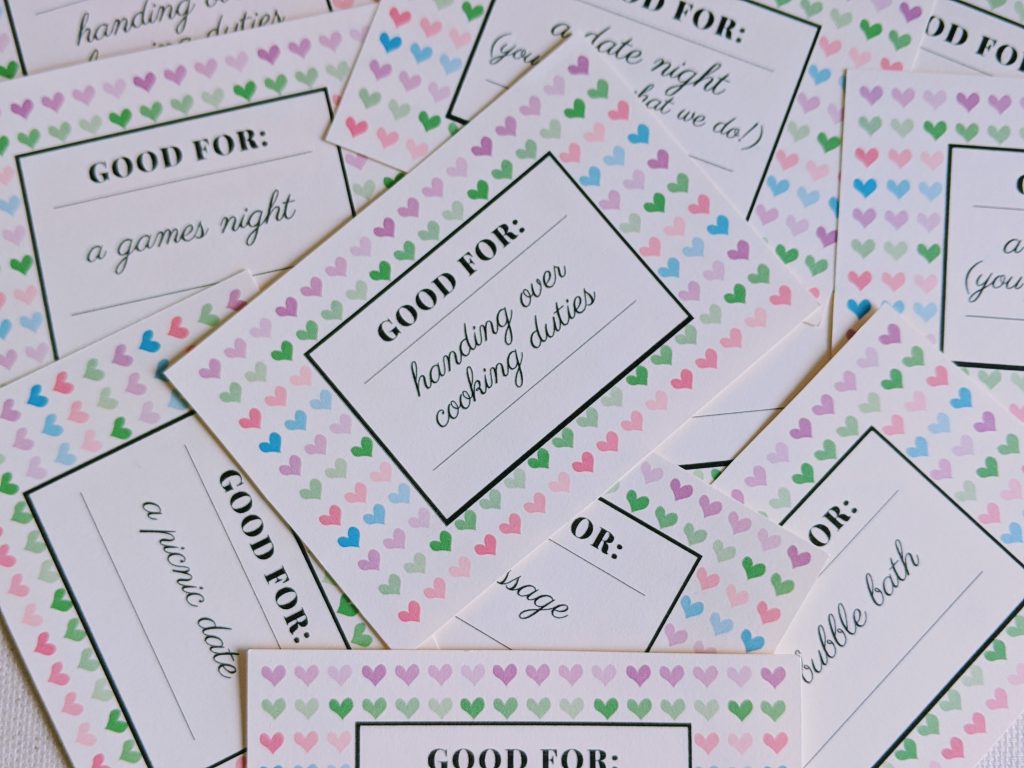 If you want to pamper your other half on your first wedding anniversary together, then why not give them love or date night coupons? And this gift doesn't have to break the bank either!
Things like bringing your other half breakfast in bed, running them a special bubble bath, taking over their cooking and cleaning duties or giving them a back massage are all things you can do for free. But they will love every minute of this extra special pampering.
You can also throw in a few 'paid for' dates as well such as a cinema date or a date night of their choice.
Once you've made your coupons, you could make your own coupon book or even use them in a scavenger hunt (more on this later).
Fancy saving some time with this gift? We've created some coupons you can print at home for you! Grab them here >>
4. Paper String Art Card
If you're handy with a needle and thread, then why not make your own embroidered heart card?
String art has been popular for a few years now, but it often involves hammering nails into wood.
Instead, you can get the "faux string art" look with some embroidery thread. Here's how to do it… >>
RELATED: DIY Yarn Wrapped Love Letters Clock
5. A Year of Dates Gift Jar
Here's a fun twist on the love coupons idea we mentioned earlier: a "Year of Dates" gift jar.
All you need to do is come up with 12 date ideas (one for each month) and you've got your year of dates sorted.
And just like the coupons – how much you spend (or how little!) is completely up to you. Here's our tutorial and date night ideas >>
6. Romantic Q-Tip Art
Fancy getting your paints out and making some easy artwork that's also super fun to do? Why not make your other half their very own painting?
If you're not quite Picasso just yet, then you could make a really sweet painting using some Q-tips (yes, those things you stick in your ears).
I made the cute artwork above in something like 15 minutes following this tutorial from Feeling Nifty. I made mine on some art paper and I wrote a cute sentiment in the middle to make it extra special.
7. Wedding Card Keepsake Book
What better way to celebrate your first wedding anniversary together than to make a wedding card keepsake book?
You'll then be able to use this gift to look back on your special day for years to come.
I made our keepsake book above by repurposing our wedding planner – as you'll see in this tutorial.
But in that same blog post, I've also included some other ways that you could make a keepsake book for your wedding cards. Take a look! >>
8. Tissue Paper Bleeding Art
Here's another super simple painting you could make for your other half – using the bleeding art technique.
You'll use something called bleeding tissue paper to make it (that's the paper part), and although you could do your artwork on canvas, there's also nothing to stop you from using some art paper instead.
I used a Hawaiian quote for ours (as Hawaii plays a big part in our lives), but you could opt for a romantic quote instead if preferred. Check out the tutorial now >>
9. Handmade Journal or Notebook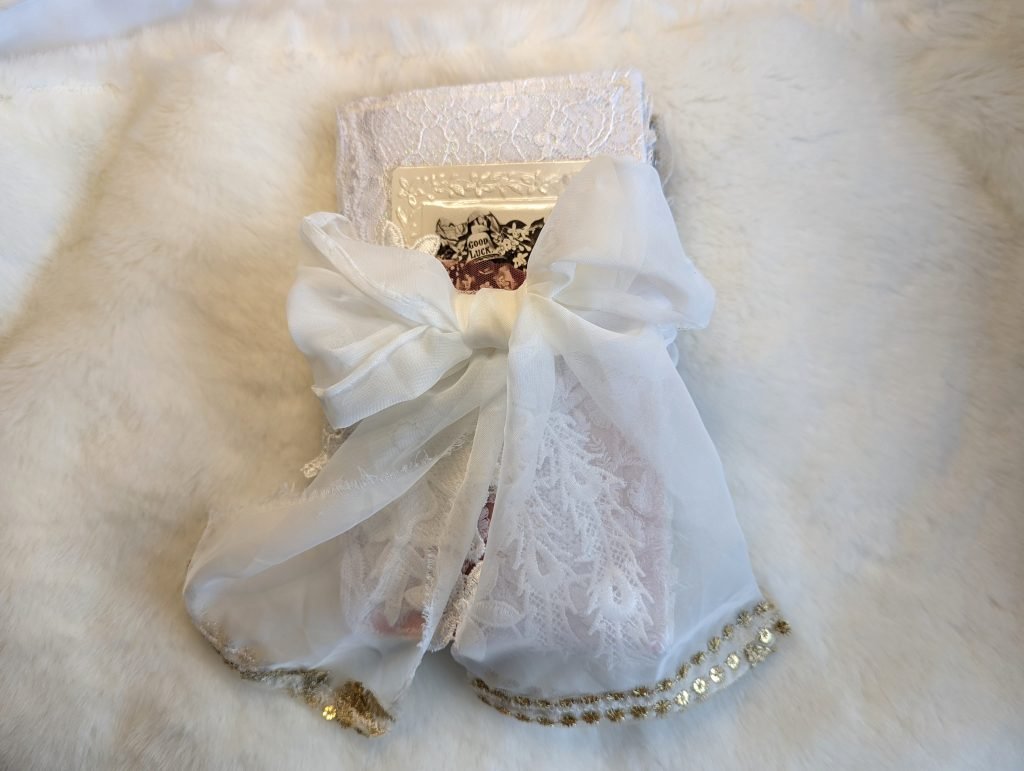 If you fancy a slightly bigger project to sink your teeth into, then have you ever thought about making your very own journal or notebook as a paper wedding anniversary gift?
It's easier than you think – and while my journal above is quite an elaborate one – you could always make a simple notebook instead.
Use it to record some of your favourite memories together, or simply use it to note down all the reasons you love your other half. You'll have fun making it – and they'll have fun reading it!
Since there are lots of ways you can make your own journal, I haven't yet got a specific tutorial to link you to.
Instead:
RELATED: 20+ Best Gifts For Journalers They'll Love
10. Regency Style Love Letter
Don't fancy making a journal or notebook? Why not make a Regency style love letter instead?
It's super easy and gives you plenty of writing space with which to tell your other half exactly how you feel about them. Check out our tutorial >>
11. Romantic Reverse Canvas Art
We've got yet another arty gift idea for you – and this one is also super simple!
I made the artwork above by printing out a design I bought from a seller on Etsy. I then coloured it in and framed it.
I also used a technique called "Reverse Canvas". You know those art canvases you can find in cheap craft stores?
If you remove the canvas material from it, then you're often left with a lovely wooden frame underneath that you can stain or paint to match your artwork. It's often cheaper than buying a glass picture frame. Here's how… >>
12. Tissue Paper Flowers
Looking for more easy paper flower ideas? Why not try making some tissue paper pom poms that look just like pretty flowers?
They make great decorations for around the home or someone's desk, but you could also use them to fancy up your gift wrapping. Here's the link to our pom pom tutorial >>
13. Indoor Scavenger Hunt
Looking for new ways to "jazz up" your gift giving? Why not hide all of the beautiful homemade first anniversary gifts you've made around the house in the form of a scavenger hunt?
We've shown you how to make your own indoor scavenger hunt in this blog post. Ours is birthday-themed, but there's no reason why you can't also take our clue ideas and make a more romantic scavenger hunt instead. Happy hunting! >>
14. DIY Wrapping Paper
And finally, here's a fun bonus idea! Why not make your very own DIY wrapping paper for your gifts?
It'll add that extra special touch to your anniversary gifts and you can easily personalise your wrapping paper to make it even more special.
I made mine from book pages and it's so easy and fun to do! Here's how… >>
You could even use your DIY wrapping paper to package up a homemade cookie dough gift.
---
And there you have it! 14 fun and easy DIY paper anniversary gifts you can make in a weekend for your other half. Which one do you think you'll try making first?
Did you like this list of homemade first anniversary gifts? Why not pin or bookmark this blog post now and read it again later?