This article may contain affiliate links, which may earn us a commission - at no extra cost to you - if you use one of our links. Please see our disclosures page for more information.
Now that most of us are turning to Google Maps and SatNavs to get around, you're probably like us and have a bunch of old road atlases stored away somewhere.
Or maybe you're a hoarder of vintage maps and are looking for new ways to display or repurpose them.
These easy DIY map art projects are for you! Whether you make them as cute gifts or make them for your own home, you're bound to have fun.
Let's get crafting!
Pretty & Easy DIY Map Art Projects You'll Love Making
1. Heart Map Art Picture
This super easy DIY heart map art picture can be made in less than ten minutes and uses things you probably already have lying around the house.
Maybe you know a couple who are celebrating a destination proposal or travel-themed wedding? Or have just bought their first home together? 
This map love heart picture is perfect for them.
You could even make a set of them to show someone met, got engaged, got married and bought their first home in different locations, which would make such a cute gallery wall for any map art decor enthusiast!
2. World Map Canvas
Here's another really easy DIY map art project you could easily complete in an afternoon!
It's as easy as wrapping a canvas with map wrapping paper or glueing old maps you have lying around straight onto the canvas for some extra special vintage map art.
These look particularly special if you go for multiple canvases to hang next to each other or even shaped canvases to help create an interesting travel-inspired gallery wall.
You could even add some extra pizzazz with fairy lights, led lighting strips or pretty text!
3. Map Paper Flowers
Whether you're planning a travel-themed wedding, party or another occasion, or you just really love maps (and origami!) then you'll love making these pretty map flowers to hold as a bouquet or make unique centrepieces with.
A small bouquet of flowers should only take you a couple of hours to make and they look so pretty when displayed inside your favourite vase, painted mason jars or fun glass bottles.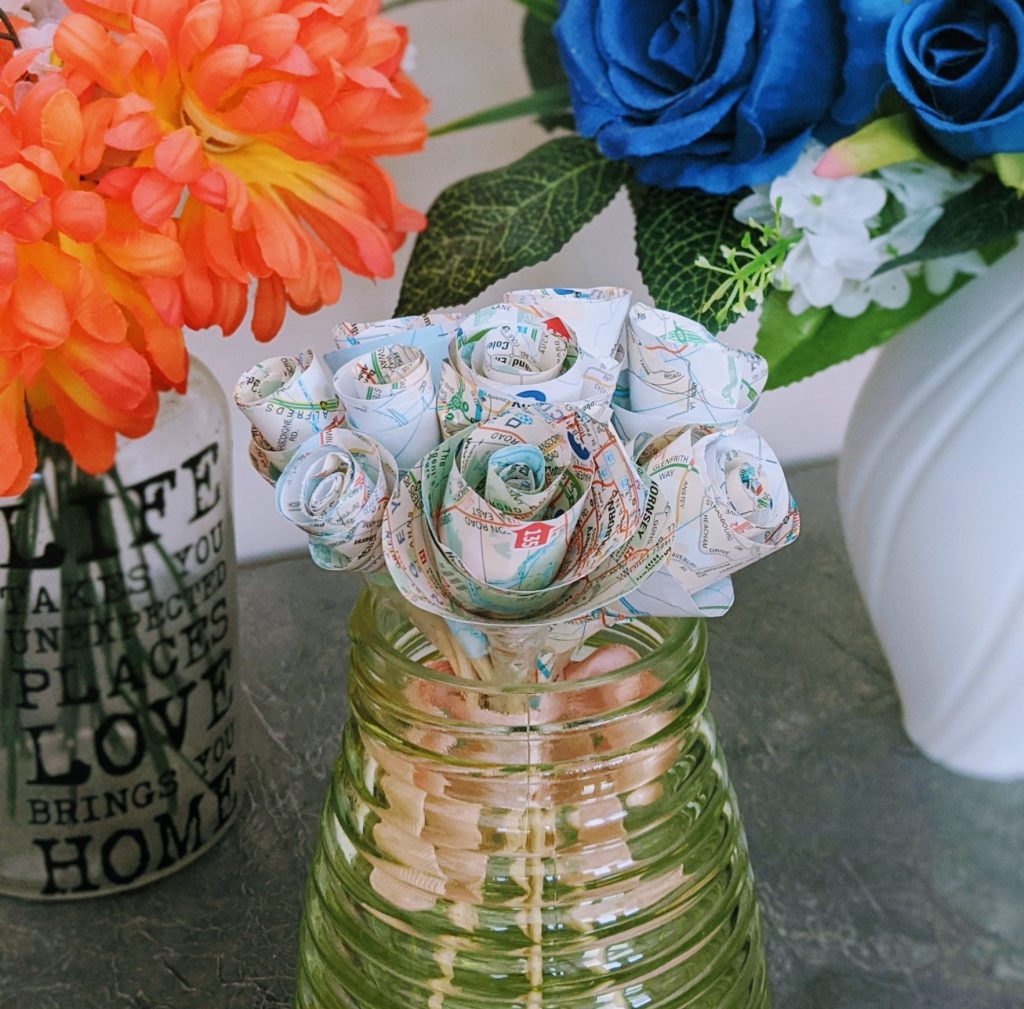 RELATED: DIY Travel Notebook Set – Upcycled Passport Holder Idea [Video]
4. Map Bunting
Who doesn't love a bit of bunting in spring and summer? Even more so when it's combined with a BBQ or fun house party!
Make yours travel-themed with this easy map bunting you can make in an afternoon. Just remember that this is bunting best used indoors or outside on a dry day.
5. Map Heart Garland
If you'd rather decorate your party or travel-themed room with pretty map hearts instead then this map heart garland project is for you!
It should take you less than an hour – unless you're making enough to fill a whole room, in which case, you'll need a couple of hours.
6. Map Coasters
Even though our Rough Collie has a cheeky tendency to steal our coasters(!), we've made lots of cute coasters as we love them.
A set of four map coasters will only take you an hour or two and it's as easy as cut, glue and seal!
If you or someone you know loves all things London-inspired, then these would also look so cute with maps of the London Underground displayed on them instead of any old street map. Bon Voyage!
---
We hope you have fun with these easy DIY map art projects! Which one do you think you'll try first? And have you got any other ideas for interesting map art? We'd love to hear them so just leave us a note below…
Are you after more travel-inspired projects? Check out this DIY Adventure Awaits canvas!
Feeling inspired? Share these map art projects now!