This blog post may contain affiliate links, which earn us a small amount of commission if you buy something through them - at no extra cost to you.
If you look for easy junk journal pockets and ideas on Instagram, Pinterest or YouTube, you'll probably see hundreds of different variations to try.
I remember feeling overwhelmed by all these choices in the beginning.
So, I thought it would be handy to put this blog post together and feature some of my favourite junk journal pocket ideas and tutorials I've tried out.
Partly for you since you might get some inspiration from it or discover a new tutorial to watch. And also for me; so I can remember which ideas I liked the most and want to try again. Enjoy!
10 Easy Junk Journal Pockets: Ideas & Tutorials
As you might expect, this list of junk journal pocket ideas is by no means an exhaustive list. I'll add to it over time as I discover new ideas and try them out, but I hope it gives you a good starting point when making your own journals.
1. Simple Book Page Pocket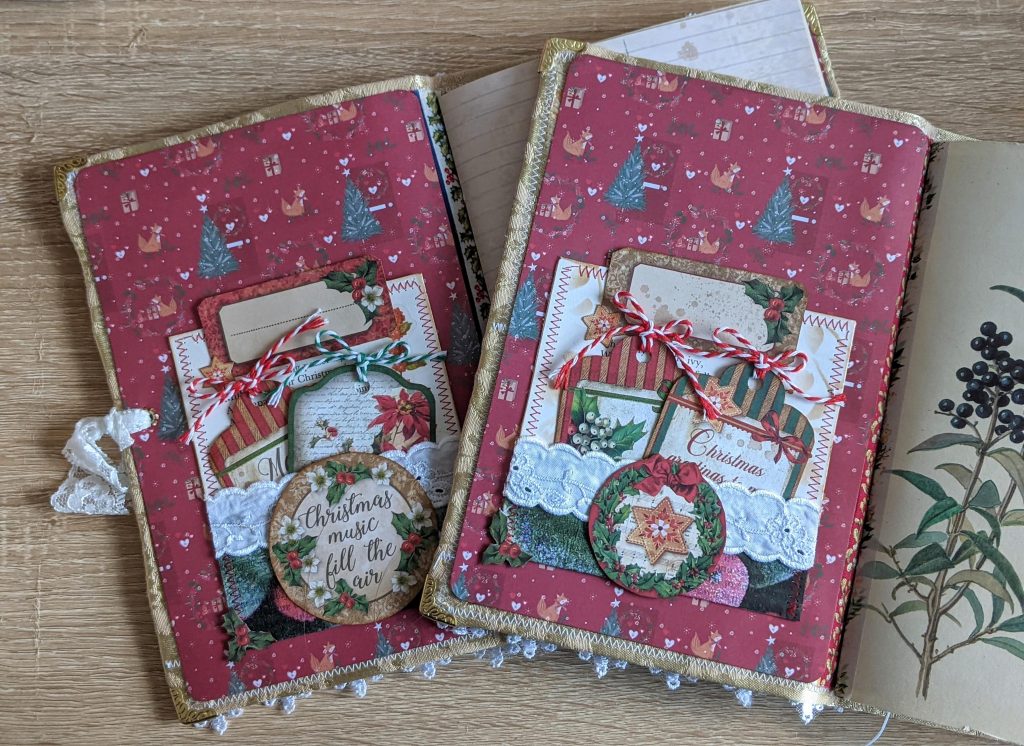 I think it's fair to say that if you're into junk journaling, then you probably have a fair few book pages knocking about.
Turning them into fun and simple junk journal pockets is a great way to use them up as you'll use two or three pages per pocket (depending on the paper thickness and strength).
Here's a great tutorial from Pam at The Paper Outpost to show you how to make a simple book page pocket from start to finish.
I also filmed myself making the pockets above for my Christmas junk journals (just in case you're after some more inspiration). Check out my video here.
BONUS Book Page Pocket Idea
Once you've mastered this easy book page pocket, why not try layering it up with other things for even more pizzazz in your journal?
I used a book page pocket with a junk mail envelope to create a full page of pockets in the back of my "Winter Rose" wedding journal – and it looked gorgeous!
See how I layered everything up to create this beautiful page in my video here.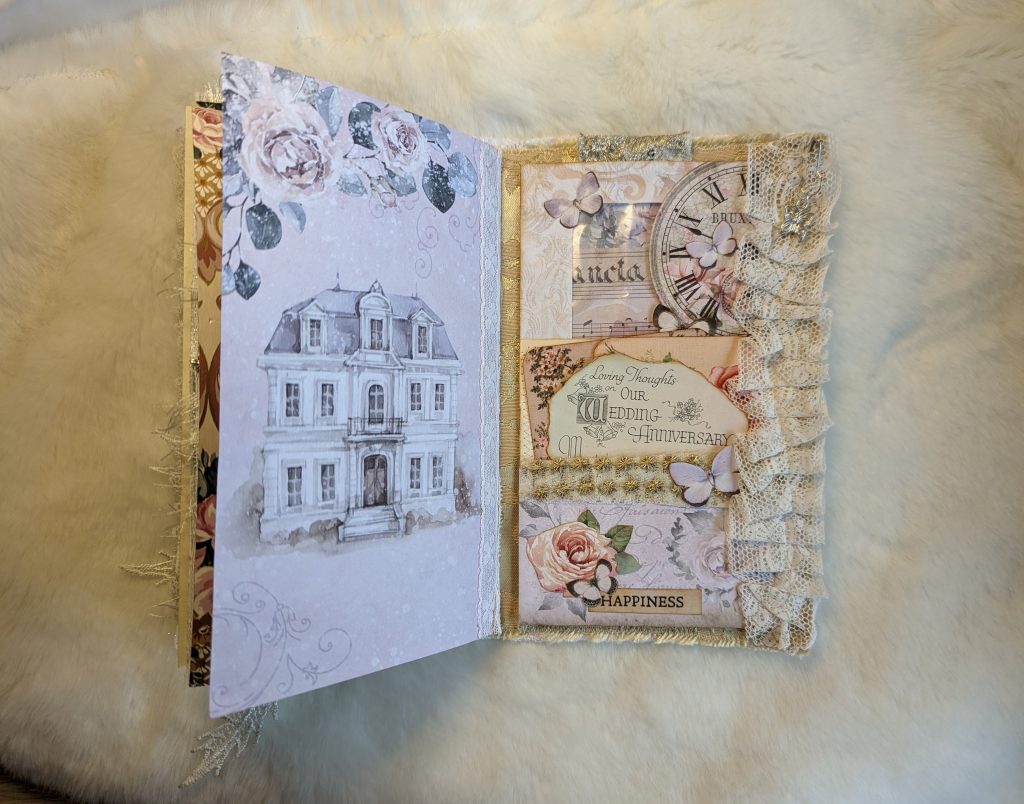 2. 4-in-1 Book Page Pocket
Once you've mastered the simple book page pocket, you're ready to give other book page pockets a go.
The ones pictured above have four mini pockets, while the whole thing can also be used as a fifth and final pocket.
And they're easier to make than you think!
Check out my tutorial here to see how I made the two above using large book pages from illustrated books.
RELATED: What is a Junk Journal? | Junk Journaling 101
3. Illustrated Book Page Pocket
Another simple way to make junk journal pockets from book pages is to look at your illustrated pages in a different way.
Back your book page onto some cardstock and then cut around an image to give yourself a decorative and interesting book page pocket!
I saw Tania from Tatty Treasure try this in her video here and I just had to give it a go. I'll definitely make more of these ones in the future.
4. Decoupage Vellum Pockets
Take some book pages (or music sheets), decoupage some pieces of napkin onto them, sew on some vellum – and hey presto! – you have another beautiful junk journal pocket.
Natasa from Treasure Books made something similar using cereal box liners, but I didn't want the faff of having to clean them out before using them. So I just adapted her tutorial to use vellum instead.
Here's her original tutorial to get you started.
RELATED: 10 Junk Journal Page Ideas To Inspire You
5. Lace & Fabric Pockets
I'll always love using fabrics and lace in my journals. They contrast beautifully with the harshness of paper and add a scrumptious tactile feel to any project.
Fabric and lace also make great junk journal pockets!
Glue or stitch your fabric or lace onto your page – and you instantly have a decorative pocket!
6. Printed Vellum CD Pocket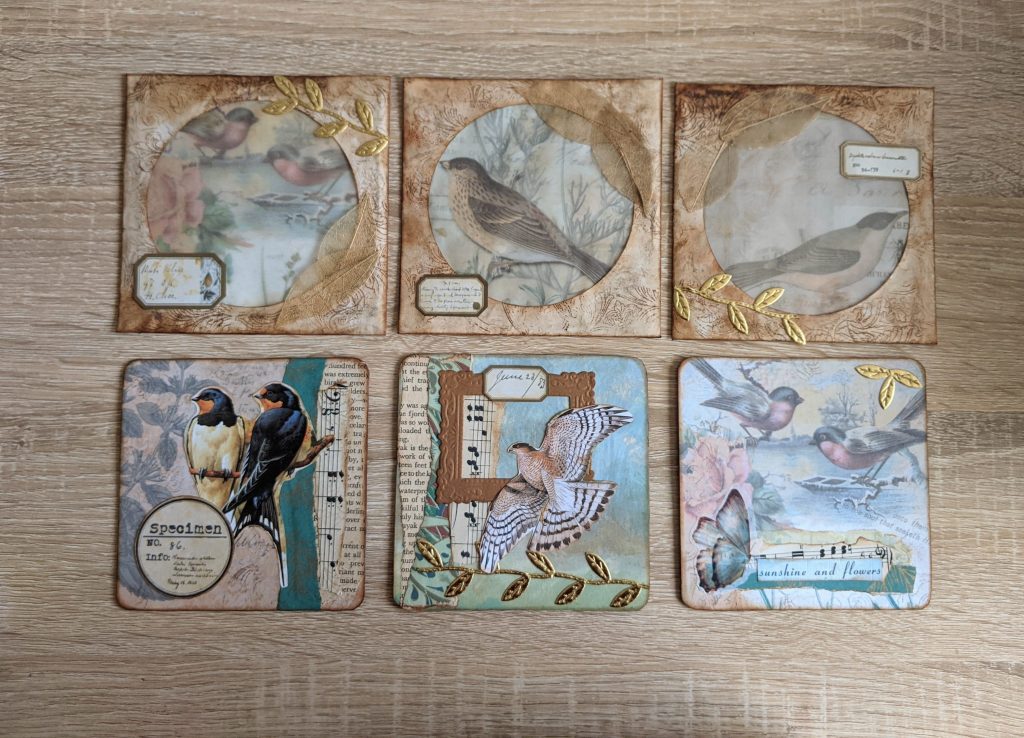 If you have CD pockets lying around your house, then you might want to turn them into junk journal pockets.
Not only can they hold a journal card or other ephemera inside them and flip out from your page, but you can also display something beautiful in the window!
Like printed vellum perhaps? Or some other decorative paper.
Although I plan on doing a full tutorial on how I made the pockets above, you can see how I decorated them (and made the accompanying journal cards) in this video. I'll be sure to come back and update this blog once I've done a full tutorial on them.
RELATED: Junk Journal Definitions | A-Z Junk Journal Glossary For Beginners
I love the idea of stacked pockets. Not only are they useful but they can also take up a full page, giving you something beautiful and interactive to look at and use in your journal.
But why not go one step further and add some secret hidden journaling to your pockets as well?
I followed this tutorial from PinkMonarchPrints to make the ones above and I really like the idea of them! I glued each pocket down separately as I didn't want to completely cover up the page behind them, but I think either way looks great!
8. Junk Mail Envelope Pocket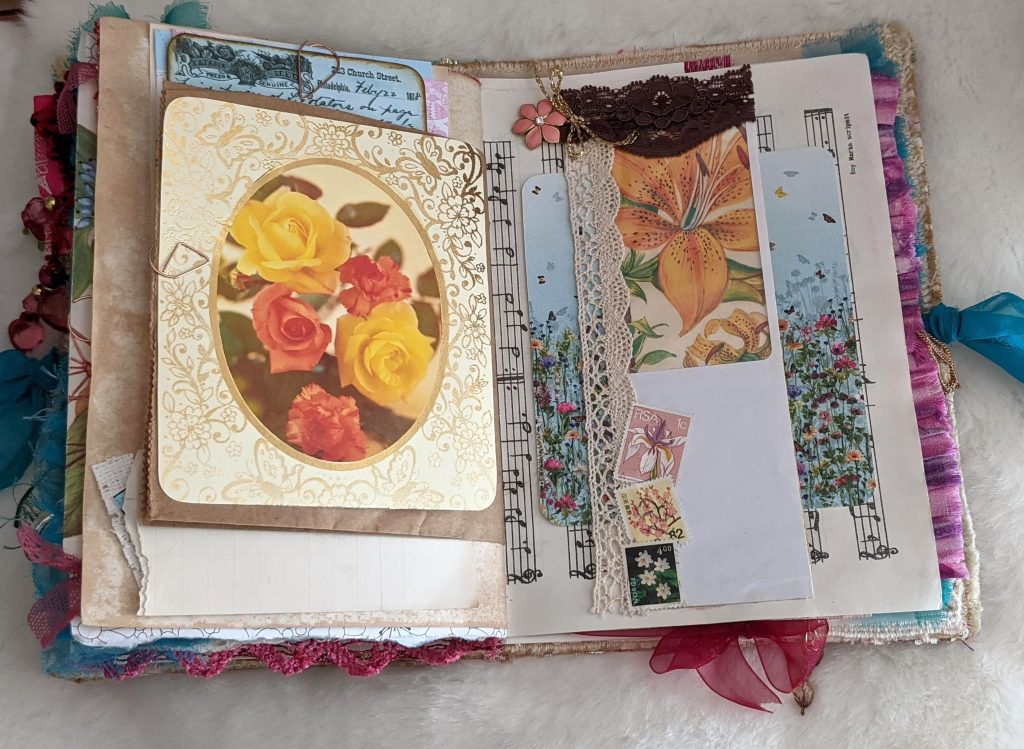 Ahh junk mail… the holy grail when it comes to junk journals. You can use junk mail and junk mail envelopes in so many different ways!
Like this journal, for example, which I'm making entirely from junk mail envelopes and packaging (with extras of course).
Or specifically for junk journal pockets, I love the idea of using junk mail envelopes with windows as a useful and decorative element on a page.
The envelope pocket above has a slim notebook inside it and also doubles up as a bellyband. I was inspired by this video from Treasure Books, so hopefully you will be too.
RELATED: The Intriguing History Of Junk Journals
9. Scrapbook Paper Pockets With "Gusset"
Here's another easy junk journal pocket to try out! I made these using pieces of coordinating scrapbook paper and vellum to create another 4-in-1 pocket.
They're easy to make and the pocket in the back even has a kind of "gusset" for extra room.
Check out my tutorial here for the step-by-step process on how I made the exact ones you see above.
10. Large Page Turn Up Pocket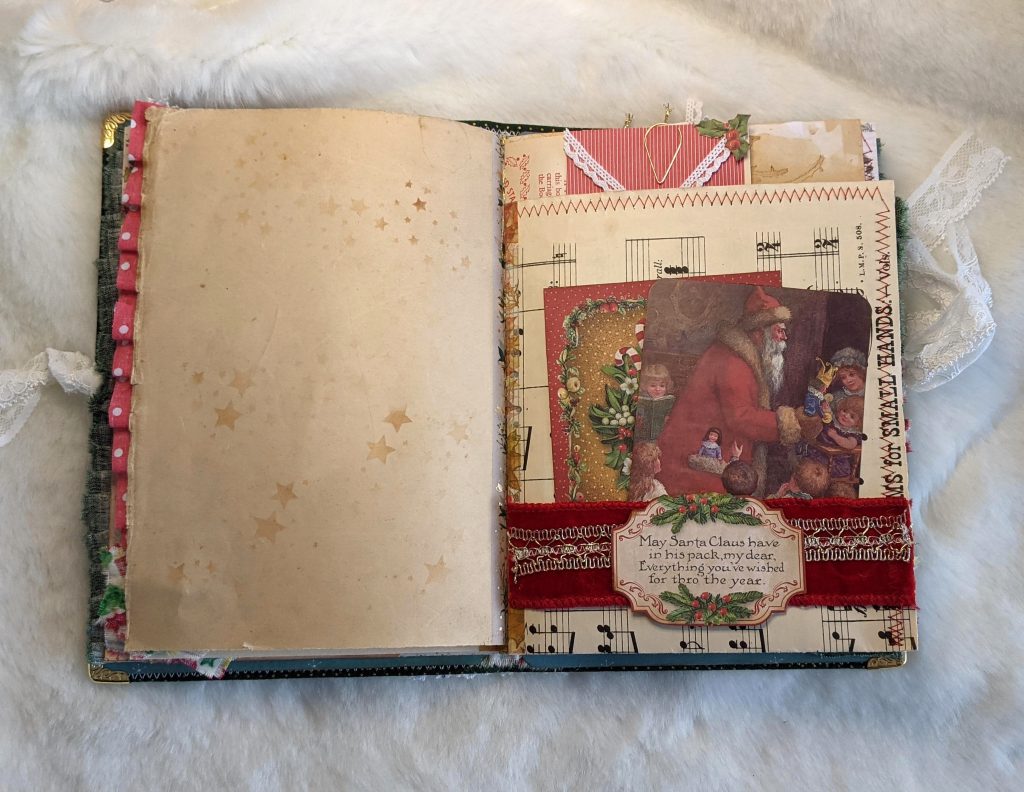 And finally, I'll leave you with one more idea for junk journal pockets, which might just be the easiest yet!
If you have a large page in your journal, such as a music sheet, ledger page or large book page, then why not turn up the bottom of it instead of cutting the page down to size?
Simply glue or stitch the two sides – and you instantly have a handy pocket, which you can also embellish further to match your chosen theme.
---
And there you have it – 10 easy junk pocket ideas to try out! Do you have a favourite idea or tutorial? I'd love to see it, so please do leave me a comment below…
Did you like this list of junk journal pockets? Pin or bookmark this blog post now, read it again later!