This blog post may contain affiliate links, which earn us a small amount of commission if you buy something through them - at no extra cost to you.
If you're wondering how to keep pressed flowers in a journal or scrapbook, then you're in the right place.
I love to make botanical junk journals and I've also recently become interested in nature journaling, so I use pressed flowers and leaves in my artwork and journal pages all the time.
So, without further adieu, here are seven easy ideas for you to try, which will allow you to showcase your flowers and leaves in fun and beautiful ways within your journals.
How To Keep Pressed Flowers In A Journal (7 Easy Ideas To Try!)
1. Tape or glue pressed flowers onto your journal pages and ephemera
Perhaps the most common way to keep pressed flowers in a journal is to simply tape or glue them onto your journal pages and ephemera.
This is ideal if you want to make notes about the plants next to each specimen or you want to create a beautiful journal page quickly and easily.
If, however, you want to take things up a notch, then the rest of my ideas will help you to do just that!
2. Make your own specimen cards at home
Specimen cards are a very common sight within nature journals and botanical junk journals – and there are lots of different ways to make them.
I recently shared a video tutorial for specimen cards that have their own coordinating pocket made from scrapbook paper.
They're easy to make and look great as floating pockets you can move around your journal. Alternatively, you can glue them onto your page as a large tuck spot or bellyband. Check out my video now >>
You might also like the look of this faux specimen card printable from SAACIBO on Etsy. I've bought the kit, but I have yet to print it out. I'll be sure to let you know as soon as I've tried and tested it.
3. Turn playing cards into unique specimen cards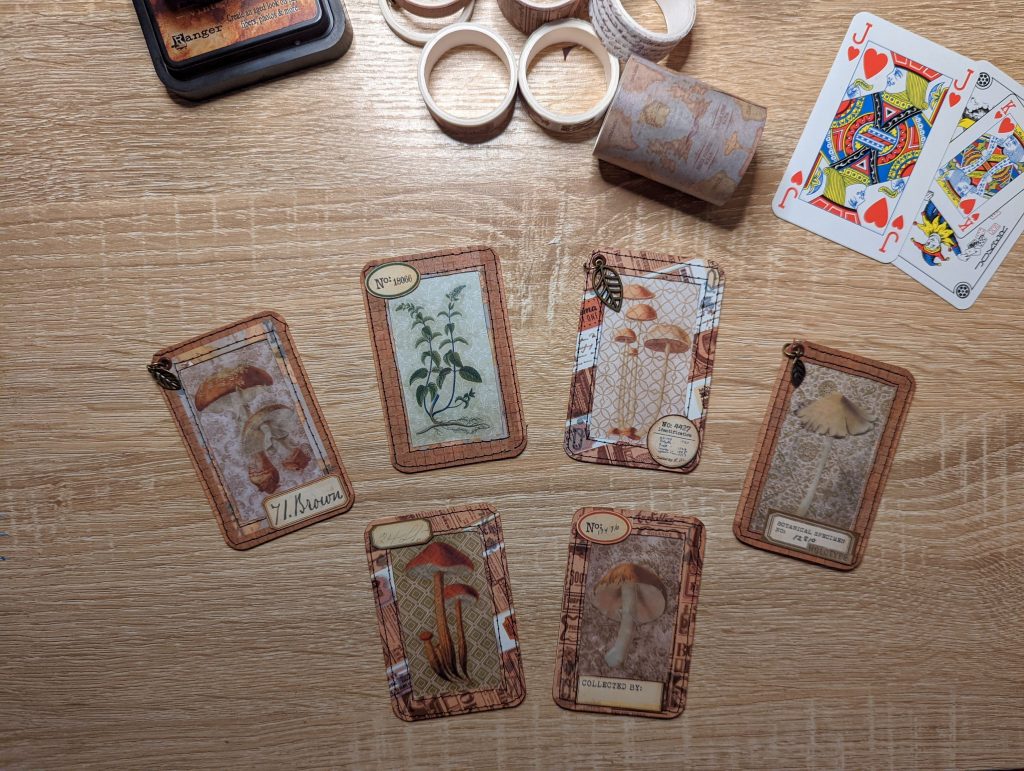 Another way to save pressed flowers in your journals is to turn playing cards into specimen cards, which also double up as small journaling cards.
While I used stickers for mine, you could easily substitute these for real pressed leaves and flowers.
Check out my video tutorial to see how to make them >>
You might like to use these to write short notes about the specimen on the back of the card and then tuck the whole thing into a journal pocket.
4. Frame your pressed flowers and leaves in CD wallet pockets
CD wallets make excellent journal pockets – and because there's already a window in the front – they're also the perfect place to save your pressed flowers and leaves.
With the help of some scrapbook paper or card, you can keep the CD wallet as a pocket (even though it has a leaf or flower in the window). You can then glue the whole thing down onto a page as an extra tuck spot or use it as an interactive flip out.
Watch my video tutorial now to find out how to make them >>
5. Turn junk mail envelopes into beautiful journal cards
For another idea, why not turn junk mail envelopes into beautiful journal cards? They're super easy to make and you can decorate them however you like.
Here's a video for the first ones I made where I used pretty papers, embellishments and some stencilling to make some simple – yet pretty – journal cards.
And here's another video where I used some simple collaging to frame my flowers and leaves instead.
6. Make a paper bag book page pocket for your journals
More recently, I worked out how to use book pages and clear plastic packaging to make a gusseted journal pocket, which also doubles up as a frame for pressed flowers.
I then attached this to the front of a paper bag to create two pockets in one. Cool, eh?!
Once I have a video tutorial on how to make this type of pressed flower pocket, I'll be sure to come back and update this blog post with a link to my video.
7. Scan or photograph your pressed flowers and leaves to make unique artwork
And finally, if you'd like to use your pressed flowers and leaves in your journals over and over again, then why not scan them into your computer or take photos of them to make some unique artwork or journal pages?
This tutorial from Luise Heinzl might give you some ideas.
---
Over to you now – what are some other ways you can keep pressed flowers and leaves in your journals and scrapbooks? Share your ideas in the comments section down below…
Did you like these seven ideas on how to keep pressed flowers in a journal? Why not pin or bookmark this blog post now, so you can refer back to it later?