This article may contain affiliate links, which may earn us a commission - at no extra cost to you - if you use one of our links. Please see our disclosures page for more information.
If you're new to using printables and digital kits in your journals, then you might want to use free junk journal printables and ephemera first to see if you like creating with them.
Be prepared, though! Most people who start using digitals get quite addicted to using them.
Printable junk journal kits are beautiful and usually very affordable. There are also so many designs in different colours, themes and styles to choose from.
Not to mention there are many talented designers making the kits, so you'll be spoiled for choice in every way!
But like I said, if you're new to this kind of junk journal, then here are five ways to get free junk journal printables and ephemera. Happy printing and journaling!
5 Ways To Get Free Junk Journal Printables & Ephemera
1. Join junk journal Facebook groups
If your favourite junk journal kit designer has a Facebook group, then they probably share freebies in the "Files" section of the group.
You're usually allowed to download and use these files according to the designer's standard terms of use.
But do take note that some freebies are not for commercial use.
The designer will usually mention this when sharing the files in the Facebook group. If you're ever unsure, though, just pop a question in the group to double-check.
If you're a member of the Facebook group that I run with Mandy from SunflowersAndDors, then you'll find a bunch of freebies in the "Files" section, which Mandy and other ladies in the group have kindly shared.
At the time of writing, Mandy's sharing a freebie every Friday with our group – and they're fabulous!
But please don't just join a bunch of Facebook groups for the freebies alone!
The freebies are a lovely bonus in addition to the fabulous friendships you could make in the groups if you share your work and comment on other peoples' posts.
2. Browse kit designers' websites
You might find that your favourite kit designers also have their own websites where they'll occasionally upload freebies to say thank you.
You'll usually find these under the heading "Freebies" or something similar.
Just search for their shop name online and you might find their website, such as shabbydabbydoodah.co.uk and artymaze.com.
Don't forget to check out their shops while you're browsing their websites as a common courtesy and to support them.
3. Check out YouTubers' Buy Me A Coffee & Kofi sites
Another place where you can look for free junk journal printables and ephemera is via peoples' Buy Me A Coffee and Kofi sites.
When you're next watching someone on YouTube making junk journals, have a look at their video descriptions and you might find a link to their site if they have one.
While not everyone shares freebies, some people do, such as Joolsedesigns. Julie helps us look after the Facebook group and she's a very talented and kind lady.
I'm only just dipping my toes into the world of junk journal digitals, but I've also uploaded a few freebies to my Buy Me A Coffee site, which you can use in both personal and commercial projects.
Of course, while you're downloading someone's freebies, you could also say thank you by buying them a coffee or leaving them a donation.
This isn't expected by anyone, but it's a nice thing to do if you want to support them further.
4. Look for free graphics & public-domain images
If you're looking for copies of vintage ephemera to use in your journals, then you'll probably find some freebies via the methods mentioned above.
But another great one to consider is using free graphics websites like The Graphics Fairy and Rawpixel's public domain library.
You'll find all kinds of scanned vintage ephemera from tickets and postcards to letters and artwork.
And if you subscribe to the Graphics Fairy email newsletter then you'll receive a bonus free image every week too!
A word of caution: Definitely take note of the terms of use on these websites as not all of them allow you to use the images in projects you sell without a license or subscription.
More often than not, the people who've uploaded the files have spent quite a bit of time "cleaning" the image, so that it's more high quality than just a scanned document or image.
Because of the time they've spent on the file, sometimes you're only allowed to use the images in personal projects, such as journals you make for yourself or as gifts.
RELATED: How To Make Money From Crafting
5. Join YouTubers' Patreon & Kofi membership programs
Finally, while you need to pay a membership fee to access someone's Patreon or Kofi membership site, you'll sometimes receive extra benefits alongside your free junk journal printables.
Things like exclusive videos, happy mails, behind-the-scenes updates, project sneak peeks and more!
Once again, take a look at your favourite YouTubers' video descriptions to see if they have a membership site you can join.
The lowest tiers are usually the same price as a coffee each month, but it really helps support your favourite creators.
Here are a few memberships you might want to check out:
BONUS #1: Where To Get More Junk Journal Printables
If you'd like to get your hands on even more junk journal printables, then I've made a list of some of my favourites.
Please note these ones aren't free, but most of them are very reasonably priced, so they're well worth checking out.
BONUS #2: Where To Get More FREE Junk Journal Ephemera
And you don't even need to use printables to make beautiful junk journals.
Check out this list of junk journal supplies and you'll see lots of things you can use that are probably already lying around your house like packaging and junk mail. Yay for free junk journal ephemera!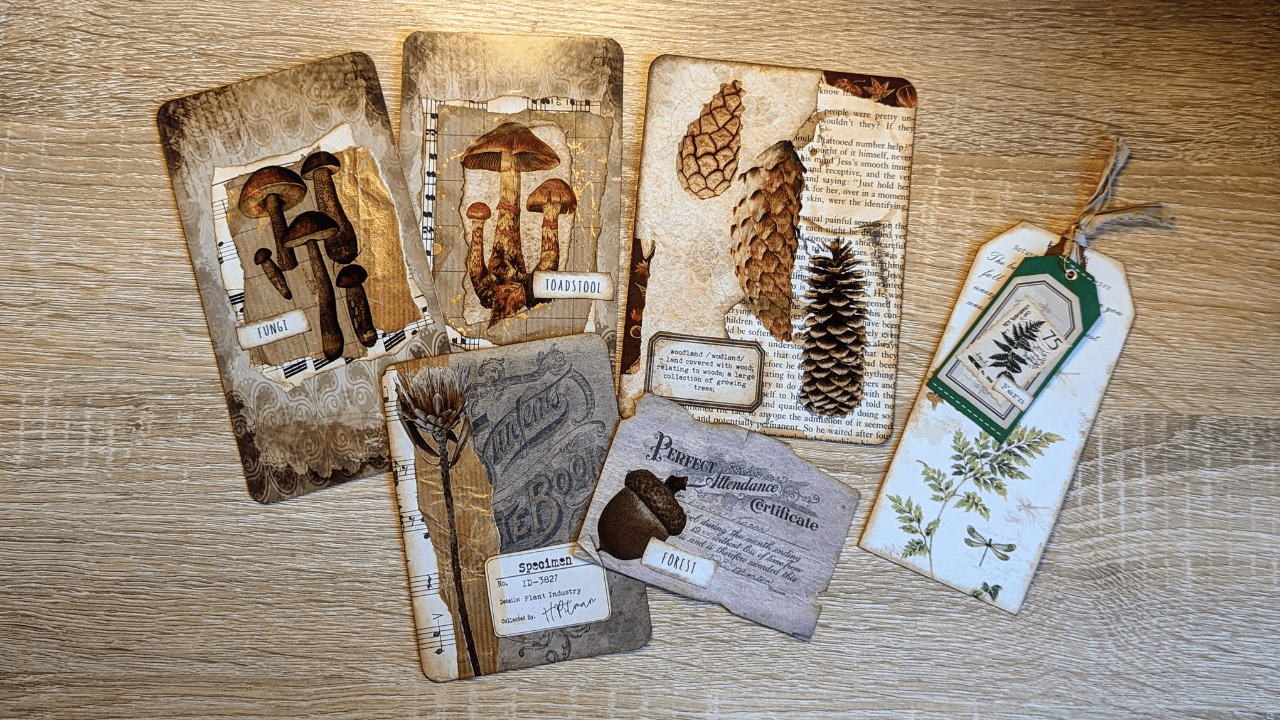 BONUS #3: Best Printers & Printer Paper For Crafters
Finally, you'll get the best results from your junk journal printables (both free and paid ones), if you use a decent printer and paper.
I have the Epson Ecotank ET4700 and I love it!
I used to have an Inkjet printer and I was spending about £30 per month on ink, despite only printing a kit or two per month – if that.
Since switching to an Ecotank in November 2021, I've only had to buy ink once. And I print out kits a lot more than I ever used to.
While an Ecotank printer is usually a larger upfront cost than a standard printer, you'll save a fortune in ink.
I personally don't have any experience with it, but a lot of crafters also recommend the HP Instant Ink program.
You're sent ink every month as part of a subscription. HP also passes on extra savings to its subscription customers.
But regardless of which printer you go for, I'd suggest trying different settings to get the best prints.
With my Ecotank, for example, I always use a high-quality printer setting and premium paper, such as this 100gsm Presentation paper.
If you enjoyed this blog post about how to get free junk journal printables and ephemera, then why not pin or bookmark it now, so you can refer back to it later?