This article may contain affiliate links, which may earn us a commission - at no extra cost to you - if you use one of our links. Please see our disclosures page for more information.
Are you a fan of books and reading? Want to know how to make your very own DIY book spine bookmarks? Read on to follow this super easy how-to!
When old books fall apart, it can be difficult to know what to do with them. Since discovering junk journals in early 2021, I now know how to make the best of the entire book.
I can use the pages for collaging with or journaling on. I can use the cover to make a junk journal from scratch. As for the book spines? I love to make gorgeous DIY bookmarks with them.
They're so easy to make. And the best bit? You'll be saving yet another discarded book from the landfill!
So, without further adieu, here's how to make your very own DIY book spine bookmarks…
DIY Book Spine Bookmarks
Supplies you'll need:
A book (preferably one that's already falling apart!)
Stiff cardboard (greyboard or cardboard packaging is ideal for this)
Backing paper
Craft knife
Strong, good quality glue (Beacon 3-in-1 is my favourite)
Sharp, good quality scissors (Tim Holtz shears are my favourite)
(Optional) Sealer (e.g. Matte Mod Podge)
(Optional) Eyelets, eyelet setter and some ribbon
Instructions
1. Dismantle your book.
If your book's spine hasn't already come away from the cover, then you'll need to dismantle your book.
Using a craft knife, carefully remove the pages from your book. You can do this by running the craft knife down each side of the book block – just be careful not to go through your cover or spine.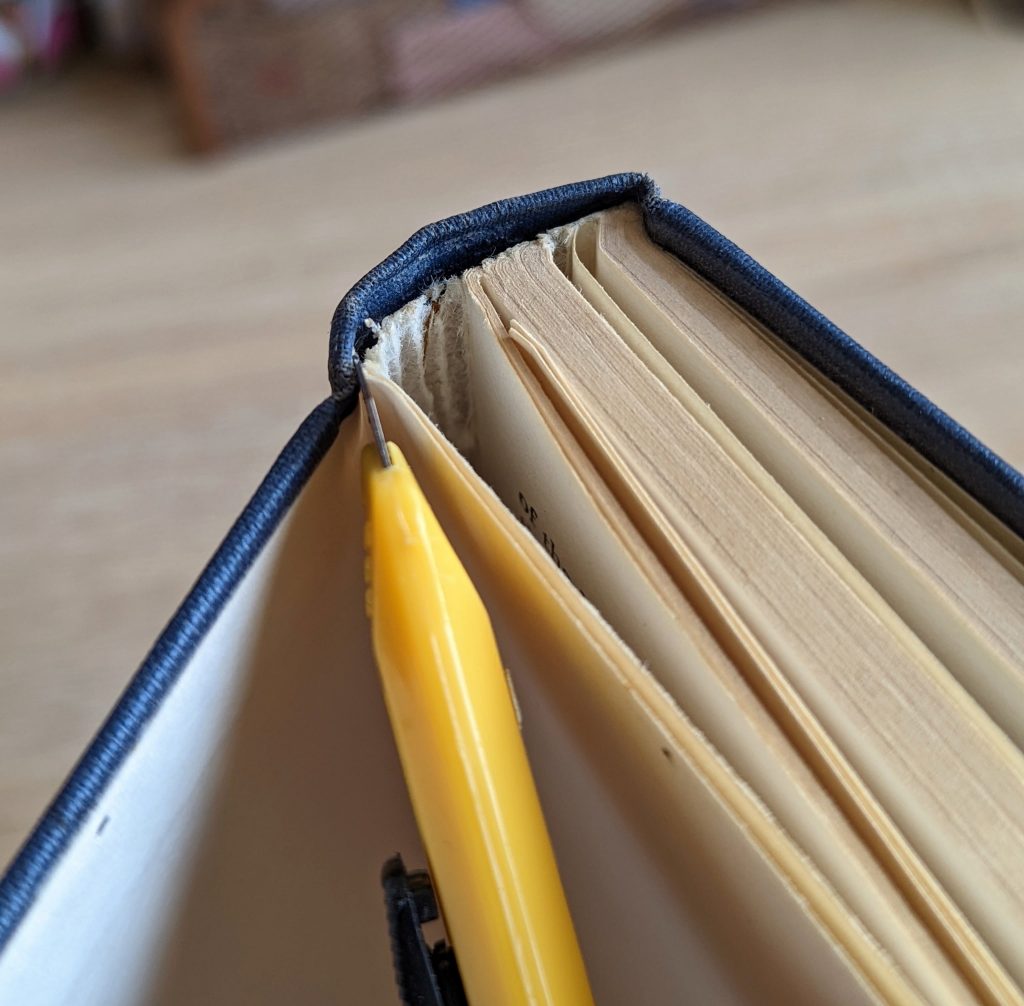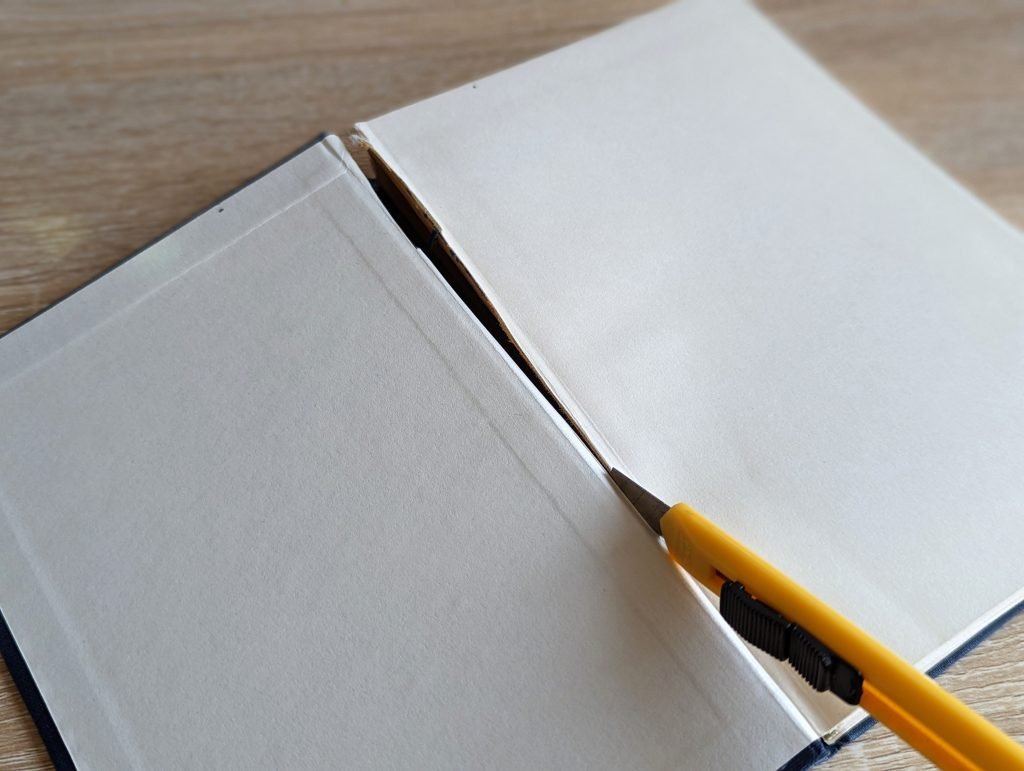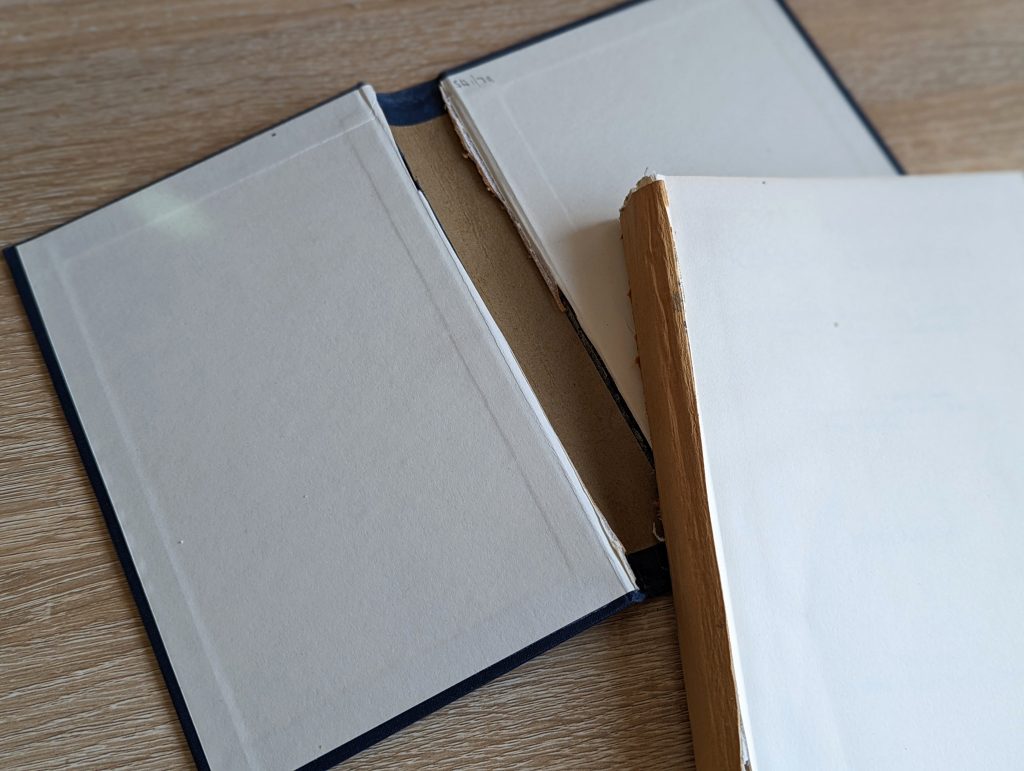 Once you've removed the pages, you can now run your craft knife (or scissors) along each side of the book spine itself to remove it from the cover.
2. Tidy up your book spine.
If needed, you may need to tidy up your book spine a little by cutting it down to size or removing frayed edges and the like. You can do this easily with a pair of scissors.
3. Assemble your book spine bookmark.
Using your book spine as a template, cut out a piece of greyboard or cardboard packaging. This is what will give your bookmark some longevity and sturdiness. Do the same with your backing paper.
You could use pretty scrapbook paper, vintage paper or even some paper you've painted (I went with gold acrylic paint for most of my bookmarks).
Next, glue your book spine onto your greyboard or cardboard packaging using strong, good quality glue. I like to use Beacon 3-in-1 glue for projects like this.
Then glue your backing paper onto the other side of the cardboard and leave to dry.
This is as simple as it gets!
4. (Optional) Add some finishing touches.
If you like, you could also add an eyelet and some ribbon, twine or lace trim to give your bookmark a more professional, finished look. A Crop-a-Dile eyelet setter should go through these layers fairly easily.
If your book spine is particularly old or delicate, you might also want to add a sealer (such as matte mod podge) to the front of your bookmark.
And hey presto – you're done!
---
I'd love to know if you plan on making some of your own DIY book spine bookmarks? Drop me a line in the comments below…
Did you like this quick and easy DIY bookmark tutorial? Why not pin or bookmark this blog post, so you can refer back to it later?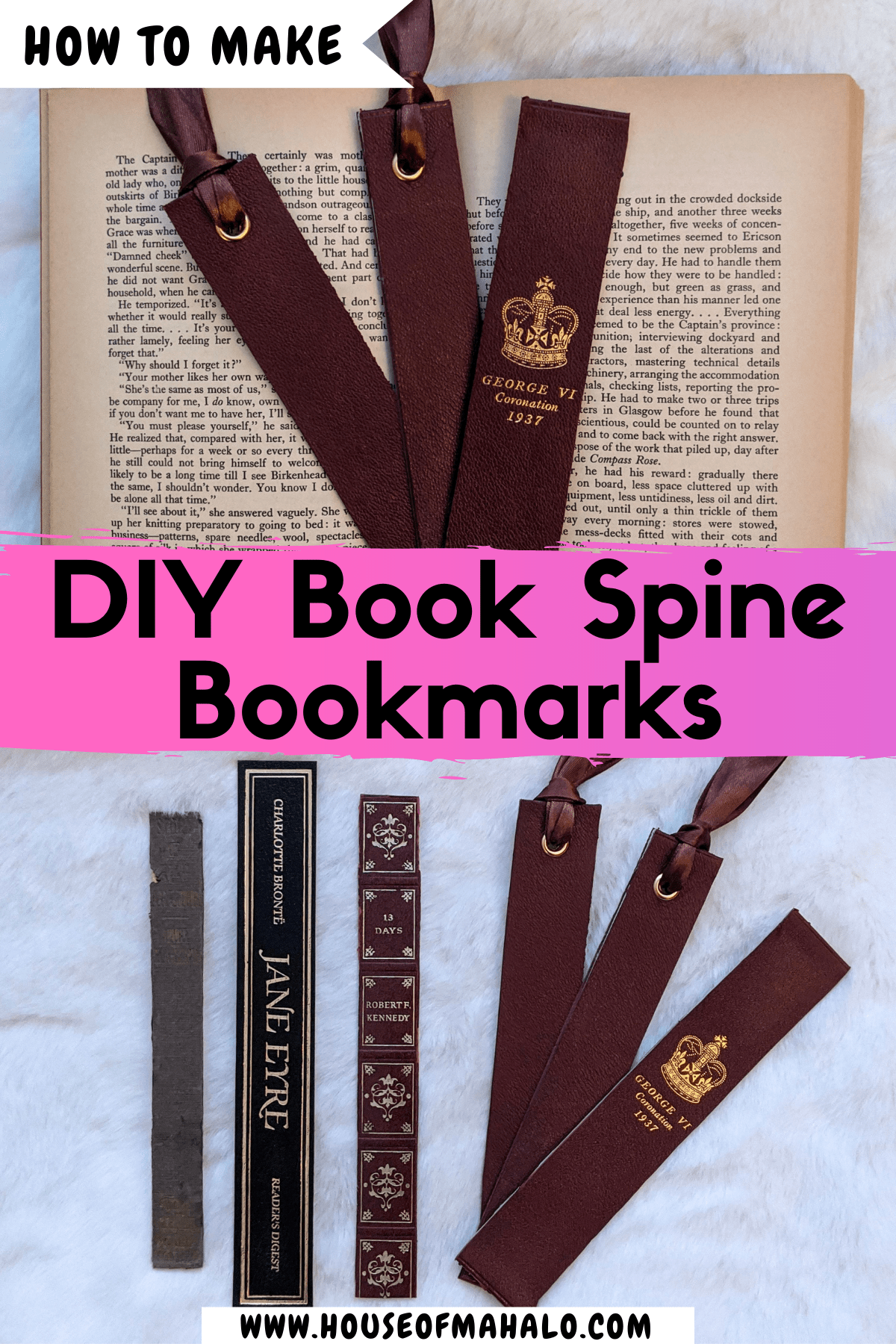 Psst! Why not also come and find me on Instagram @houseofmahalo?!