This blog post may contain affiliate links, which earn us a small amount of commission if you buy something through them - at no extra cost to you.
Today, I'm sharing instructions, ideas and inspiration for a DIY vintage writing folio you can make by upcycling old books. Intrigued? Keep on reading…
Hands up if you love all things vintage and antique. Hands up if you love writing letters to your loved ones. And finally, hands up if you love old books and want them to last forever.
I'm assuming you put your hands up three times just then (whether figuratively or literally).
That's what inspired me to share today's make: to inspire my fellow old souls.
I found an antique music book in a thrift store a couple of years ago, which had an incredible red cover with gold inlay. But it had already lost most of its pages inside and the spine was just barely hanging on.
I knew that I could give it a new lease of life, so I held onto it until the perfect project idea came along.
In July 2022, we hosted a collaboration in our Facebook group (this one right here!), which was all about "interesting facts about July". As July's birthstone is ruby, I knew I wanted to make something related to that.
And then I remembered about the ruby red music book!
A few hours later, I'd completely transformed it into a vintage writing folio. Want to know how I did it? Read on for some written instructions and a video showing my entire process.
Happy reading and watching!
RELATED: Easy DIY Secret Storage Book Box
DIY Vintage Writing Folio: Upcycling Old Books Idea
Supplies You'll Need For This Upcycled Book Project:
An unloved book you want to upcycle
Strong fabric (e.g. cotton, muslin, etc)
Crochet or lace trim
Ribbon or twine
Cardstock or scrapbook paper (you could also print digital papers onto cardstock)
Writing paper and envelopes
Glue
Scissors
Hole punch
(Optional) Scoring board and tool
(Optional) Book corners and other embellishments
RELATED: 35+ Types Of Junk Journals You Can Try Making
DIY Vintage Writing Folio: Written Instructions
Step 1: Clean the book cover
If you're working with an especially old book, you might want to clean up the cover slightly first. I lightly rubbed a baby wipe across mine and you should have seen the colour difference!
Step 2: Create a flip out
To create a flip out inside your folio (so you can add more pockets and a removable notepad), you'll want to use scrapbook paper or cardstock.
Cut your paper to the height you want and two inches wider than what you need.
Score the paper on the left-hand side (at 2 inches) and fold it along your score mark to create a flap. Glue this onto the inside of the back cover.
You might also want to decorate the front of your flip out. I wanted to salvage the antique music sheet cover in my project so I glued that onto the front of my flip out.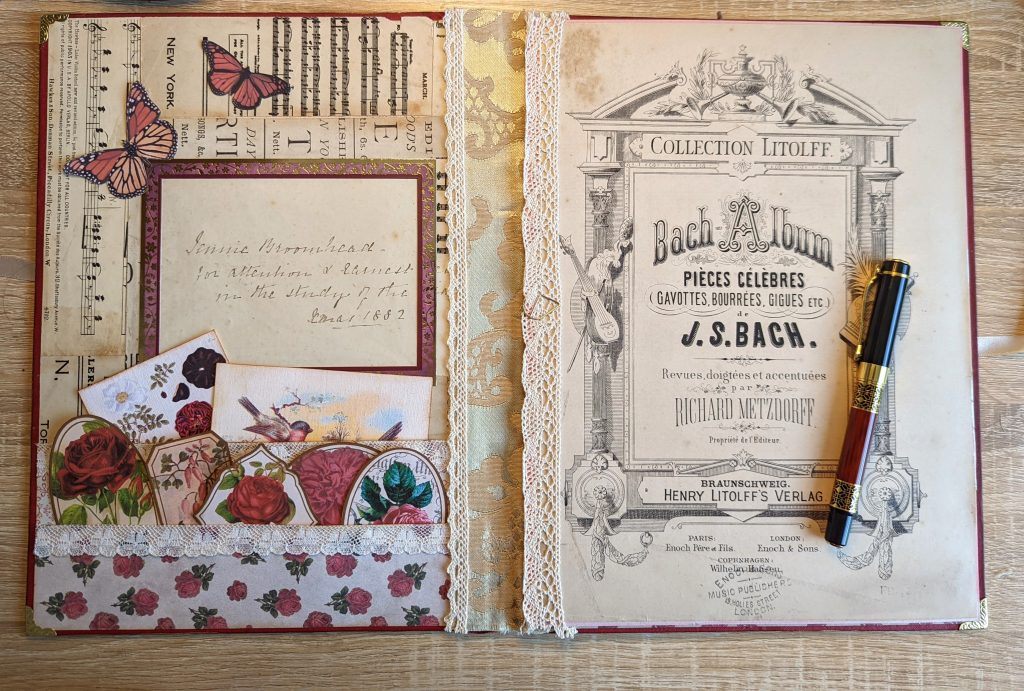 Step 3: Cover the inside front and back covers of the book
Now it's time to cover the inside front and back covers of your book – both for aesthetics and to hide the flap you just glued inside it.
I used scrapbook paper on my inside back cover. But I wanted to "preserve" an inscription on the inside of the front cover, so I collaged around it and finished it off with a paper frame.
Step 4: Make your pockets
To keep your stamps and envelopes safe, you'll want to make some pockets for your writing folio.
Using cardstock or scrapbook paper, cut out some rectangles for the inside front and back covers.
It's up to you how wide or deep you make your pockets. Just make sure they don't get in the way of where your spine will go.
Affix your pockets into place by glueing around three sides of each pocket.
Step 5: Create a new spine using strong fabric
If your book has totally fallen apart or has a weak spine, then you can create a new one using strong fabric, such as cotton or muslin.
Cut two strips of fabric, which are each the length of your book and roughly 2 inches wide.
Starting on the inside of your folio, glue one of the strips of fabric onto the inside back cover and inside front cover (taking care not to eat into your pockets too much).
Repeat this on the outside of the book; this time also glueing the centre of your fabric so that it sticks to the other piece of fabric inside the book.
For a tidy finish, you might also want to add some lace or crochet trim along the edges of your fabric spine.
Step 6: Make a removable notepad
Measure another piece of cardstock or scrapbook paper that's the width of your writing papers and two inches in height.
Fold it in half and over the top of your writing paper. Hold everything in place with paper clips.
Punch two holes through your papers and cardstock and tie them together using ribbon or twine. This is your notepad.
Next, glue two sides of another piece of cardstock or scrapbook paper (roughly 1-inch in height) to the back of your flip out. This will create a "bellyband" for you to slip the top of your notepad into so that it's removable.
Note: Make sure you leave enough room for your papers to slip into your bellyband when you glue it into place!
Step 7: (Optional) Add book corners and extra embellishments
You should now have the base of your folio completed. Now for that extra special finishing touch! It's up to you what embellishments you want to add.
For mine, I added some butterfly fussy cuts inside, as well as some lace to the top edges of my pockets.
I attached a red and gold cabochon to the outside of my folio and I also added some gold book corners to all four corners of my book cover as they were quite damaged.
I then finished everything off with some gold gilding paste around the edges of the folio to make it look more luxurious.
When you're finished, you might want to tie some ribbon twice around your folio and finish it off with a bow.
DIY Vintage Writing Folio: Video Tutorial
Or, if you're a visual learner, then check out my video to see exactly how I made my DIY writing folio:
I hope you enjoy upcycling an old book to make a DIY writing folio. Upcycling and repurposing old and unloved things is such a therapeutic and rewarding process. Enjoy every minute of it!
Did you like this tutorial and upcycling old books idea? Why not pin or bookmark it now so you can read it again later?
Read Next: 20 Genius Ways To Upcycle Old Books