This blog post may contain affiliate links, which earn us a small amount of commission if you buy something through them - at no extra cost to you.
If you're struggling with what to write in your junk journal then I hope my list of junk journal prompts will help inspire your creativity and have your pen flowing across the page freely.
I've come up with over 52 different prompts – one for each week of the year.
But before we get into that, I want to answer one of the most frequently asked questions about junk journals: "What do you write in a junk journal?"
The answer is simpler than you might think.
Psst! Don't have time to read my full blog post at the moment? Grab your free printable junk journal prompts list right now >>
What do you write in a junk journal?
While many people have this question about junk journals, the truth is that you can write whatever you like in a junk journal.
If you're making a journal for yourself, then it can serve as your own private space to record your innermost thoughts and feelings. Or maybe you want to use it as a record or memory keeper?
You don't even have to write in a junk journal if you don't want to. Maybe you're happy with simply making one or collaging on the pages inside.
It's completely up to you.
There are no rules. No guidelines. It's just you and your pen, pencil, paintbrush, glue stick. Whatever your chosen tool is, your junk journal is yours and yours alone.
Life and junk journals were made for colouring and writing outside the lines. Isn't that thought so freeing?!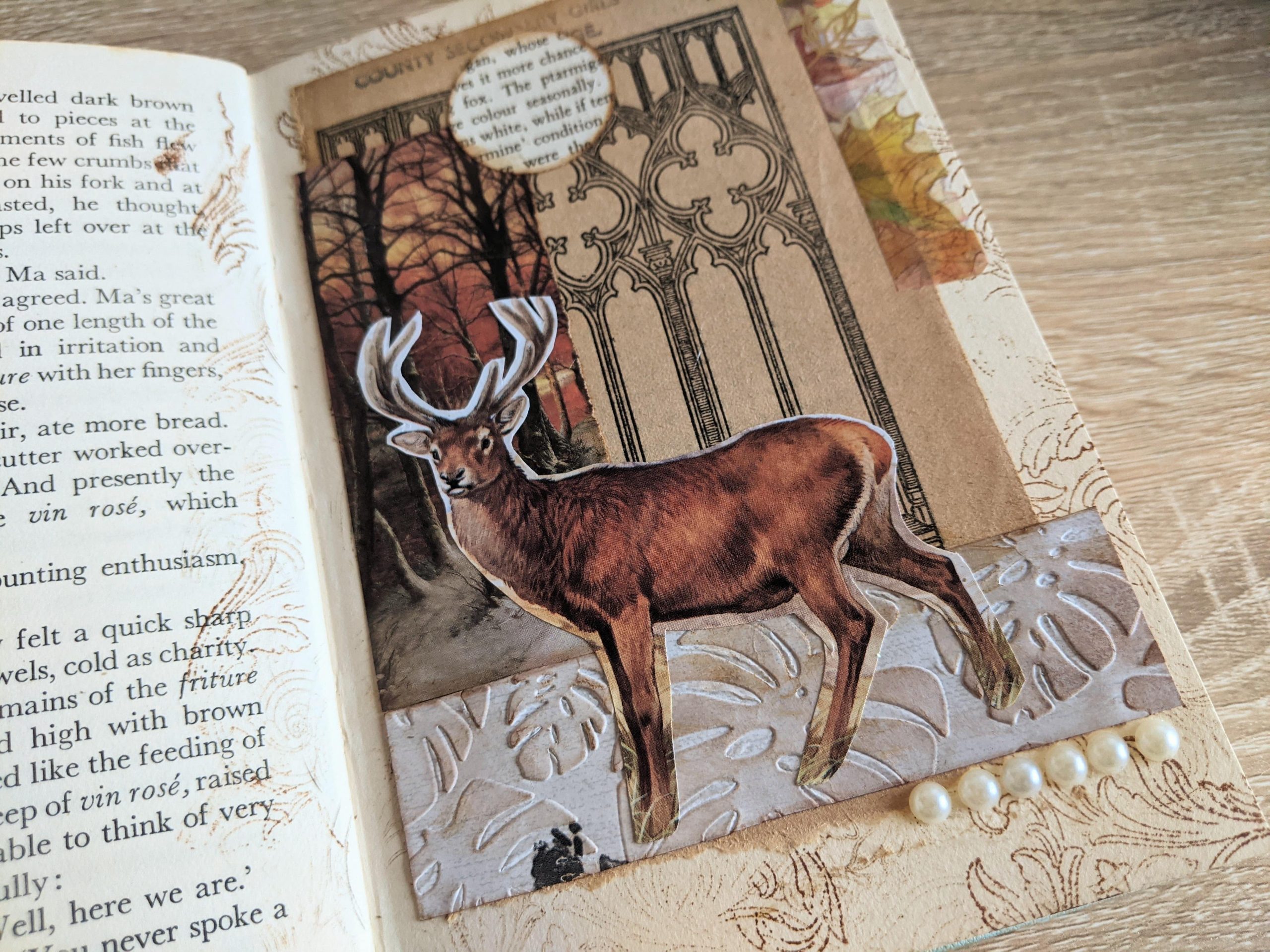 But some people (myself included) freeze up when they're told "just write whatever you want to".
If that sounds like you, then you might find junk journal prompts helpful. More on these shortly.
Ideas on what to write about in a junk journal
With so much freedom surrounding junk journaling, one thing's for sure: you won't ever run out of ideas on what to write about in a junk journal.
Read on for some of my ideas about what you can use your junk journal for and what you can write in it.
Daily journaling (whether you write a full page or just a sentence)
To-do lists, planning and budget tracking
Record your hopes, wishes, dreams, goals, bucket lists, etc (especially if you believe in manifestation)
Record your favourite and most special memories
Write about your trips and travels
Save your favourite recipes
Keep a food diary
List quotes, song lyrics and words to live by
Record your learnings and findings about a topic you're interested in such as plants and botany
Keep a gratitude or happiness journal
Start a nature journal (save souvenirs from nature and write about or draw what you saw on your walk)
And as I mentioned before, you don't even have to write in a junk journal.
Maybe you want to use it for collages and art spreads. That's okay too. Remember: there are no rules.
You can even write in a junk journal and give it as a gift.
Maybe you want to add photos and mementoes that mean something to you and the person you're giving it to. Or maybe you want to tell them about all the reasons why you love them.
What are junk journal prompts?
Junk journal prompts can help jolt your creativity and words into action.
The prompts might consist of a single word or a full statement. They might be a question that needs an answer or a sentence that needs finishing.
You'll find plenty of junk journal prompts around the web but listed below are some prompts that I personally have found most helpful and freeing when stuck for what to write in my journals.
I've also created a free printable, which you can print out and keep inside your journal – just for whenever you might get a bit stuck. Just fill in your details here and I'll email it to you.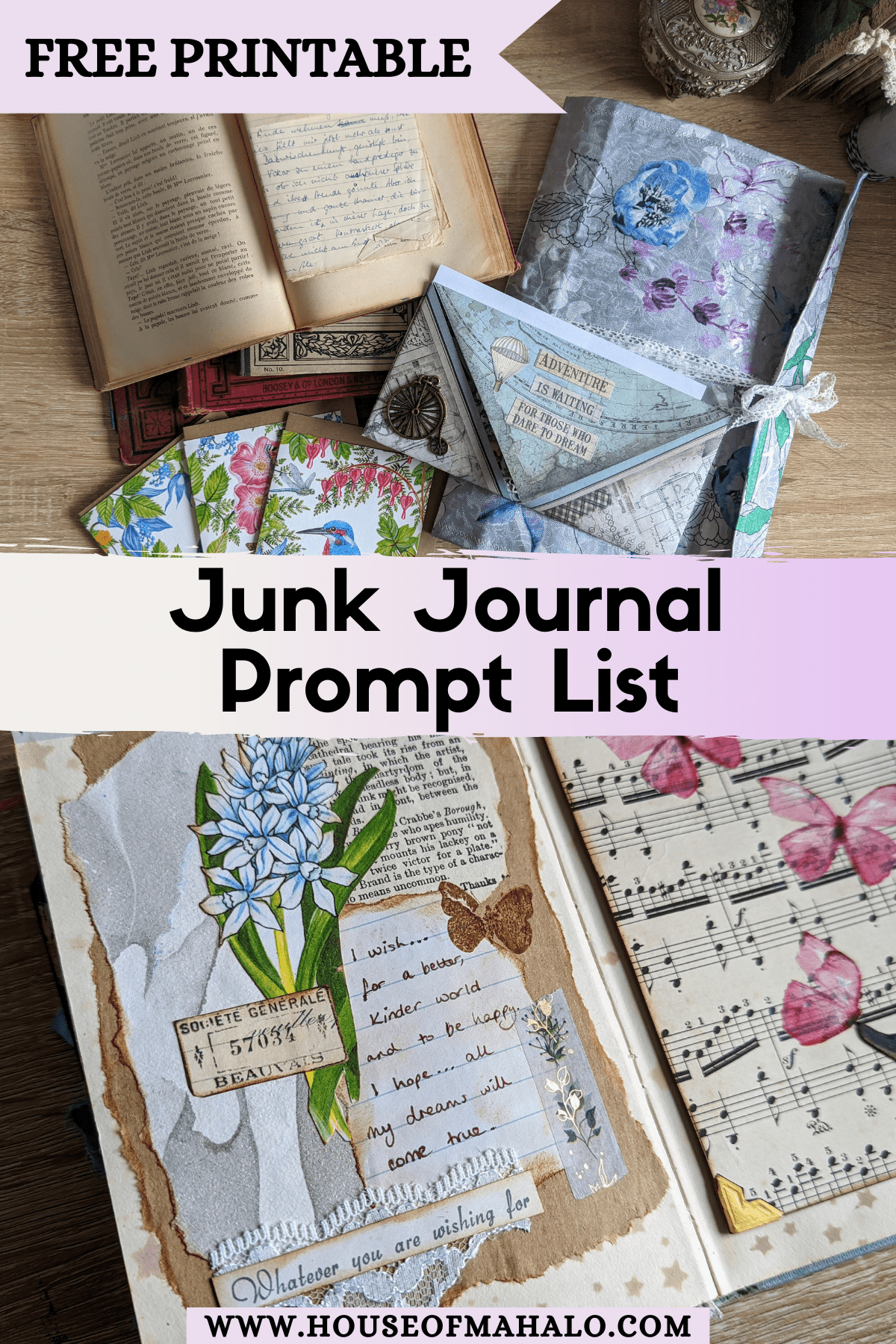 Single-word junk journal prompts
What's your first thought when you read these junk journal prompts? Write about that.
You
Beginnings
Memories
Spring
Summer
Autumn
Winter
Reflections
Home
Family
Nature
Dreams
Hopes
Wishes
Creativity
Bright
Constellations
Windows
Doors
Thankfulness
Photograph
We've also recently hosted a challenge in our Facebook group where we used the prompts below. Lots of interesting ideas came out of that. You might also find these prompts helpful when making art spreads or junk journal ephemera.
Perfect patterns
Lush layers
Terrific textures
A splash of colour
Something recycled
You could even use junk journal aesthetics to prompt your creativity. What comes to mind when you think of the following:
Shabby chic
Boho
Vintage/antique
Steampunk
Botanical
"Finish this sentence" junk journal prompts
Start by writing a part-finished sentence like the ones below on your page and finish it off with your own thoughts and musings.
I wonder…
I'm most passionate about…
I believe in…
I hope to/for…
I love…
My favourite books/quotes/poems/scriptures are… [FILL IN THE BLANK] because…
Dear [NAME]… I've wanted to tell you that…
I can imagine a world that…
I want…
My word for today/this week/month/year is…
I've learned…
I feel…
"Answer this question" junk journal prompts
Think of an answer to these questions and write whatever comes to mind:
What or who are you most thankful for and why?
What or who makes you happy/smile/laugh and why?
What or who has had the most positive effect on you or your life and why?
What lessons have you learned this week/month/year and what have they taught you about you or your life?
What area of your life needs more love and attention – and what can you do today to give you what you need?
What are your favourite song lyrics and why?
What's your favourite quote and how does it make you feel?
Find a picture in a book or magazine and answer this question: "What does this picture mean to you or make you think of?"
What are some of your greatest accomplishments in life and how do they make you feel when thinking about them today?
If you could talk to your 20/30/40/50/60-year-old self, what would you say?
---
And there you have it – more than 52 junk journal prompts to help you when you're stuck on what to write in your junk journal.
Don't forget to grab your free printable of these journal prompts as well. It's a two-pager, so it'll easily slip into your journal for when you next need some inspiration. I hope you find it helpful and inspiring.