Psst! This blog post probably has affiliate links in it, which earn us a small amount of commission if you buy something through them... at no extra cost to you.
If you're looking for junk journal cover ideas, then you're in the right place!
Here are 18 beautiful and unique junk journal covers I've made over the past couple of years. Some are made from fabric and some are hard-cover journals – but they all have very different vibes, themes and aesthetics.
I hope you find some inspiration ready for your next journal. Happy reading and crafting! xoxo
18 Junk Journal Cover Ideas To Inspire You
1. Colourful Boho Patchwork Junk Journal Cover
This eclectic and colourful boho journal was my first full-sized junk journal – and I'm still in love with the cover today.
I was gifted some gorgeous boho fabric samples and I was instantly inspired by the rich jewel colours and lustrous golds. But because I only had small pieces of fabric to play with, I had to get inventive with my junk journal cover.
Using an A4-sized envelope as my base (my go-to when making fabric covers as it means I don't have to measure anything!), I arranged my fabrics in a quirky patchwork style.
The front is a little more understated in pinks and blues (one of my favourite colour combinations), while the back of the cover is even more colourful!
RELATED: How To Make A Junk Journal From Scratch (Step-By-Step)
Inside, the bright and beautiful colours continue. In fact, I even called this one "The Celebration of Colour Journal". Take a closer look at it here >>
2. Shabby Pink Lace Cover With Fabric Pocket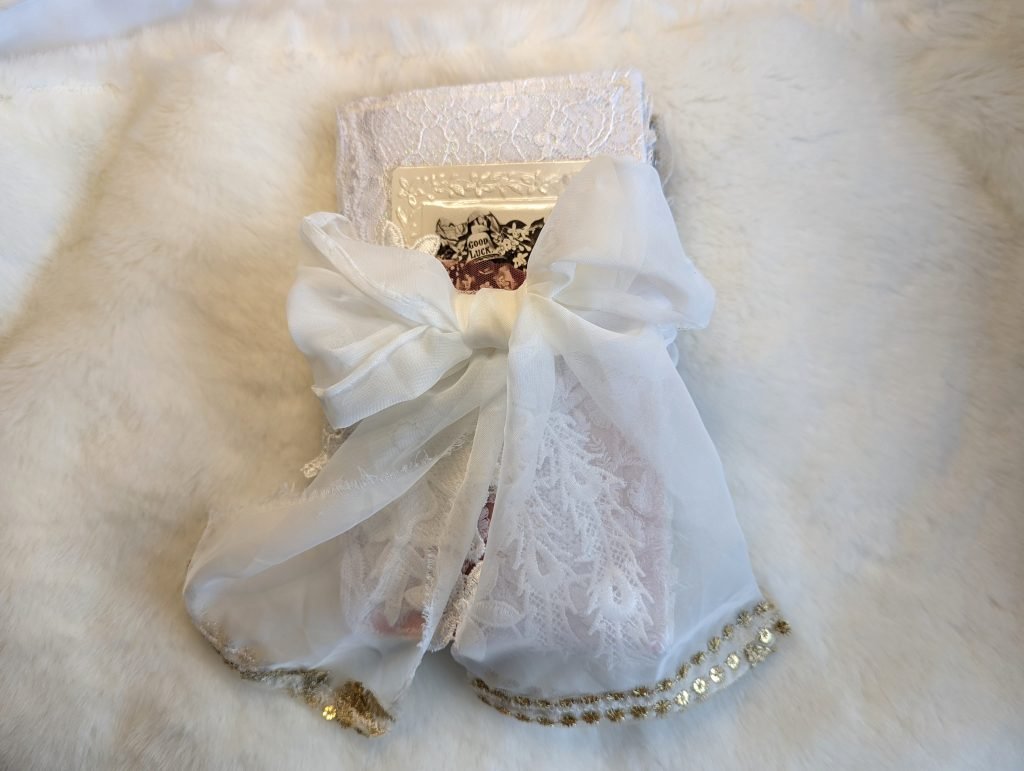 This beautiful wedding junk journal was a bit of a bonus project for me.
When I was making my "Shades of Winter" journal, I ended up with an extra piece of lace-covered felt. Quickly, this became a romantic wedding journal just in time for Valentine's Day.
The cover features a pink fabric pocket, which I've adorned with additional embellishments including applique flowers and sparkly beads.
I then made the closure from some sheer fabric, which I trimmed with gold. I also made the closure into a feature on the cover by tying it in a giant bow. Take a closer look at this journal here >>
3. Elegant Vintage Book Junk Journal Cover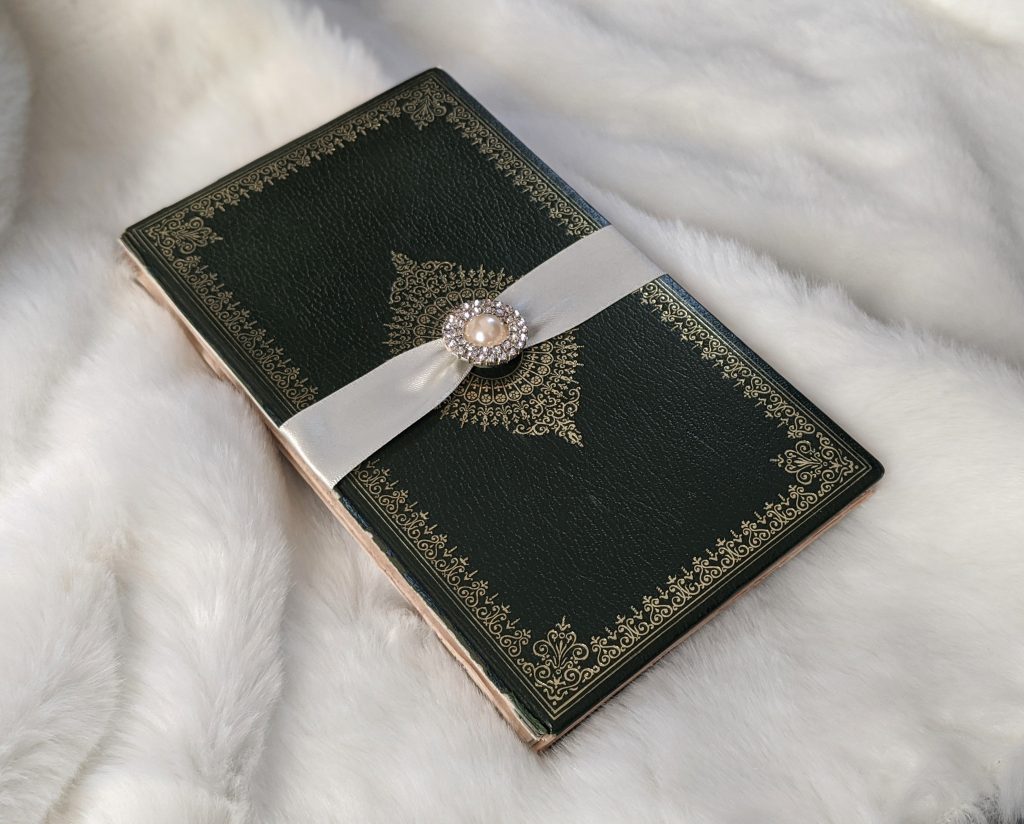 This elegant junk journal cover was another of my earlier projects (before I had my YouTube channel).
I made the cover out of a stunning green and gold vintage book cover, which had sadly come away from its spine.
I decided to pay homage to that by not replacing the spine and leaving the pages exposed. I glued the journal pages to each other in such a way as to create all kinds of interesting flips, flaps and folds.
Seeing as the book cover was so beautiful, I kept things simple and adorned it with an elegant ribbon and diamante embellishment, which I repurposed from a wedding invitation.
RELATED: What is a Junk Journal? | Junk Journaling 101
4. Faux Leaf & Fabric Embellishment Toppers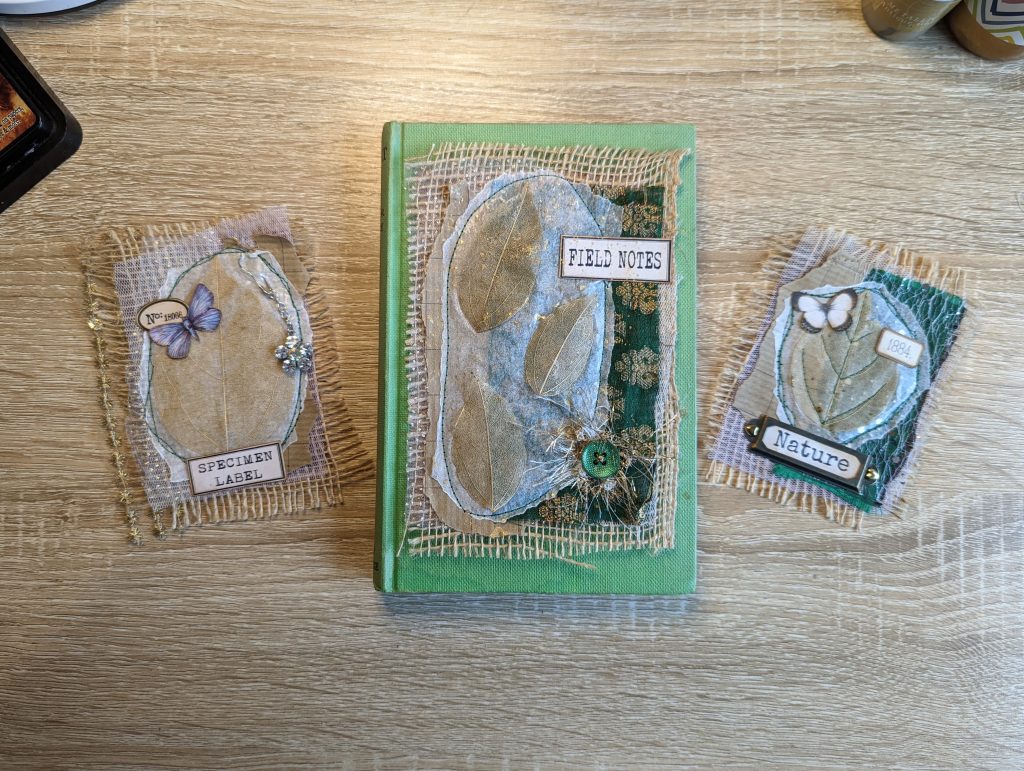 I was inspired by Tatty Treasure to make these faux leaf journal toppers and I can't wait to use them on the covers of little botanical journals.
All I have to do is glue them onto a vintage book cover and my journal covers will be complete!
I made these using different layers of fabric and paper. The leaves are called skeleton leaves and I glued and stitched them onto baking paper. Once the base was finished, I then embellished the pieces using buttons, fussy cuts and charms.
Check out my process video for these toppers here >>
5. Rose-Bay Willow-Herb Fairy Cover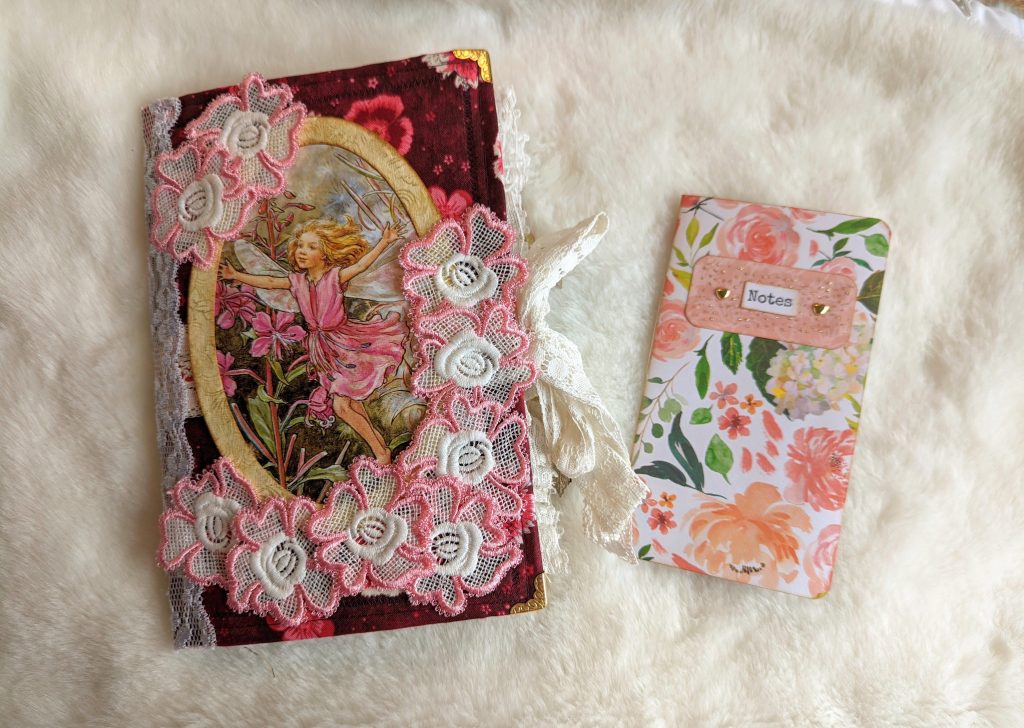 This beautiful pink fairy journal was my first time working with a Flower Fairy book by Cicely Mary Barker.
This junk journal cover is soft and squidgy. I made it out of a used bubble mailer and some pretty floral fabric.
I knew that I wanted the Rose-Bay Willow-Herb fairy on the cover, so using that as my base, I worked on the rest of the cover design, which features a frame, white lace and applique flowers.
I like to think the flowers match perfectly with the picture. I wanted it to look like the fairy was running through the flowers.
Watch my process video for this cover now >>
6. Enchanted Woodland Junk Journal Cover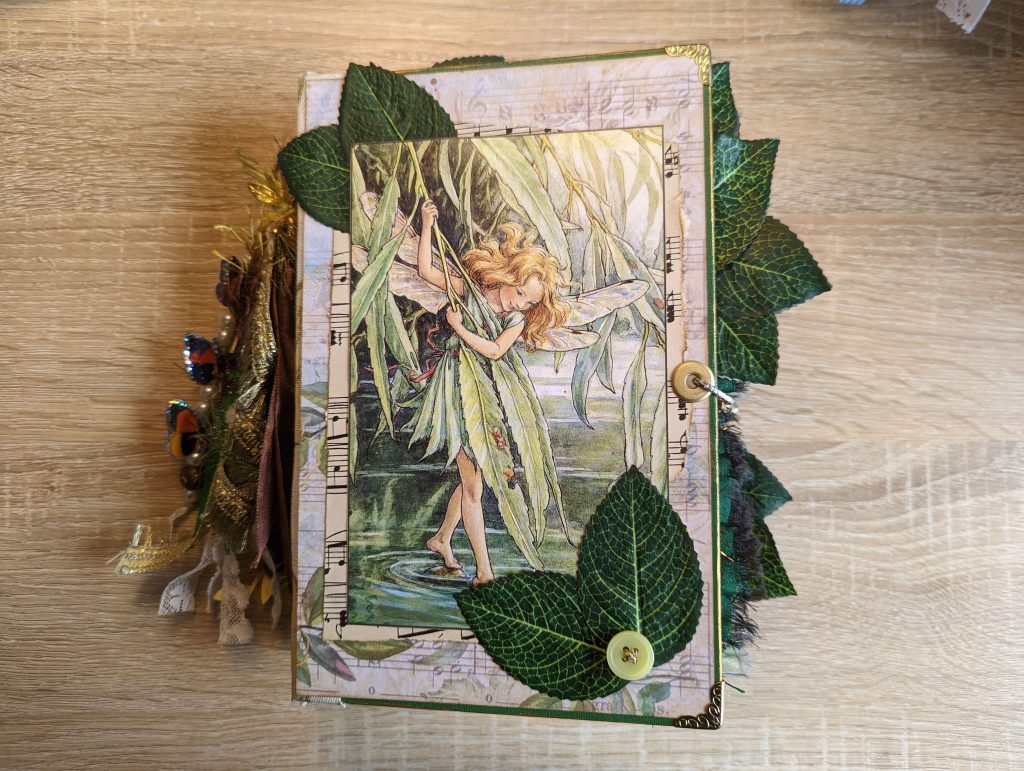 Whilst working on my pink fairy journal, I was hit with the "flower fairy bug". I wanted everything to have fairies on it!
So along came this beautiful "Enchanted Woodland" fairy journal featuring the Willow Fairy on the front.
This is a 3-signature hardcover journal. I repurposed a vintage book cover as I thought the dark green colour suited this fairy perfectly. However, my signatures were too chunky for the 1.25-inch spine, so I made a new 2-inch spine for it instead. Here's how I did that >>
Once the cover was ready for decorating, I used the fairy as my base and built up the layers around her.
My main goal was to cover up the title of the book cover (an old gardening book) while highlighting the gorgeous dark green colour of it. So, I used some beautiful scrapbook paper from Crafter's Companion, a scrap of music sheet and some faux leaves to embellish the cover.
Once again, I wanted the embellishments to look like a continuation of the fairy image.
Take a look at my process video here >>
7. Franken Paper Junk Journal Covers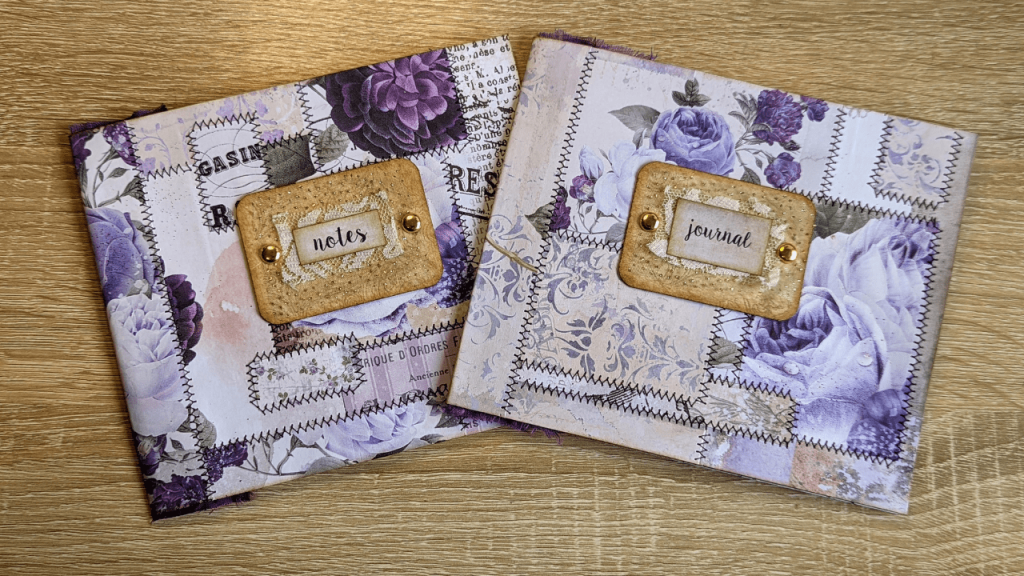 These beautiful franken paper journal covers were so enjoyable to make. Not only are they a fabulous scrap buster, but they were easy, quick and turned out so unique!
The base of them is a large sturdy book page from a children's book. I cut that down to size, strengthened the spine with some tape and glued my scraps to the outside using a glue stick.
I tried to get a sort of patchwork look, so my scraps were all squares and rectangles. I then sewed around each scrap to give the cover a "franken" look.
Once that was done, I made little bookplates for each of them using brads and some packaging. I'll definitely make more franken journals in the future!
See these covers take shape in my process video >>
8. Shabby Blue Journal Covers
Last year, I went through a stage of "mass-making" journal cover bases. I grabbed a bunch of envelopes and glued my favourite fabrics onto them with the idea that I would decorate each journal in my chosen theme later on.
These little blue journals came about from that as I had two pieces of gorgeous blue fabric, but they were too small for standard-sized journal covers. So I used smaller envelopes as my base and they became TN-sized journals instead.
I then prettied up the covers with some gorgeous blue lace fabric my husband's great-aunt sent me and finished them off with silver bookplates.
I made the closures using elastic, buttons and beads, so they're easy to slip on and off and serve as some additional decoration on the front of each journal cover.
RELATED: Junk Journal Definitions | A-Z Junk Journal Glossary For Beginners
9. "Perfect Patterns" Journal Cover
I made this cover for the June 2022 event in the Facebook group that I co-own with Mandy from SunflowersAndDors. It's called Junk Journal Ideas and Inspiration if you'd like to check us out.
Each week of June saw us making something based on a prompt. The first week's prompt was "Perfect Patterns", so I made this journal cover using some gorgeous patterned fabrics and trims.
I then finished it off with a bookplate. I imagine my closure will be some ribbon or lace tied around the journal.
The base of this journal cover is a piece of felt as I had some leftover from previous craft projects that needed using up.
Take a look at my process video now >>
10. Lace Snippet Lapbook Junk Journal Cover
I made this lapbook-style junk journal as a giveaway prize to celebrate reaching 1,000 subscribers on my YouTube channel.
The base of this junk journal cover is an old planner I'd finished using and I turned the inside into a fun mix of different flips, flaps and folds.
The cover features a lace snippet (another fabulous scrap buster!), some pretty purple papers from MariesPaperLab and a purple sari closure.
Check out my playlist on YouTube to see me make this project from start-to-finish >>
11. Mini Lace Junk Journal Covers (Using Pocket Dictionaries!)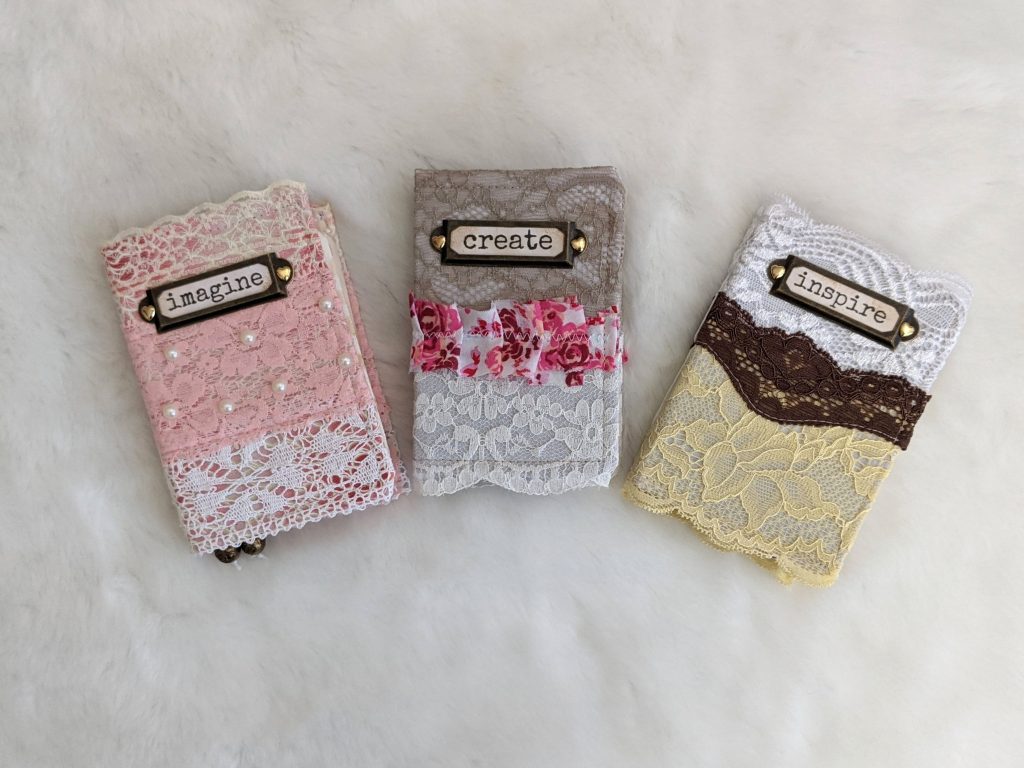 These mini lace journals were the first journals I ever made and I was so pleased with them.
I made the covers by repurposing mini dictionaries (vintage ones), which I then decorated with lots of lace and fabric scraps.
Each cover features a simple bookplate, while two of them have extra embellishments in the form of faux pearls and a fabric ruffle.
This was such a fun little project to test the waters – and I immediately caught the journal-making bug!
Take a closer look at them here >>
12. Recipe Junk Journal Covers (Using Fabric Placemats!)
Here's another unique junk journal cover idea for you! Why not turn some fabric placemats into recipe journals? (Or any themed journal for that matter!)
My mum made these placemats for me years ago when I was living on my own, but they no longer fit our colour scheme in the dining room.
Instead of leaving them to collect dust in a drawer, I decided to turn them into kitchen journals for our favourite recipes. One is for main dishes and the other is for desserts.
I had a lot of fun making these!
Take a look at my YouTube playlist to see how I made them >>
13. Fall Field Notes Junk Mail Junk Journal Cover
How beautiful is this squirrel on the front of this fall/autumn-inspired junk journal cover?
It's from a Gordon Beningfield book and perfectly fitted the sturdy envelope I used as the base. Not wanting to take anything away from the beautiful image, I kept the embellishments simple with a bookplate and some rustic trim along the spine.
Inside, the pages are made entirely from junk mail envelopes, which I've started to decorate and fill with gorgeous ephemera.
Check out my process video for the cover here >>
14. Wintery Sweet Wrappers & Lace Junk Journal Cover
Who would have thought you could make a junk journal cover from sweet wrappers? I did!
This winter-themed journal cover features silver foil sweet wrappers as the base, which I then prettied up with blue snowflake die cuts, white lace and a bookplate.
Although this journal started out as an experiment, I adore how it turned out!
Here are the step-by-step instructions for making the cover >>
I also have a playlist for this journal on my YouTube channel >>
15. Magical Stacked Envelope Cover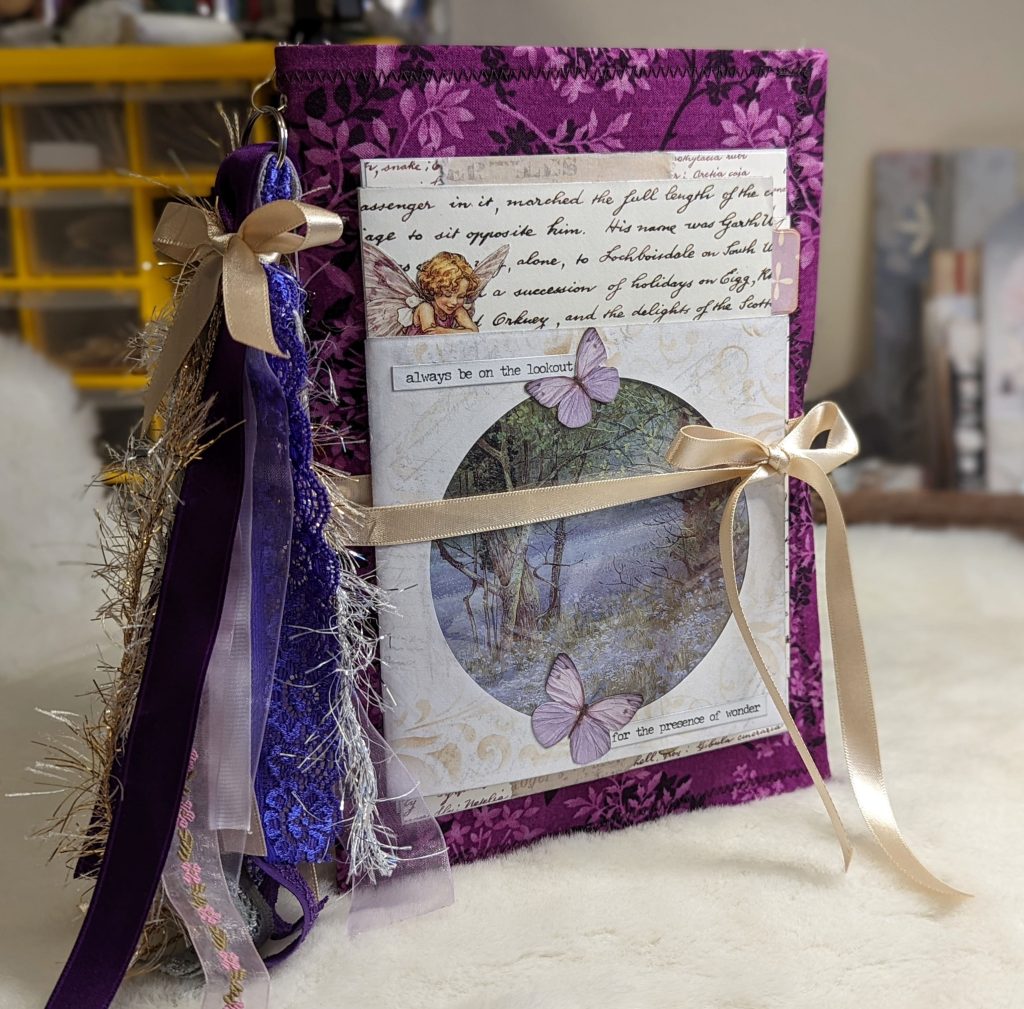 When I was making my most recent fairy junk journal, I knew that I wanted something magical for my front cover. Ideally, I wanted fairies to be "hidden", waiting to be discovered by the right person.
So, I decided to make a stacked envelope topper to glue onto the front of my journal.
With the turn of each envelope, you discover a new fairy or multiple fairies. This was the perfect centrepiece for my front cover.
Check out this video to see how I made this fun stacked envelope piece >>
BONUS: Christmas Junk Journal Covers
There are lots of ways you can approach a Christmas-themed junk journal. Last year, I made a collection of soft-cover fabric journals (once again using envelopes and fabric as my base).
I then embellished them in different ways – using my focal images as a starting point.
16. "Happiness At Christmas" Junk Journal Cover
Here's how my first Christmas junk journal cover turned out:
I cut out the stack of presents from a Christmas card, topped them with a fabric bow and layered up some lace and applique for added interest.
I then framed a sentiment from a Christmas card inside a bookplate – and this became the "Happiness At Christmas" junk journal.
17. "Talk To Father Christmas" Junk Journal Cover
My next Christmas journal featured some gold upholstery fabric and a vintage image of Father Christmas, which I cut out from a book:
Inspired by that, I made a closure out of some vintage gold trim (to act as Santa's belt) and I attached a vintage brooch (to act as his belt buckle). I called this one "Talk To Father Christmas".
18. "Christmas in the Mountains" Junk Journal Cover
And finally, here's how my third Christmas junk journal cover turned out: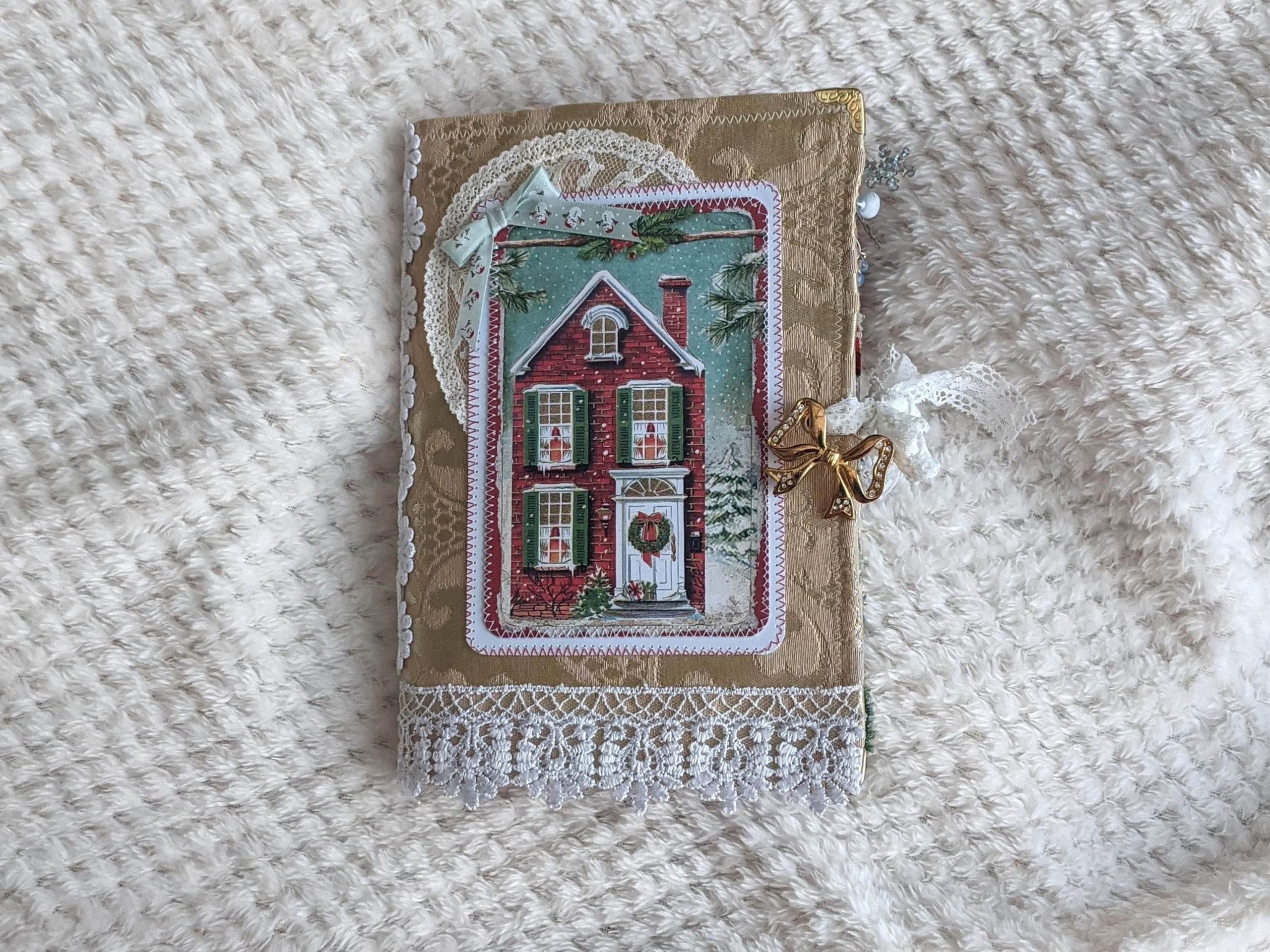 Using the same fabric as before, I wanted this one to have a wintery vibe, while still being festive.
The image on the front is from a Stamperia paper pad. Once again, I was inspired by that, so I used white lace to signify snow and icicles.
I then hooked a vintage bow brooch to the closure as I wanted it to look like you were opening a gift at the same time as opening the journal.
I called this one "Christmas in the Mountains".
Want to have a look inside these Christmas journals? Check out my photos and videos here >>
---
And there you have it – 18 junk journal cover ideas to inspire you! I hope you found this list helpful. Which is your favourite? I'd love to know, so feel free to drop me a line in the comments below…
Psst! I'll update this blog post over time as I work on new journals and junk journal covers, so why not pin or bookmark it now, so you can refer back to it later?
And don't forget to check out my other junk journal ideas via the links below: