This article may contain affiliate links, which may earn us a commission - at no extra cost to you - if you use one of our links. Please see our disclosures page for more information.
I've recently put the finishing touches on some mini lace junk journals and so I'm super excited to show you my latest junk journal flip through.
Read on to watch my flip through video and find out what inspired me to make these cute little journals. I'll also share a few basics of what I did and what techniques I used, so you can learn a bit about what was involved in making them.
Mini Lace Junk Journal Flip Through Video
Take a look at my video on Youtube to see my complete junk journal flip through of each one.
The Details
Covers: upcycled from mini vintage dictionaries with fabric, lace and scrapbook paper embellishments
Number of signatures: 1 per journal
Number of pages: 40 each (counting front and back)
Spine: exposed using wax thread
Difficulty: easy (ideal for beginners)
Techniques used: sewing, stamping, stencilling, fussy cutting, ruffles (and glueing!)
Materials used: mini vintage dictionaries, fabric, lace scraps, assortment of vintage papers and scrapbook papers, bookplates and brads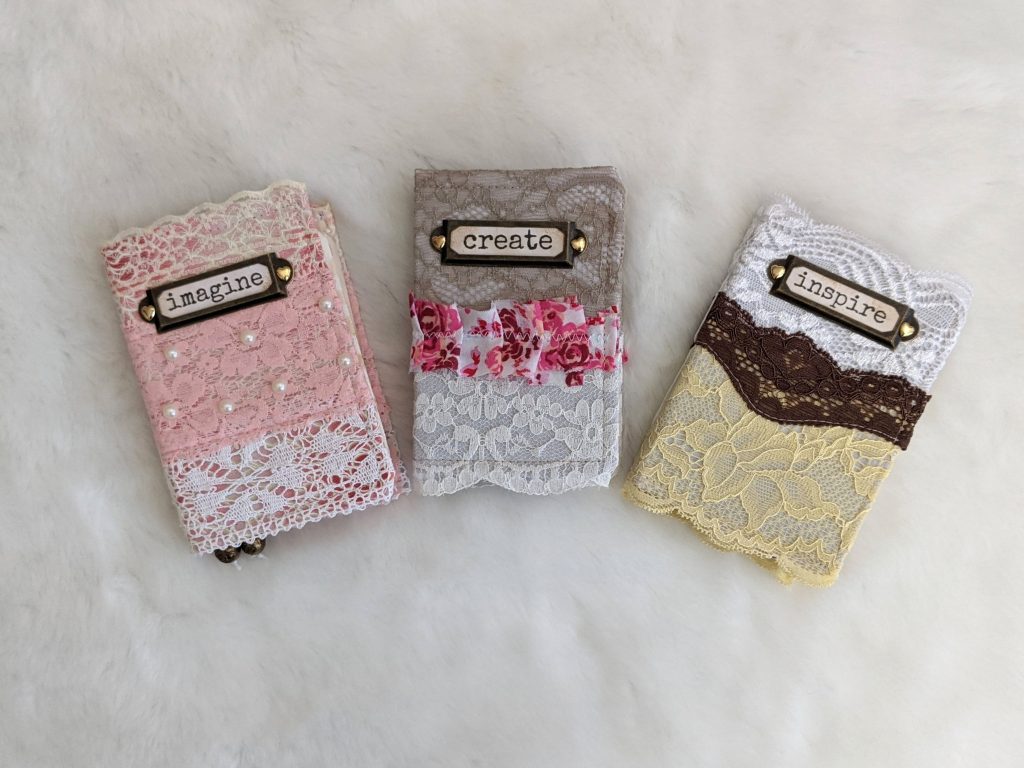 New to junk journaling? Take a look at my junk journaling 101 blog post to learn a few basics.
The Inspiration
You might not know this yet, but I sell vintage papers and book pages via my Etsy shop for other junk journalers, bullet journalers and scrapbookers to use. Some people even use the papers in product photography or as an Instagram prop!
Don't worry! I only use books that are basically falling apart on me for crafts and my Etsy listings… I even have "Rescue a book" and "Blind date with a vintage book" listings to make sure the beautiful books still intact can find a loving home.
Anyway, when I got my hands on some mini Collins Gem Dictionaries for my paper packs, I just knew I'd want to use the covers as mini junk journals in some way.
I didn't know how back then, but once I did, the ideas came flying in… and just two afternoons (or is that "crafternoons"?) later, I'd finished all three journals!
RELATED: 20 Genius Ways To Upcycle Old Books
Although I created these mini junk journals individually and gave them their own unique flair/vibe, they make a fantastic set of three because of their names: "imagine", "create", "inspire".
Generally speaking, when you create something new, you first imagine how you want it to look (even if you don't fully have everything mapped out yet). Then you create it. And then hopefully, you can inspire others to create something similar – or even yourself to create it again!
Once I knew which laces I wanted to use (and this was really dictated by what scraps I already had in my stash, what would fit the size of the covers and what went together), I then tried to use this to decide which combination of papers and colours I wanted to use inside. Once again, I dived into my stash to find what would work best.
From there, I used simple techniques to decorate the pages like stamping and stencilling. Mainly because I didn't want to add too much bulk. As these journals are so small, tucks, pockets and lots of ephemera wouldn't have really worked for them. But I still wanted them to look interesting and have plenty of surprises, which I hope I managed to achieve.
Love watching junk journal flip through videos? Here's another one; this time for my pink chic ephemera folio!
The Verdict
Would I make these mini junk journals again? Maybe.
I really enjoyed making them, I love how they turned out and I think the "mini" size is so cute.
But I think these junk journals are best left for those "crafternoons" when you just want to work on something easy, cute and fun as they're not a super involved project – even when you create three at once!
That said, if you'd like to know more about how exactly I made them, please leave me a comment below or on my Youtube video and I may just make some more and document exactly what I do as I make them. It's up to you! *wink*
Much love,
Justine xoxo
RELATED: How To Make A Junk Journal Cover With Sweet Wrappers & Lace