This article may contain affiliate links, which may earn us a commission - at no extra cost to you - if you use one of our links. Please see our disclosures page for more information.
Whether you're celebrating Valentine's Day, your first wedding anniversary or you just want to make your other half feel extra special on their birthday, our free printable love coupons are just for you.
Here's how to get them and how to make the most of them…
Love Coupons / Date Night Coupons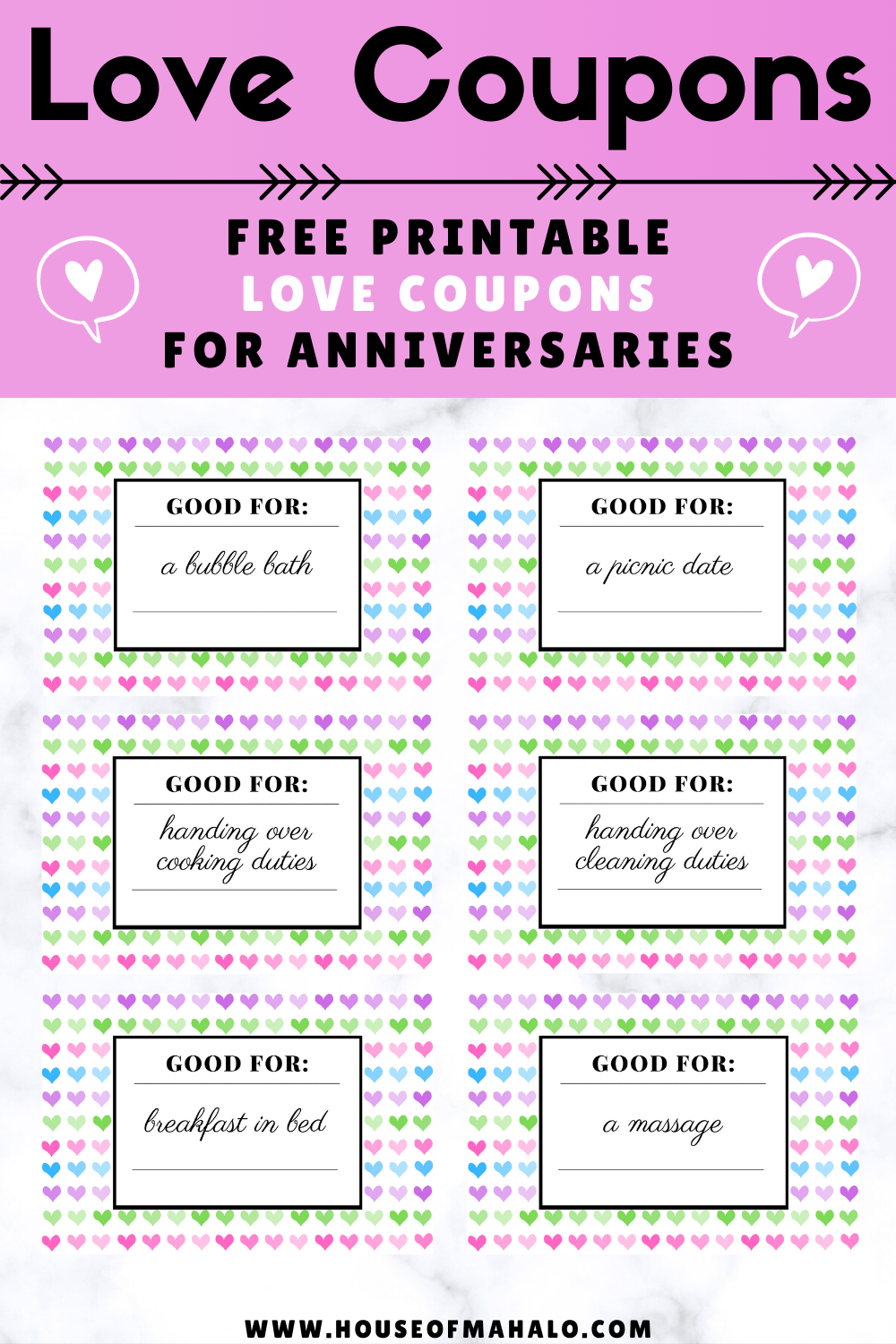 Date night coupons or love coupons are vouchers you can print out at home for your other half that are full of date night ideas or unique gifts you can't buy in the shops. 
Perfect for when you've run out of ideas for what to get!
While love coupons make great Valentine's Day gifts, they're also great as a unique spin on the traditional paper gifts you give and receive on your first wedding anniversary. You could even make a unique birthday gift out of them. 
The idea is that your other half can spend the coupons whenever they like across the next 12 months. 
So it's the gift that keeps on giving – but also one where you can set the budget that works best for you. 
RELATED: Tutorial: Quick & Easy Regency Letter Folding Technique (Jane Austen's Method!)
Things like bringing your other half breakfast in bed, running them a special bubble bath, taking over their cooking and cleaning duties or giving them a back massage are all things you can do for free. But they will love every minute of this extra special pampering. 
You can also throw in a few 'paid for' dates as well such as a cinema date or a date night of their choice.
Scott was the first one of us to use love coupons. He actually used them as part of an incredible birthday scavenger hunt. You could also use them as part of a DIY "Year of Dates" gift too.
Grab your free printable date night coupons here >>
What To Do With Your Free Printable Love Coupons
There are lots of things you can do with your free printable love / date night coupons but here are a few of our favourite ideas.
1. Create your own coupon book
Hole punch one side of each coupon and tie them together with some string, twine or ribbon. And hey presto – you have a super easy DIY coupon book!
If you want to try this idea, we've included an extra card in your printable, which you can use as the coupon book cover. 
TIP: Print your coupons straight onto cardstock so that they hold their shape better!
2. Gift a box full of dates
Roll up each coupon, tie each one with some string, twine or pretty ribbon and pop them inside a heart shaped gift box full of other treats like chocolates and sweets. 
Now you have a cute box full of dates to make your other half smile!
3. Plan a scavenger hunt
Print your coupons straight onto cardstock or stick paper coupons onto some cardboard and use them in a scavenger hunt game. 
Each clue leads to a new coupon and/or an accompanying gift your other half can find around the house. 
Read our top tips here for hosting a birthday scavenger hunt >>
Free Printable Date Night / Love Coupons
We've created nine printable date night coupons and love coupons that are good for:
A bubble bath

Breakfast in bed

Handing over cooking duties

Handing over cleaning duties

A movie night

(they pick the movie)

A massage

A date night

(they choose what you do)

A picnic date

A games night
We've also created a page of blank versions you can print out and write on yourself, so you might want to also consider gifts like:
A romantic candlelit dinner

(where you do the cooking!)

Foot massage with oils

Bike ride or walk together

Weekend getaway

Guilt-free guys or girls night

"You were right" or "Get out of jail free" card

A free wish

(anything goes!)
Grab your free printable love coupons here >>
---
We hope you have fun using your free printable love / date night coupons as a unique gift idea! 
What are some of YOUR favourite date ideas to add to love coupons? We'd love to know so just drop us a line below…
Psst! If you're also wondering where you might have seen our love coupons before then we made these love coupons as part of our couples' stay at home survival kit, which you can grab from our travel blog.
Did you like these free printable love coupons? Share them now for others to use!