This article may contain affiliate links, which may earn us a commission - at no extra cost to you - if you use one of our links. Please see our disclosures page for more information.
I've recently launched a junk journal supplies organization video series on my YouTube channel. I'm calling it "Sort It Out Saturday".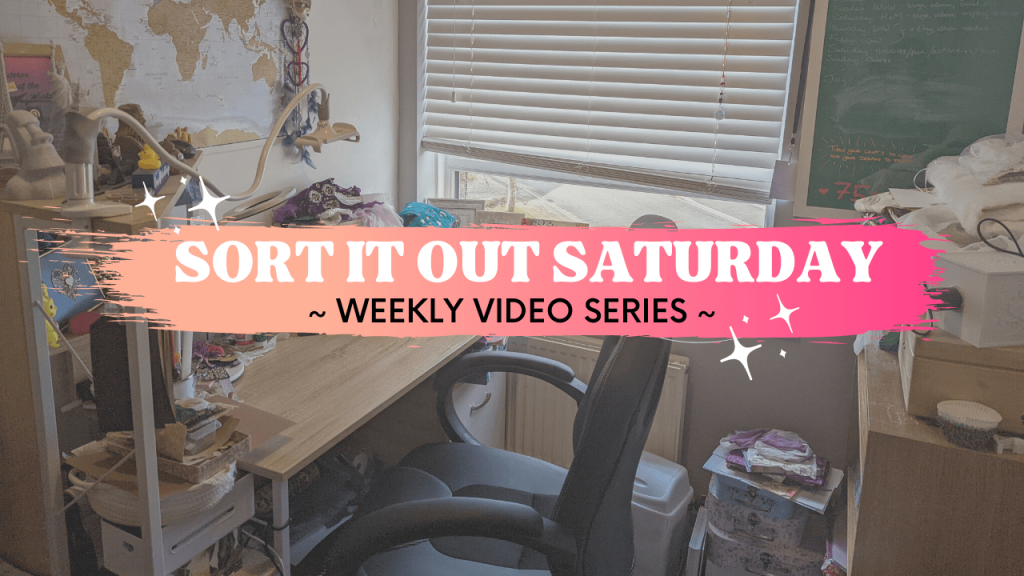 Each week, I'll tackle an area of my craft room or a category of junk journal supplies that are in desperate need of a sort out, destash, declutter and some kind of organization system.
I'll share two videos every Saturday for at least four weeks (depending on how long it takes me to get everything organized).
The first video each week will be a behind-the-scenes style video to show what I'm working with and how I'm organizing everything.
And the second video a few hours later will be a crafty video using something I found earlier in the day.
Because when you're overwhelmed with junk journal supplies and a messy craft room, it can be hard to remember what you've actually got to play with!
As organizing junk journal supplies is something I know a lot of us struggle with, I thought it'd be a useful exercise to document my path to creative freedom on video and here on my craft blog as well.
When I'm finished, I'll publish a follow-up blog to share my best tips and advice for organizing junk journal supplies… just as soon as I've found a system that I think works well for me that you might find helpful as well.
For now, sit back, relax and have fun watching the videos below…
Junk Journal Supplies Organization: Sort It Out Saturday Video Series
Before we dive into each week, I thought it'd be helpful (and fun!) to show you what my craft room currently looks like.
This is very much "the before" shot… Mum, Dad: look away now, please!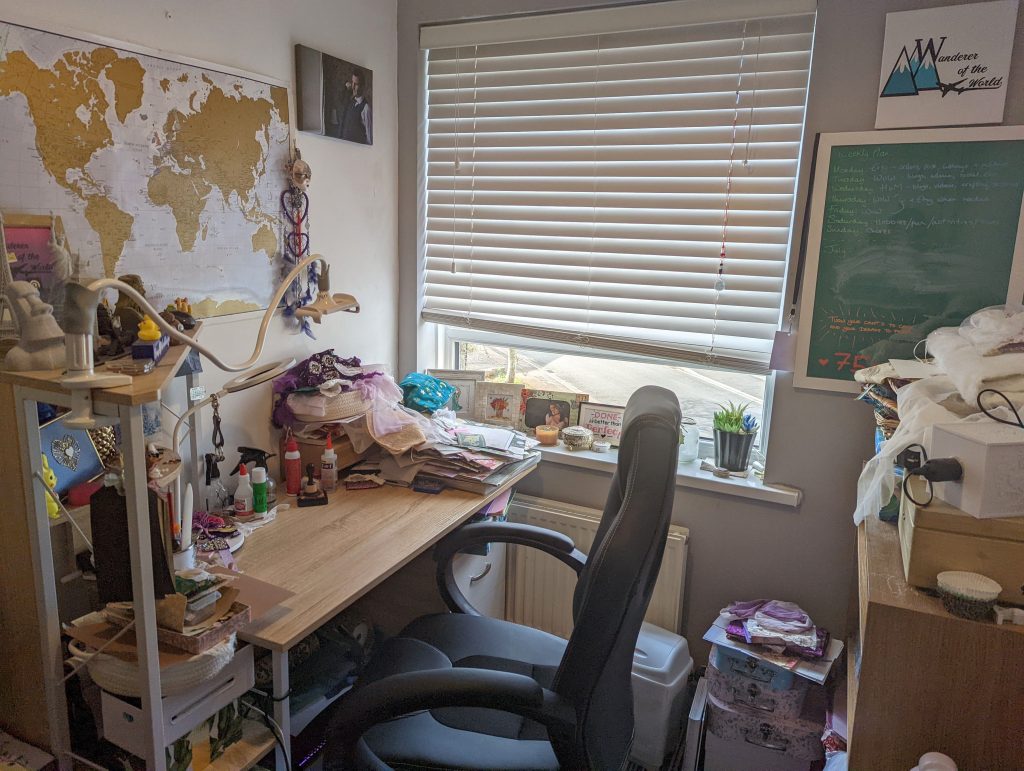 And here's the video version where the messy and general disorganization continues behind me…
Okay, let's begin!
Week 1: Fabric Organization
Here's a look at what my fabric stash looked like before I began organizing them and what I ended up with.
I still wanted to keep all my fabric together in one box (I use a large picnic hamper I got for £2 at a car boot sale). But I wanted to be able to find everything much more easily and without having to take out everything to get to the fabric I wanted to use.
I cut up various pieces of cardboard packaging to fit my hamper, which I used as DIY fabric storage boards.
I then wrapped each piece of fabric around the boards and secured them with a pin to keep the fabric in place. I then organized the boards of fabric by colour.
Now, I can see exactly what I've got and I can pull out each piece of fabric one by one without dislodging everything else. Simple, but very effective!
Here's how my box of fabric looks now (aka so much better):
And… in case you're interested, my crafty project this week was mass making fabric flips for my junk journals.
Week 2: Organizing Book Pages, Music Sheets & Vintage Paper
Next up, was a BIG problem! I had book pages, music sheets and vintage paper coming out of my ears. I think I counted that I had these types of papers in at least seven or eight different areas of my craft room.
You can see the extent of the problem in this video.
I was determined to whittle my stash down and organize it in such a way to have these papers in just one, maybe two, areas of my craft room instead.
And I almost managed it!
Here's how I organized my papers into categories:
Neutral book pages & music sheets – for collaging and decoupage
Neutral PLAIN – for backing journal cards, tags, etc
Sturdy book pages PLAIN – for making bases for pockets, folios, tri-folds, envelopes, collage masterboards, etc
Sturdy book pages PRETTY – for making decorative pockets, folios, envelopes, etc
"Special" pages – for using as full-size journal pages
Cover stars – images and pages that belong on the cover of a journal
Pretty pages for cutting down – to use as ephemera, journal cards, etc
Pages for fussy cutting
Strips – for making masterboards, page edges, word dangles, etc
Glue sheets – to protect your desk when crafting; ideal for book pages you don't like or that have naughty words on them
Grab a printout of the list above here >>
I used these A4 plastic wallets to organize everything. I also had a couple of extra folders for pages pertaining to specific projects; in my case, Edith Holden and the Flower Fairies.
I still have a lot of book pages that need using up (we all have this problem, though, right?!). Here are a few ideas I've got for using up book pages quickly:
Mass make folio, tri-fold, envelope and pocket bases
Glue together multiple music sheets and decorate with napkins to make insides of journal covers
Make several collage masterboards (on top of sturdy book pages)
Use strong but boring pages as backings for fabric or lace pockets
Decoupage stuff with plain book pages (storage boxes, shelves, furniture, make artwork, etc)
In case you're wondering, my crafty project for this week was to make a couple of Edith Holden trifold junk journal inserts, which I really enjoyed making.
But I also have lots more book page projects I want to get stuck into soon. As always, I'll be sure to keep you posted on those.
Week 3: Paper Scraps
Paper scraps were another BIG problem for me.
My scrap box was falling apart and overflowing. I felt like I was drowning in scraps. And I didn't have a proper system in place, which meant I often avoided looking in my scrap box when working on projects.
Not good.
I decided to tackle the problem head-on.
I recycled the cardboard box my paper scraps used to live in. They're now all contained within just one A4 plastic folder (the same ones I used last week to organize my other papers).
Using bulldog clips, I then categorised my scraps in the following way:
Plain scraps (ideal for making scrappy notepads)
Neutral scraps (e.g. book pages, music sheets, etc)
PRETTY neutral scraps (e.g. digitals, wallpapers, etc)
By colour (e.g. pink, green, blue, purple, etc)
This was a massive help!
Not only could I see what kind of scraps I had the most of (i.e. what project I should prioritise to get them used up), but organising my scraps by colour also meant mass making collage masterboards and collage sheets was quick, easy and actually enjoyable.
In just two mornings, I'd blasted through over half of my scraps – amazing!
In my second video of the day, I showed what I made with my scraps (10 scrappy notepads, half a dozen masterboards, a dozen or so collage sheets and a handful of cluster sheets).
I then cut down one of my masterboards to make journal cards and a pocket and I also made a handful of paper clusters. Talk about quick and easy ephemera! See how I made these here.
Week 4: Fabric Scraps, Lace & Trims
Last week, we tackled paper scraps. This week, we tackled fabric scraps as well as our lace and trims.
I started by wrapping my lace, ribbons and trims around pieces of cardboard (much like I did in the fabric week).
Instantly, this turned my tangled mess of trims, which were taking up two full large boxes into an organized assortment of laces that could all fit together within one drawer.
I also organized my fabric scraps by colour. I placed all my neutral scraps within a portable bag and my coloured scraps went into an old sweet jar.
I'd seen this "jar of scraps" idea on Pinterest, and while I'm pretty happy with how well it seemed to contain everything, it might not be the most practical long-term solution. We'll see.
In this video, I also shared my ideas for storing snippet strips and things we've made with our fabric scraps. I'll be hanging mine up, so they look decorative in my craft room and don't get messed up over time.
Naturally, this week's crafty session was to make snippet strips. I made two different kinds: ones with a fabric base and ones with a paper base. I love how they turned out!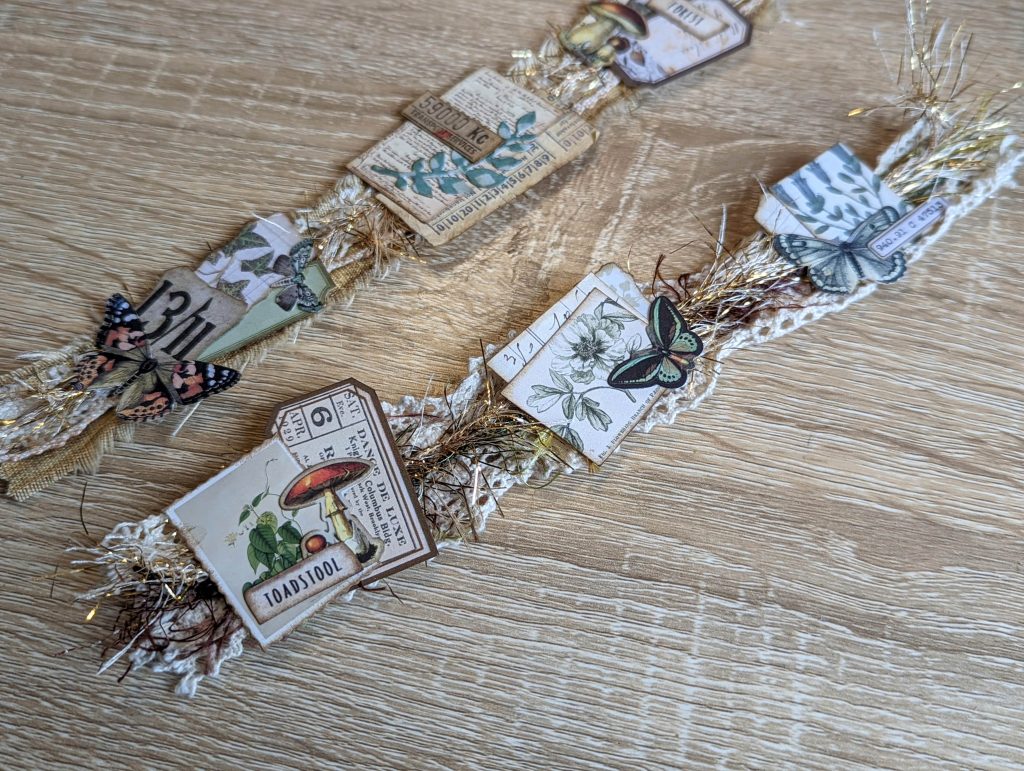 Week 5: Packaging and Bits & Bobs
By week five, I'd gotten most of my craft room pretty well organized, so this time, I simply shared some ideas I'd already put into action before starting my "Sort It Out Saturday" series.
I shared how I've got all my packaging organized by type of item, such as all envelopes together, future journal covers, windowed packaging, etc. I'm also keeping my packaging contained within other packaging that might one day be journal covers – so I'm hitting two birds with one stone so to speak.
I then shared how I organize my small pieces of ephemera and other bits and bobs such as stickers, fussy cuts, labels and beads. They're housed within plastic drawers and boxes so I can easily see what I've got and keep like with like.
While I didn't share a crafty video this week (I was just too tired!), I did share a "Progress Update" of how my craft room looks now – five weeks on.
I still have more to do, such as putting up shelves, different artwork, a pegboard, etc. But for now, my sorting is finished!
---
Thanks so much for joining me for my junk journal supplies organization video series.
It was a big job that I've really needed to tackle for some months now. But it feels so good to finally get on top of everything. I hope you'll find the series useful and maybe even entertaining!
Speak soon,
Justine xoxo