This article may contain affiliate links, which may earn us a commission - at no extra cost to you - if you use one of our links. Please see our disclosures page for more information.
This is the first blog in a series we've created called 'Craft Yourself Happy'. In it, we shine a spotlight on all the crafts we love and how they can help make you happier!
If you type "What are the benefits of cross stitching?" into Google, you'll come across HEAPS of articles, podcasts and videos all about how this craft is a great stress reliever and one that can make you significantly happier.
I've been cross stitching since I was 10, and safe to say, I agree with both of those things.
But there are also a ton of other reasons why I love cross stitching as much as I do – and why you'll love it too if you give it a go. After all, it's never too late to try your hand at a new skill or craft!
So, without further adieu, here are all the reasons I can think of for why you should start cross stitching immediately!
9 Benefits of Cross Stitching (aka Why I Love It SO MUCH!)
1. Cross stitching is a fantastic mindfulness activity
Mindfulness is a type of meditation that requires you to focus on the here and now without thinking about it too much.
So you're not thinking about the present day and thinking how awful or even how great everything is.
You're simply focused on the present and in a blissful, calm, neutral, meditative-like state.
And cross stitching is a fantastic way to pack some mindfulness into your day!
Because you need to focus on the pattern you're working from and because you're stitching mostly in the same way across the whole of your fabric, all other thoughts go out of your head.
It's just like when you're focusing on a recipe to bake something delicious!
You're simply focused on this cool design you're stitching and the cross stitches become a sort of chant – left to right and back again.
So if you ever feel yourself getting down or focusing too much on the past or future, try some cross stitching!
2. Cross stitch is also stress relieving
There have been tons of studies about how mindfulness and meditation can calm you down and act as a stress reliever.
So if cross stitching is a great mindfulness activity then it's no surprise that I'd also describe it as a stress reliever too.
It's just you, the thread and the pattern – and all your troubles and worries can be left to one side for as long as you want to stitch for.
3. Cross stitching is super easy once you know the basics
Once you've learned the basics of cross stitching (which are super easy to pick up by the way!), you'll find cross stitching so, so, so easy.
Just as long as you can count and have good hand eye coordination, you'll be flying through your stitches and creating amazing pictures in no time at all!
4. You can stitch almost any pattern or theme
One of the things I love most about cross stitching is that there are so many existing designs and patterns out there for almost any theme.
Love cakes and pudding? There are patterns for that.
Want to show a Harry Potter fan you care? Check out these cool designs!
The world really is your oyster when it comes to the variety of cross stitch patterns you can get; whether you grab an instant download from Etsy, follow designs in cross stitch books or even make your own cross stitch designs using graph paper or free software like Stitch Fiddle.
5. Cross stitching is a colourful craft
We're no strangers to colour here at House of Mahalo, so it should come as no surprise that we both love just how colourful cross stitch pictures can be.
Maybe you're stitching a pretty vase of flowers in pinks, reds and yellows?
Or maybe you're stitching an entire Mr Men & Little Miss underwater scene?
There are so many bright and beautiful cross stitch designs out there that you'll want a rainbow assortment of cross stitch threads.
Heck! You could even stitch a rainbow if you want to!
6. Cross stitching is versatile
We've already touched on the fact that you can get almost any type of cross stitch pattern you desire these days, but this isn't the only reason why cross stitching is so versatile.
You can also do so many different projects with your cross stitch pictures!
Beyond the obvious of framing your cross stitch in a picture frame for your wall or desk, you could turn your pictures into magnets, keyrings or coasters.
You can also adorn cushions and clothing with your cross stitch pictures – and even make a DIY key holder using your cross stitch as the centrepiece!
Have fun dreaming up ways to make your cross stitch pictures stand out even more than they already do.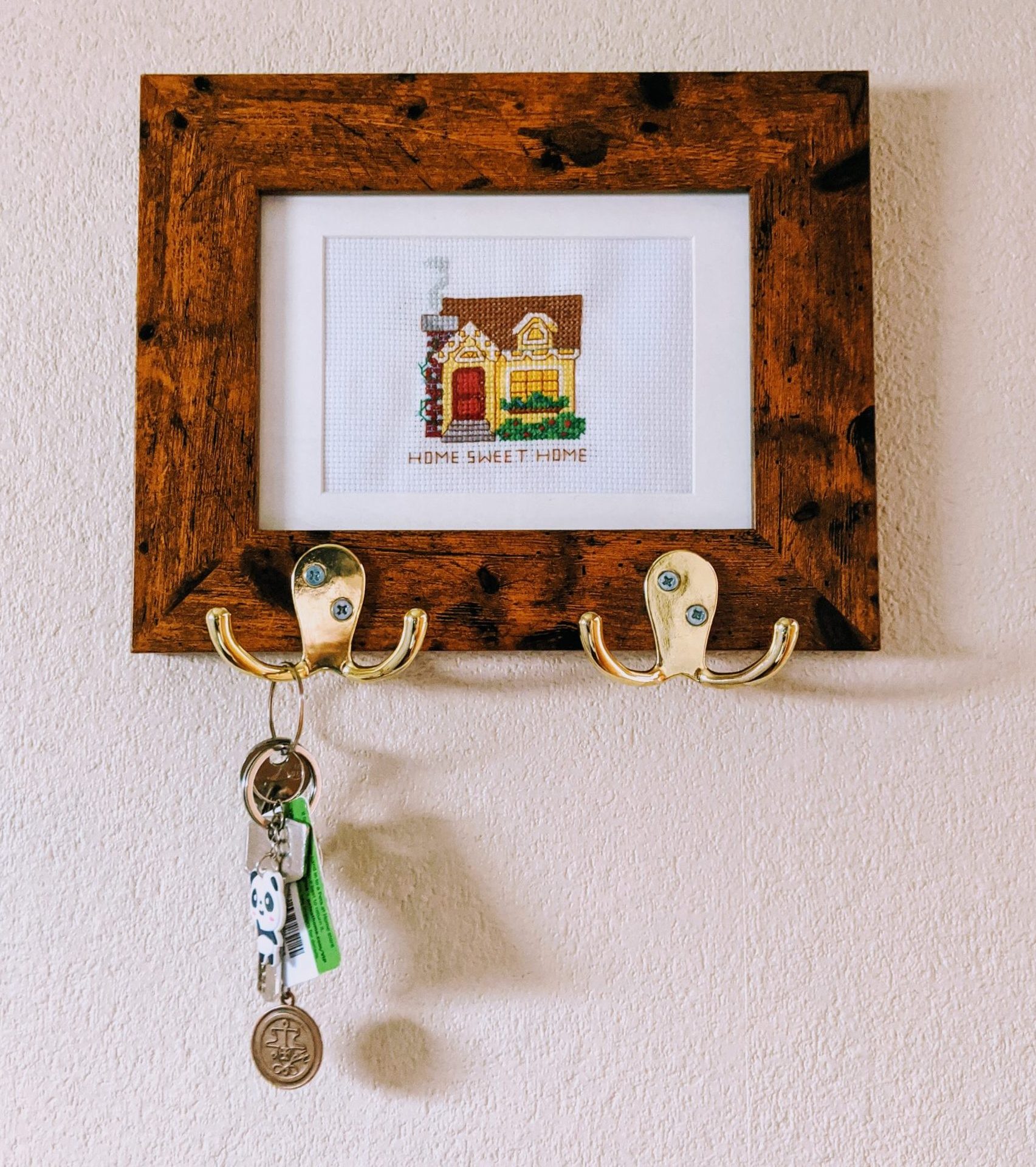 7. Cross stitches make great homemade gifts!
If you love making DIY gifts then cross stitching is a great option too.
You could create cute coasters for someone or simply frame a pretty picture.
And because you can add text, change up colours or work to almost any theme, it's really easy to personalise a cross stitch to match someone's personality or even just to add their name or initials.
They'll treasure it forever!
8. Cross stitching keeps your hands busy = less snacking in front of the TV!
I am the world's naughtiest snacker. As a dessert and biscuit fiend, if I'm watching TV in the evening, then I'm probably also digging into something sweet and tasty at the same time.
But not when I'm cross stitching (or when I'm blogging – but that's a story for another time!)
Because you have to lick the thread to put it through the needle and because your hands are busy doing something, snacking just gets in the way of progress with cross stitching so you end up snacking less… how's that for an unexpected benefit of cross stitching?
9. Cross stitch pictures look amazing when finished
Let's be honest. The whole reason why we feel amazing when we've completed a project or learned a new craft is because it looks great when we're finished with it…
Most of the time anyway.
Like many of us, I'm still grappling with not letting perfectionism hold me back.
But when I've finished a cross stitch picture, I'm almost always in love with it afterwards and can't wait to wrap it up to give it to someone or give it pride of place somewhere in our own house.
Fancy giving cross stitch a go?
If you're not already in love with this craft, do you fancy giving it a go now you know about all of the amazing benefits of cross stitching?
Check out our other cross stitch blogs to get some inspiration for what you can create:
Or just have a look through Etsy to see what incredible patterns you can instantly download. We've also linked to some of our favourites below for you too:
Cross Stitch Supplies
Other than a cool pattern to work from, here's everything you need to get started with cross stitching:
You can also buy complete cross stitch kits, which come with everything you need to get started including a pattern and instructions. But you'll usually need to buy your own embroidery hoop if you want to use one.
You can even get mini kits, which only cost a few quid, and because the pictures are small, they usually only take an afternoon or weekend to do.
Here are a few of our favourite cross stitch kits you can buy:
Psst! Don't forget to keep your cross stitch supplies organised – check out our top tips!
---
We hope you like our new 'Craft Yourself Happy' series! We'd love to hear from you if you're considering trying cross stitching after reading this blog post so drop us a line below.
And if you already love cross stitching, what are some of the reasons why you do?
Did you like this blog about the benefits of cross stitching? Pin it now, read it again later!