This blog post may contain affiliate links, which earn us a small amount of commission if you buy something through them - at no extra cost to you.
I've said it once and I'll probably say it again a few more times: cross stitch is one of my all-time favourite crafts.
It's easy, fun and when you combine it with your favourite things (like cake!) then it just gets even better.
I've worked on A LOT of cake cross stitch patterns over the years. Etsy is an absolute treasure trove for them and they're often available as an instant download.
Here are some of my favourites, which I'm sure you'll love too… my sincerest apologies if you start really wanting cake after this though!
11 Tasty Cake Cross Stitch Patterns That'll Make You Drool!
1. Cupcakes Cross Stitch Pattern by CrossStitchSusie
This fun cupcakes cross stitch pattern has nine different cupcake designs in candy colours on it with a fun polka dot border.
You could stitch this as one design or you could stitch the cupcakes individually to make greetings cards and small gifts.
2. Sweets & Cakes Cross Stitch Pattern by NonStopStitch
From colourful lollipops and delicious doughnuts to ice cream sundaes and bundt cakes, there are over thirty different sweet treats and cakes to stitch in this pattern.
Each of them are small in size so could easily be stitched as small gift tags and greeting cards or combined into one large sampler picture.
3. Christmas Cupcake Cross Stitch Pattern by MiKaStitchDesign
When cake meets Christmas! This fun trio of Christmas-themed cupcakes would look so cute in frames around your kitchen and dining room at Christmas time!
4. Ice Cream Cake Cross Stitch Pattern by MagicStitchStudio
When cake meets ice cream! This fun cupcake cross stitch pattern is made to look like a bowl of ice cream… but it's actually a cupcake! How fun!
5. Patisserie Shop Cross Stitch Pattern by CrossStitchSusie
Have you ever dreamed of owning your own patisserie or bakery shop? Now you can stitch yourself one!
This pretty pattern is full of delicious cakes in a shop window and would look lovely inside a frame on your kitchen wall.
6. Sweet Time Cross Stitch Pattern by WhiteRavenPatterns
Made to look like a clock, and thus, time for sweets ALL THE TIME, this quick and easy cross stitch pattern is such a fun idea and would look amazing hanging on your kitchen wall.
7. Floating Treats Cross Stitch Pattern by NonStopStitch
When cake meets balloons!
This fun cross stitch pattern is of cakes and other delicious sweet treats made to look like a bouquet of balloons complete with a hot air balloon basket.
Don't you just love it?! I think it would look great in your kitchen or in a child's bedroom.
8. Pretty Macarons Cross Stitch Pattern by MagicStitchStudio
To bring a bit of chic Parisian flair to your cross stitching, you should try this pretty-as-pastel macarons pattern!
9. Gingerbread Lighthouse Cross Stitch Pattern by NonStopStitch
Fancy taking on an epic cake cross stitch pattern? This 22.86 x 32.11 cm gingerbread lighthouse is for you!
In my opinion, this one isn't just for Christmas!
10. Coffee & Macarons Cross Stitch Pattern by MagicStitchStudio
Here's another take on Parisian chic and macarons; this time with coffee and positivity on the side.
Another perfect cross stitch for your kitchen, pantry or dining room.
11. "There's Always Time For Tea And Cake" Cross Stitch Pattern by DureneJCrossStitch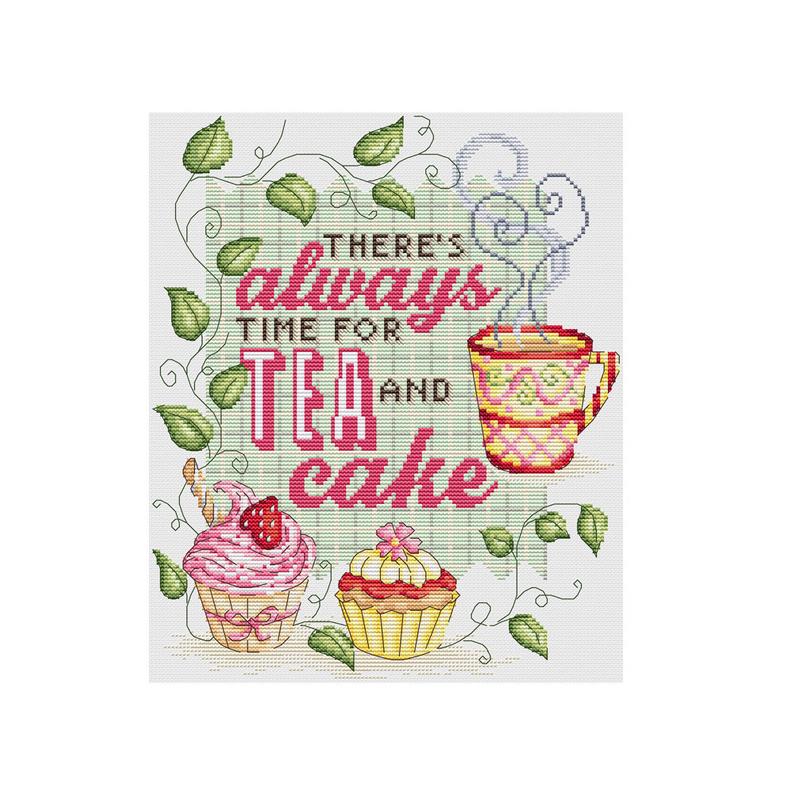 "There's always time for tea and cake" is a sentiment close to my heart. I've said this since as far back as I can remember – and now it comes in a fun cross stitch form!
My Finished Cross Stitch Cakes & WIPs
In case you're not feeling hungry enough already, here are some of the tasty cross stitch cakes I've made over the years as well as some current WIPs:
---
Okay tell me… did you drool over these cake cross stitch patterns? I most certainly did! Now, where did I put my cake tin? 😉
We'd LOVE to know if you make any of these! Tag us on Instagram @houseofmahalo so we can see your cross stitch cakes!
Psst! Don't forget to keep your cross stitch supplies organised – here are our top tips!
Do you know someone who also loves cake and cross stitch? Share this list with them now!