This blog post may contain affiliate links, which earn us a small amount of commission if you buy something through them - at no extra cost to you.
When Scott and I moved into our house, the back garden was a sorry mix of broken decking and a bland patio suffering from lichen and weeds.
Fast forward five years, and although we've not finished our garden, we have turned our boring patio into a circular flower bed framed by a white gravel path.
We're calling it our "zen garden".
If you've been wondering how you can turn your patio into a flower bed, then I thought I would write up a blog post to explain exactly what we did… all by ourselves, DIY style. I hope you find it inspiring.
DIY Patio Into Flower Bed: What We Did
Before I begin, I have to tell you that Scott and I aren't DIY experts, gardeners or landscape architects.
We're just two people who love trying new things, upcycling and saving money.
What follows are the various steps we took to turn our patio into a circular flower bed with the hopes that it inspires other amateur DIYers just like us.
Deciding On A New Garden Design
Time taken: 3 days
Before we committed to anything, we first looked at what we already had in the garden.
In our case, the previous owners had focused on two things: decking and a patio.
Seeing as the decking was full of holes, that was the first thing to go almost as soon as we moved in, which we replaced with grass (mainly for our Rough Collie, Kai).
But now came the interesting job of how to make the boring lichen-spotted patio more interesting.
This is when I noticed some of the slabs were laid in a circular pattern and a couple of them were actually sinking, leaving small gaps.
I thought this would probably help us to lift up the slabs, so I thought of ways we could repurpose some of them.
And that's when a circular flower bed instantly sprung to mind!
Initially, I wanted to have a large circular flower bed, which would frame a smaller circular patio for our bistro table.
But this would mean having to a) carve out paths to get past the plants and b) brush past the plants every time we wanted to get to the garden gate (which is several times per week).
So we scrapped that idea and flipped it on its head slightly.
How about a circular flower bed with a simple gravel path surrounding it?
This first experience taught us to slow down, sit with our ideas for several days before committing to them and learn how to reuse what we already have – to save money and to save on waste.
Removing Existing Patio Slabs
Time taken: 5 hours
So, now that we had our design figured out, our first big job was to remove the existing patio slabs.
We would've saved hours of hard graft if we'd simply hired a digger. But this would cost more money and create unnecessary waste (two things we wanted to avoid).
Seeing as our slabs weren't cemented in (they were simply laying on top of sand), I found out that you can lift slabs by using two flathead screwdrivers like a kind of lever.
Starting with the sinking stones, I went around the circle lifting three rows of patio stones. This was going to be our gravel path.
I then skipped a row of stones (as we wanted to use these as a border for our new flower bed) and removed another four rows of stones.
We decided to leave the central slabs in place as these were cemented in due to having the washing line there.
Instead, these made a sturdy base for a potted patio tree, so later on, we carefully sawed the washing line off.
You might notice from our "after" photos that the large plant pot in the middle is resting on top of some leftover patio stones.
This is temporary as Scott's going to design and print some fun pot feet using his 3D printer. I'll update our photos once that final touch is completed.
Removing Sand & Hardcore
Time taken: 3 hours
Our next big job was to remove as much of the sand and hardcore from the flower bed section as we could.
Using a garden spade, we first scooped up as much of the sand as we could and discarded it into heavy-duty rubble bags.
Then, using a fork and crowbar, we started to smash up the hardcore that was underneath. Once again, discarding this into rubble bags.
This was sweaty work, but a few hours later, we had dug down to the hard clay layer underneath.
From here, we knew we had to improve our soil to give our new plants a fighting chance, so we broke up the clay as best as we could to help with drainage.
Laying A Flower Bed Border
Time taken: 1 hour
To prevent gravel from ending up in our flower bed, we knew we needed to have a border around it. This is where some of the old patio stones would prove useful.
Because they were suffering from lichen and black spots, we decided to flip them over as the undersides were in better condition.
Using a ready mix, quick-drying mortar, we cemented these stones into position.
We decided we liked the rustic look of the circle we created, so we didn't fill the gaps in between each slab with mortar. Although you can do this if you prefer.
Filling & Designing A Circular Flower Bed
Time taken: 5 hours (mainly research time)
Once we'd removed the sand and hardcore layers, we had a deep circular flower bed to fill up with compost and soil.
We decided on a healthy mix of John Innes No 3 loam-based compost, basic multipurpose compost and horticultural grit. This mixture greatly improved the texture and drainage of our clay soil.
From there, we were free to design our circular flower bed.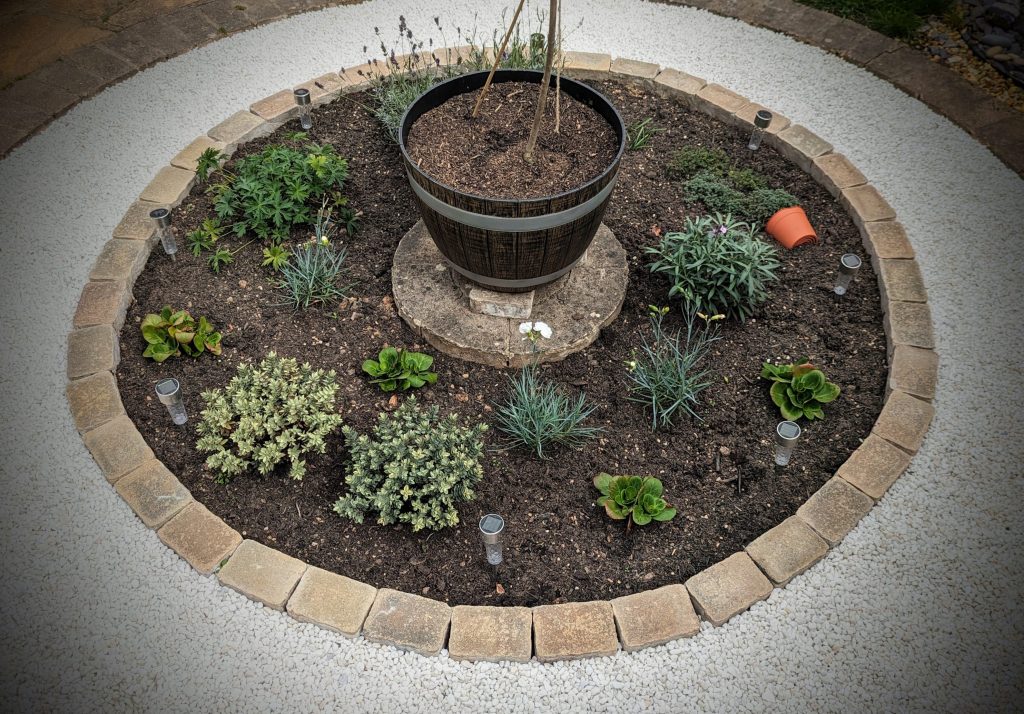 We wanted a good mix of seasonal colours through spring, summer and autumn alongside evergreen plants for year-round interest.
We also wanted to mix the heights of our plants to give the flower bed a more natural look while sticking to pretty purples, pinks and whites for a cohesive look (once everything is in flower, of course).
Naturally, we also had to take into account how much sun this part of the garden gets in midsummer (mostly full sun). We also knew that we wanted hardy and relatively low-maintenance plants.
A lot of thought and research went into selecting the right plants for us, so I'll be sure to write a follow-up post all about that.
For now, though, I simply can't wait to see how everything looks once the plants have become established. I'll update this blog post once everything has had a year to settle in.
Laying A Simple Gravel Path
Time taken: 1 hour
Once we had our new flower bed finalised, we turned our attention to one of the simplest jobs: laying our gravel path.
Seeing as we were already starting with a compacted sand base, we chose to simply lay a good quality anti-weed membrane on top of the sand and then we poured white gravel on top of that.
I think we bought about 10 bags of gravel in total and we love how it actually sparkles when the sun hits it!
We also love how much light the white gravel brings to our garden – especially at night when the little solar lights reflect a very pretty dappled light onto it.
Next Steps
Of course, we're far from done! This is by far the biggest change we've made in our garden so far, but we have plenty more to do.
For example, we want to dig a border around our lawn so that we can create some separation between the grass and the path leading up to our garden gate.
We're also hoping to install an archway within this border, so we can grow some climbers.
After all, they say one of the best things you can do in a small garden is to make the most of unused vertical space.
We're also going to build a small rockery along a shady section of our garden – for ferns, hostas and other shade-loving plants.
Stay tuned for that one as I'm sure I'll come back here and show you the results!
---
I hope you're able to get some inspiration and ideas from our mini garden makeover. There's still lots more for us to do and I can't wait to show you the final fruits of our labour. Stay tuned!
Are you turning a patio into a flower bed? You might like to pin or bookmark this blog post, so you can refer back to it later!