Psst! This blog post probably has affiliate links in it, which earn us a small amount of commission if you buy something through them... at no extra cost to you.
I only discovered the wonderful world of junk journaling earlier this year, which means I have A LOT of catching up to do when it comes to this fun craft.
This also means I'm easily a good 8 or 9 months behind with Margarete Miller's 2021 collage challenge as I only recently heard about it.
Initially, I thought it was too late for me and that I should wait to see if she does the challenge again next year.
But then I thought… who says it's too late? And why does it even matter anyway?
RELATED: 50 Junk Journal Prompts To Help You Write In Your Junk Journal
Using Margarete Miller's Collage Prompts As Inspiration For An Altered "Ideas" Book
My plan for Margarete Miller's collage challenge was simple. I would create an "ideas" book just for me where I could try out new techniques, designs, colours and materials for my junk journals.
Now, I could have used any book for Margarete's challenge. I could have used an old notebook or even a journal I'd made especially.
Instead, I chose to go down the altered book route, which would also be a new challenge and technique for me to try.
Here's how I did it – and how you can follow in my footsteps if you wish…
Step 1: Choose a book to alter
Ideally, you'll want a book that's in an okay or good condition. Basically, it needs to be sturdy enough for you to work with without worrying it'll fall apart on you.
It's also easier to go for a book that has the signatures sewn into the spine. That way, you can keep your signatures intact and just remove the "filler" pages without messing with the integrity of the book or its structure. More on this in step 3.
Step 2: Decide how many pages you need for each signature
As this is a weekly challenge, I knew I needed to have at least 52 pages or sides to play with. I also wanted a few extras in case I want to use the book for anything else or if I collage across two pages during some weeks.
You could have more or less pages depending on what you plan on using your altered book for; this is just how I made it work for this particular challenge.
Once you know how many pages you'll need in total, work out how many pages to keep in each signature. Ideally, you'll want the same number of pages in each signature as this keeps your book solid and even, rather than having one "chunky" signature and a load of other "skinny" signatures before or after it.
I worked out that I needed to have 10 pages in each signature (as my book had six signatures). This gives me 60 pages to play with, which should be plenty.
So then it was just a case of working through the book to remove the excess pages, leaving 10 pages in each signature.
Step 3: Remove any pages you don't need
So that you don't interfere with the structure of your book in any way, you should aim to keep the middle pages within each signature intact. You'll know you've found these when you can visibly see stitching down the middle of centre two pages.
You're then free to remove as many "filler" pages as you need.
Remember: for every page you remove, you'll need to remove its counterpart on the other side as they'll be stitched together. I hope that's clear, but if you have any questions about the process, please let me know.
Step 4: Decorate your book and start journaling!
You're now free to start decorating your cover and transforming your pages.
I actually haven't decided on my cover yet, but I've certainly gotten stuck into the challenge itself. Keep reading to see how I've tackled each of Margarete Miller's collage prompts so far.
RELATED: 35+ Types Of Junk Journals You Can Try Making
Altered Book Ideas: Completing Margarete Miller's Collage Challenge 2021
You can see all of Margarete Miller's collage prompts here (she updates the list each week).
Here's what I've come up with for each week I've completed so far (with links to my Youtube videos if you want to see me actually working on the pages).
Week 1: #cwplanner1
Prompts & materials:
Something fast: I used an Edith Holden illustration of some beautiful swallows (they're my favourite bird!)
A postage stamp: I chose a blue vintage stamp to fit in with the theme of this page, which I added to the back of one of the journaling cards.
A piece of map: I struggled with fitting this into my layout, so it's hidden beneath silver washi tape.
A border or frame: I used some vintage wallpaper from my shop, which had a sort of border or frame pattern on it. I turned this scrap into a cute pocket.
A portion of a brochure: I went with something vintage and Parisian-inspired and turned it into a journaling card.
(Bonus) Form or part of a form: I used a piece of vintage ledger, which felt like it was "form-like" as it had boxes to fill out, etc.
Here's the video of me creating this page.
Week 2: #cwplanner2
Prompts & materials:
A person: I used a vintage-style photo of a girl I found on Pixabay; printed onto white cardstock.
An image from a magazine: I used a vintage magazine, which had some black and white pictures of houses on it.
A doodle: I drew a little border of hearts around my hidden journaling spot.
A piece of washi tape: I used this to hinge the tea bag cover onto the page for hidden journaling.
A tea bag cover: I used a bright, colourful one and covered it with sparkly gold ribbon and a pressed flower to mute it down a bit.
(Bonus) An illustration: I used an Edith Holden illustration, which I used as the base of my page.
Week 3: #cwplanner3
Prompts & materials:
A barcode: I cut one out from the back of some packaging.
A photo or portion of a photo: I used one of the photos from the vintage magazine I used in week 2; it's the black and white house you can see in the corner.
A thing: I used a clock sticker (just because!)
A clothing tag: I didn't have one, so I used a tag that came off of a mirror from a shop and turned this into a journal tag, which I ended up adding to the previous page.
Text in a different alphabet: I used some kind of Greek or Latin book page.
(Bonus) Handwriting: I used a portion of a vintage envelope (also available from my shop) and a diary-style book page; bothof which had cursive handwriting on them. I also added other elements from the envelope like the postage stamp and postal markings.
I then felt like the collage needed more, so I also used a mushroom fussy cut from a book, a butterfly from a digital kit and a label from the same kit, which I'm going to write a short quote or word onto.
Watch the video for this week here.
Week 4: #cwplanner4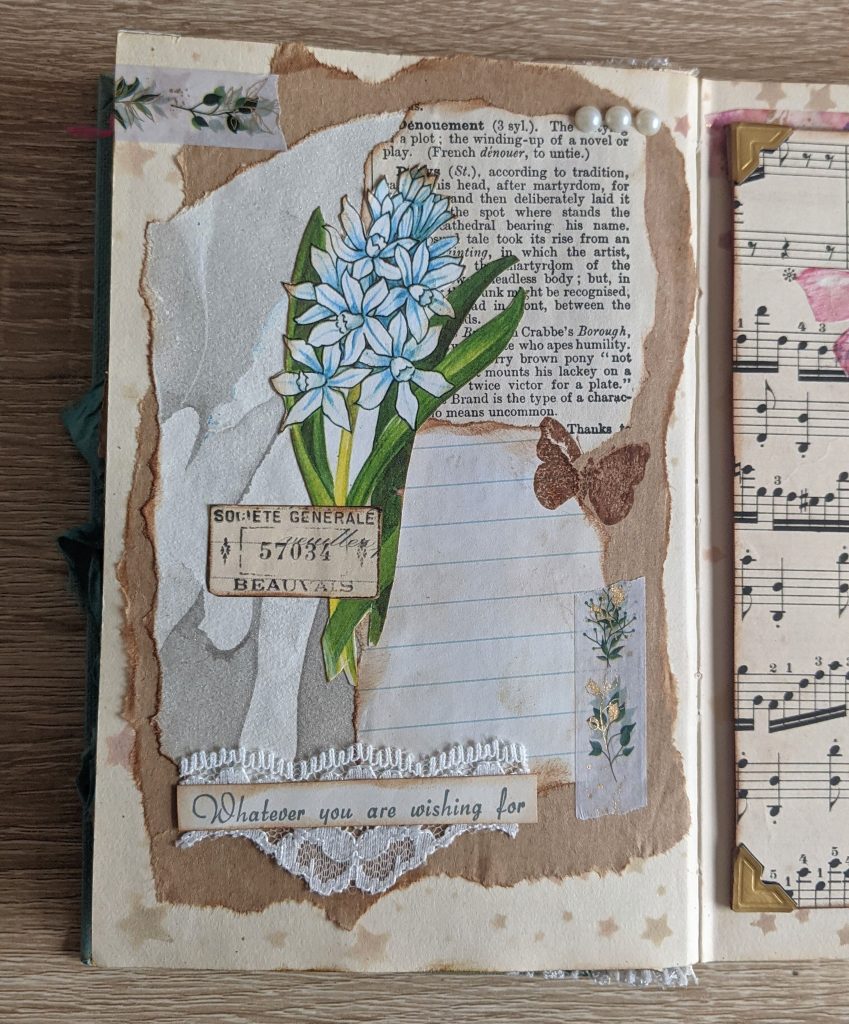 Prompts & materials:
Numbers: I used a label that had numbers on it. I thought it went perfectly with my floral focal point.
Graph paper or lined paper: I went for lined paper.
An art scrap: I used a piece of my marbled paper that I do with nail polish (a tutorial's coming soon!)
A book page or portion: I used an old dictionary page.
An old sticky note: I didn't have one, so I skipped this prompt.
(Bonus) Instructions: I tried to use this in my collage, but I just couldn't fit it in, so I left it out.
I explained in my process video that these prompts seemed to fit in really well with a collage formula that Natasa from Treasure Books came up with. I followed her advice and I think the page turned out great!
Week 5: #cwplanner36, #cwplanner5 & #cwplanner6
This was the week where I realised that I'd feel less worried and overwhelmed by how far behind I was with the challenge if I just caught up and then went back on previous weeks. I'm so glad I did that as it really helped! I also managed to do three weeks worth of the challenge in one fell swoop this week!
Take a look at my video here to see what I came up with for all three weeks.
Once I've completed more of this challenge, I'll add the images and video links below. But you can also follow along with my Youtube playlist to see everything in real time.
Until next time then,
Justine xoxo